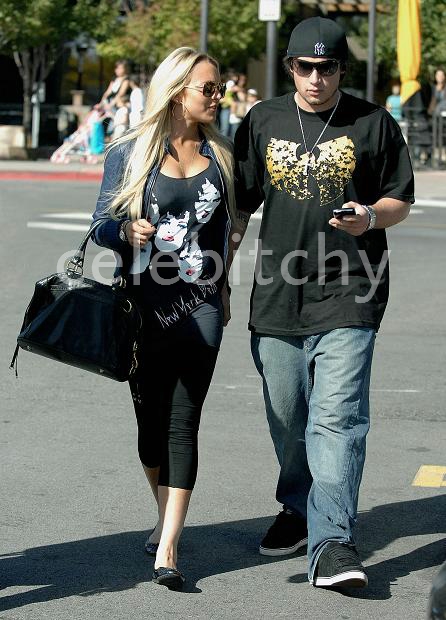 As much as I dislike Dina Lohan, I hate Michael Lohan a whole lot more. Both of Lindsay Lohan's parents are obvious users and losers, and each one seems to excel at their own version of latching onto the kid and riding her coattails as far as possible. But why oh why can't Michael Lohan ever keep his mouth shut? Dina Lohan manages to do nothing but talk about Lindsay nonstop, and yet she still doesn't seem quite as opportunistic as her ex-husband.
So for no apparent reason, Michael Lohan has taken it upon himself to tell People magazine just how great Lindsay is doing. He's also a big fan of her new boyfriend, who she met in rehab and is (according to Michael) moving to Utah to be closer to. Isn't a big rule of AA not to have a new relationship for one year to focus on sobriety? Sounds like Lindsay's really taking it all seriously. Though Lindsay Lohan without a boyfriend is like Paris Hilton without herpes – one just doesn't make sense without the other.
"When Lindsay Lohan leaves Utah to finish filming Dare To Love Me in Los Angeles, she will have round-the-clock help staying sober, her dad said. To insure the 21-year-old actress continues her recovery from alcohol and drug abuse, a sober companion, trained to be with people overcoming addictions, will be with her, Michael Lohan told PEOPLE. On Oct. 5, Lohan left rehab at Utah's Cirque Lodge Treatment Center, which helped the actress find the companion.

"'Lindsay's companion is really, really tough, and she's really nice, she's an amazing lady, a great influence on Lindsay's life,' the elder Lohan said before attending a family court hearing in Westbury, N.Y., concerning his youngest children Ali, 13, and Dakota, 11. He also talked about another part of her new life – beau Riley Giles, whom she met in rehab. 'He's a great, great kid,' Lohan said. 'If you met him, you'd like him.'

"Lohan does not know where his daughter will be staying in L.A., but after filming – slated to begin Oct. 15 – he expects her to come back to Utah to live, receive continued counseling and attend Alcoholics Anonymous meetings. 'It looks like she may have already found a house,' he said, noting that she currently stays in a rental near the lodge. And he's definitely not concerned about reports of her going out at night to establishments that serve liquor. 'She goes out, she goes out,' he said. 'She does the right thing.'"
[From People]
Um, alright Michael Lohan. You psycho. That sentence "She goes out, she goes out. She does the right thing" is kind of confusing, because he didn't say "BUT" she does the right thing. Forgetting to add that makes it sound like he's saying going out is the right thing, which I have to say it probably isn't for someone in Lohan's shoes. She should really try spending a little time alone, just her, a cat, and a good book. Isn't that a funny image! Pretty soon she'd have the cat strung out on opiates while she danced around naked singing the flower drum song or something. Hopefully this sober companion will be on the lookout and keep Lohan away from any animals she may encounter, in addition to men. Really, why is Michael Lohan acting like this is a good thing? Isn't he an addiction counselor himself now? It's like if Lindsay Lohan does just half the things she should do, that's enough for everyone. Let me remind you all, 50% is still an F. Which is also the grade I'm giving you as a parent.
Picture note by Jaybird: Here's Lindsay and her douchey looking boyfriend Riley Giles in Utah today. Images thanks to Splash Photos.