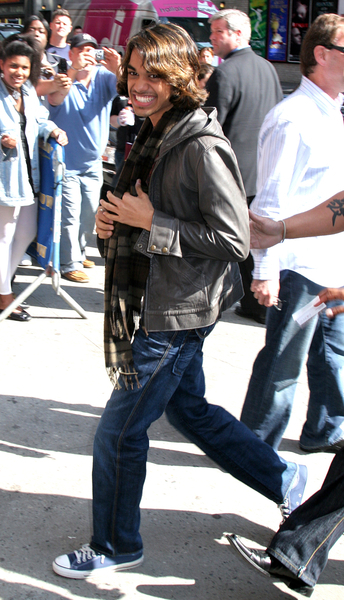 Alright the headline is a little misleading. They were fined over Sanjaya and Jordin Sparks. The two performed along with the other members of the American Idol tour in New York, and the producers of the event didn't bother to file for permits under the State Child Performer Labor Law. Sanjaya was 17 at the time and Sparks won't turn 18 until December. What they really should have been fined for was letting Sanjaya within 1000 miles of anyone with ears. Yeah, I went there. Cutting, wasn't it?
"It may be America's favorite reality program, but not even Idol is exempt from the law – child labor law, to be exact. The New York Daily News is reporting that 19 Touring failed to apply for the necessary permits for Jordin Sparks, who turns 18 in December, and now 18-year-old Sanjaya Malakar (who was underage at the time of the performances), when the Idol concert tour came to New York last month. As a result of a reported 16 violations of the New York State Child Performer Labor Law, 19 Touring has agreed to fork over $5,000 in fines.

"Sparks and Malakar joined the rest of the top ten Idol contestants for five New York-area appearances during the tour, which wrapped on Sept. 22. Under the state's new law, employers must file for permits in order to ensure they are following proper child labor, education and workers' compensation protocol, the News reports. "One of our clerical staff – who was actually a fan of the show – [heard] that these performers were, in fact, under 18, and so she did some digging and referred that over to our investigators," Labor Department spokesman Leo Rosales told the News. A representative for 19 Management, which operates 19 Touring, did not return a call seeking comment."
[From US Weekly]
The clerical staff member was a fan of the show, and that's how he chose to show it? I think by "fan" they meant "hater." Not that I blame him, I loathe reality TV in all its incarnations. Yes I know you're all throwing tomatoes at me right now for it. But it just doesn't do it for me. I blame reality TV for the death of the sitcom. Nothing great, the sitcom, but it was comfortable and familiar, and I liked that. Rarely did people try to strangle themselves with snakes, or whatever it is they do on reality television.