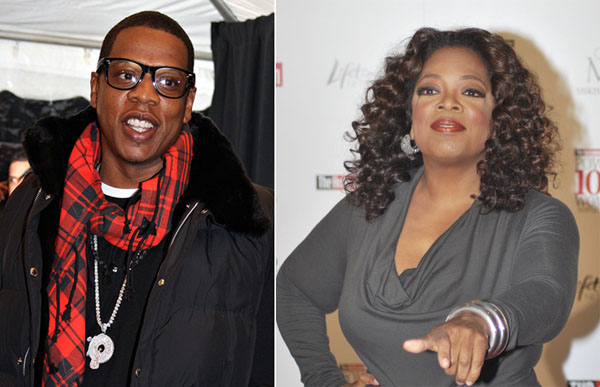 Oprah has never been known to encourage or celebrate hip-hop or rap artists. Within the past few years, there was even a somewhat significant backlash against Oprah in the male-dominated hip-hop/rap community. From what I remember, Ludacris started the backlash by talking openly about how Oprah treated him when he came on the show to promote Crash.
Back in 2006, Ludacris said: "She edited out a lot of my comments while keeping her own in. Of course, it's her show, but we were doing a show on racial discrimination, and she gave me a hard time as a rapper when I came on there as a rapper. Initially, I wasn't even invited on the show. After the taping, she pulled me into a room and we had a five-minute conversation. What I got was that by having rappers on her show, she feels like she's empowering in them. I don't see why (comedians) Chris Rock and Dave Chappelle, who I am huge fans of, it's OK for them to go on Oprah. They speak the same language as I do, but they do it through comedy, so I guess that's acceptable to her."
After that, several artists spoke out against her, notably 50 Cent. He told the Associated Press that Oprah "caters to older white women. Oprah's audience is my audience's parents. So, I could care less about Oprah or her show." I tend to think 50 Cent and Ludacris have very valid points, especially 50 Cent's observation about Oprah's audience. As for Luda, he knew that it was her show, and she could do whatever she wanted, but he was still peeved at the double standard for rap artists.
Oprah was obviously aware of the criticisms, and it didn't seem to bother her. But now she's reached out to the current "godfather" of hip-hip, Jay-Z. While she takes pains to say that she doesn't listen to his music, she does pour on the compliments:
Look out, Beyonce! Another Hollywood A-lister is a big fan of your man — or at least the way he smells.

On a recent call with her best friend Gayle King on Sirius Satellite Radio's Oprah Radio, Oprah Winfrey dished about her favorite mogul.

"Jay-Z is my new best friend!" the talk show host said to Gayle while discussing her recent two-hour interview with him for her magazine, O. Admitting that she's not a huge fan of his music, Oprah does reveal what about him does have her hooked.

"He was so charming and delightful — and he smelled so good," she says. "It's the kind of thing where you hug a guy and the scent is sort of buried in them," she explains. "When we went to the second location I could still smell him on me it was like, 'oh my, this is wonderful!'"

Jay has reason to take scent seriously. In addition to heading up music labels, a club, a sports team and the Rocawear clothing line, Jay-Z is also a perfumer, having already produced the scent Rocawear 9 IX.

And next month Oprah — and all Jay-Z fans — will have even more reason to celebrate when he launches X Rocawear fragrance in celebration of the label's 10th anniversary. Listen here to hear more of Gayle's interview with Oprah.
[From People]
I'm surprised it took this long for Jay-Z and Oprah to become friendly. They're kind of doing the same thing in different fields – building empires. Will Oprah's audience be freaked out by her closeness to Jay? I doubt it. Even my mom knows Jay-Z, and she likes him too. She told me at lunch recently that she thinks he seems "nice" and she informed me that Jay is "the godfather". Hand to God, she said that. I think she heard it on NPR.
Jay-Z is shown on 1/7/09. Credit: Fame Pictures. Oprah is shown on 12/7/09. Credit: PRPhotos