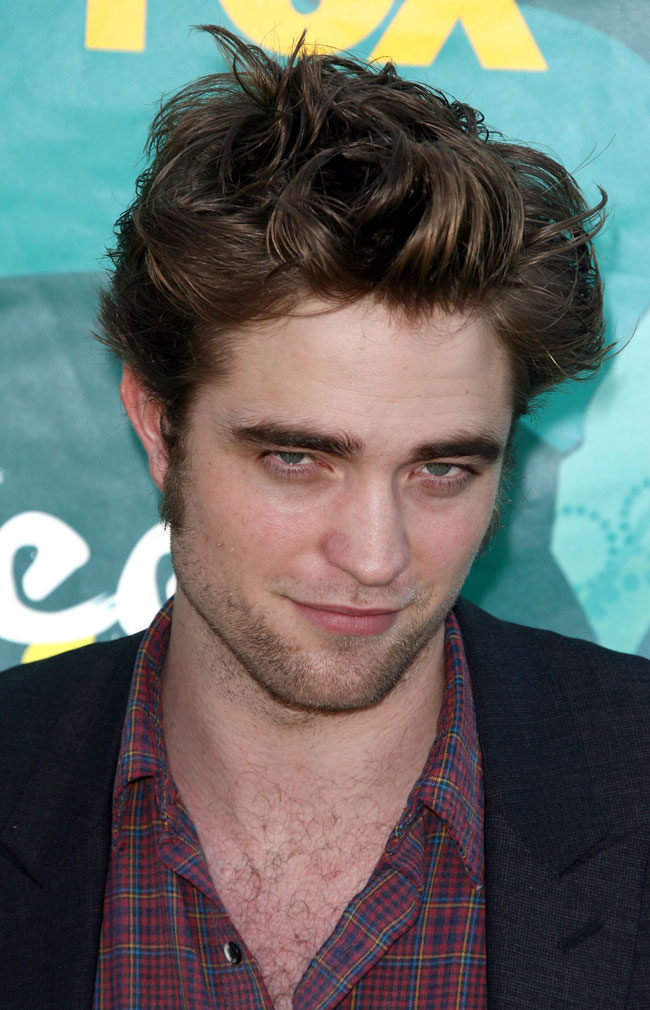 Robert Pattinson is still trying to convince us he's just a lonely, sparkly, little tragic figure that needs us to believe in him. Paatz is claiming in a new interview that he doesn't have a girlfriend, and he doesn't know why. Aw… poor little Pattz. It's like he thinks we don't know he and Kristen spent a naughty weekenda t the Chateau Marmont. It's like he doesn't think we saw those pictures of him and Kristen making out earlier this week. Either that, or this interview was done before he and Kristen were back "on" – which could be the case.
Pattz also says that he doesn't really have a type. Which means that he's no longer putting "chiseled abs" on his "perfect date" list. He doesn't have a celebrity crush, and he thinks the Twihard mothers and daughters are "funny". Is he just playing with us and our unrealistic expectations of a romantic hero?
Good news, Robert Pattinson fans: He's not dating anyone.

At least that's what the Twilight star, who only days ago was seen getting cozy with costar Kristen Stewart, wants Britain's Daily Mirror to believe. "I don't have a girlfriend," claims the apparently lonely actor. "I don't know why."

Currently filming Eclipse – the third in the vampire series – Pattinson, 23, appears surprised at this turn of events. "You always think you're going to get more girls after you've made a movie and it never happens," he insists.

"You sit there and you're like, 'I'm a big movie star and I want to go out with some models,' but I don't know why that doesn't happen."

For those hoping to snare him, Pattinson offers a tip: He doesn't really "have a type."

"It's especially different in L.A. Most of the women there are actresses and by default that makes them a little bit nuts – not that that's a bad thing," he observes. "Whenever I get asked who my favorite celebrity crush is, I have no idea."

When it comes to the attention he does manage to receive, Pattinson says, "Most of the girls are all pretty young, so it's just kind of funny. But then you get the Twilight Mums who love you like mums! And you can take that too far. I mean, it could be 'Edward breaks up Twilight family.' "

Frankly, the sex-symbol image surprises him. Originally he aimed to become a politician, though he did model, despite his lack of shape.

"I always looked like a girl up until a few years ago, and because I never did any sports or anything I was always kind of gangly," he says. "I was never really a good model.

In fact, he concedes, "I was terrible at it. I wasn't skinny enough to be a little waif and I didn't want to work out to be a beefy guy, so I was always stuck between two things and so I never got any jobs."
[From People]
I'd argue that Pattz is still pretty girly. Yes, he has an awesome, sexy jawline – but some girls have that jawline too. He does have lovely shoulders though. The shoulders save him. They're nice and broad, but with the cool-boy slouch. But here's the thing – I'm a huge fan of his body type in men, so it's not like I'm some impartial viewer. I love tall, gangly guys. I love broad, slouched shoulders. I love a good jawline. Sigh. I'm like a Twilight mum, only my dog is my kid.
Robert Pattinson is shown at the Teen Choice Awards on 8/9/09. Credit: Juan Rico/Fame Pictures