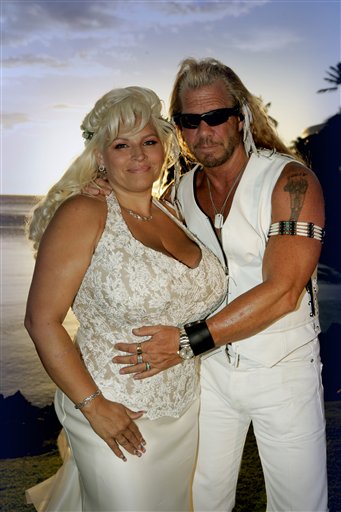 Dog The Bounty Hunter is a reality show that has aired on the A&E Network since 2004 about a bail bondsman in Hawaii named Duane "Dog" Chapman. Chapman is shown as a tough but compassionate character who gives advice to the convicts he captures who jumped bail.
A father to 12 children, Chapman tragically lost his daughter Katy, 23, in a car accident last spring on the night before he was set to marry his longtime girlfriend and co-star, Beth Smith. They went ahead with the wedding.
Chapman and his son and business partner were arrested by US Marshals in September of last year on charges of bounty hunting in Mexico, which is illegal there. He caught wanted rapist and heir to the Max Factor fortune, Andrew Luster, in Mexico back in June of 2003, and the Mexican government convinced the US to extradite him. He met bail in Mexico and charges are said to be dropped at this time.
Now one of his stepdaughters from his fourth marriage is saying he used her back in the 90s to get him hookers and crack and that he's a creep who slept with one of her young friends. Nikki Gillespie claims that at the tender age of 15 she was living on the streets and that she earned money by getting drugs and women for Chapman:
"Dog is no American Hero," Nikki, 27, told The Enquirer, "He's an American nightmare!"

Nikki became part of Dog's life when he married her mother Tawny Marie, his fourth wife, in 1992. The family soon relocated to Hawaii where Dog opened a bail bond and bounty hunting business.

Dog and Tawny split in 1994 – and Nikki ended up living on the streets of Honolulu.

"I'd call Dog for help, but his help came at a high price. He would tell me: 'Go get me some crack and get me a girl. Get me a hooker," Nikki claims.

"He'd give me $2,000 to $3,000 to go down to Chinatown and pick up a hooker and crack. I'd pocket half the money and spend the other half (on drugs and a prostitute for him.) Doug was so out of it that he never knew the different."

Nikki – who passes a polygraph test on her claims – says she bought crack and women for Dog about 10 times when she was 15. She says the two smoked crack together and the mullet-haired bounty hunter often came on to her.

"One time after I'd bought Dog crack cocaine and a whore, I fell asleep," she recalled. "When I woke up he was standing over me, naked. He said 'If you weren't Tawny's daughter, I'd tear you up!' I screamed and ran out of the house."
[From The National Enquirer, print edition, October 22, 2007]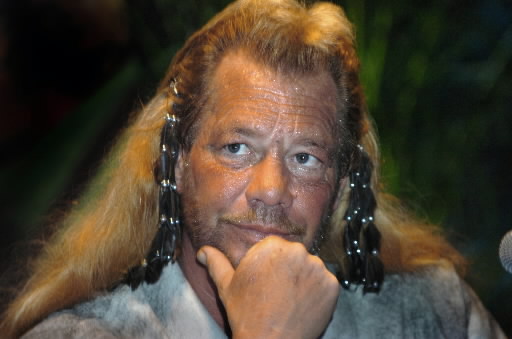 Dog's stepdaughter also says that once her young friend came over to look for her and he seduced her, paying her for sex afterwards:
"My friend came to our house, looking for me, but I wasn't home," Nikki sai. "She told me: 'Your dad was all over me,' and they had sex. Afterward, he paid her $200."
And once Dog pimped out Nikki to pay a debt to a crack dealer. He had a "friend" drive her to the airport and instead of going there, the guy took her to a motel and told her she had to pay off her dad's drug debt with sex.
Dog's stepdaughter says that watching the show makes her sick and that it's all bullshit that he "prays [and] tells criminals to get away from drugs and to straighten up." She says "it's all lies."
If all this is true, even if it happened 10 years ago, the guy is indeed a scumbag. Anyone who would pimp out a family member like that is despicable.
Dog spent 18 months in prison before starting his bail bond business on accessory for murder charges. He says he is "fighting for justice and the American way."
Do any of you guys watch this show and can you see this guy being a creep like this? I have not seen it as I live overseas.
Many details from Wikipedia. Header image is of Dog and Beth on their wedding day.