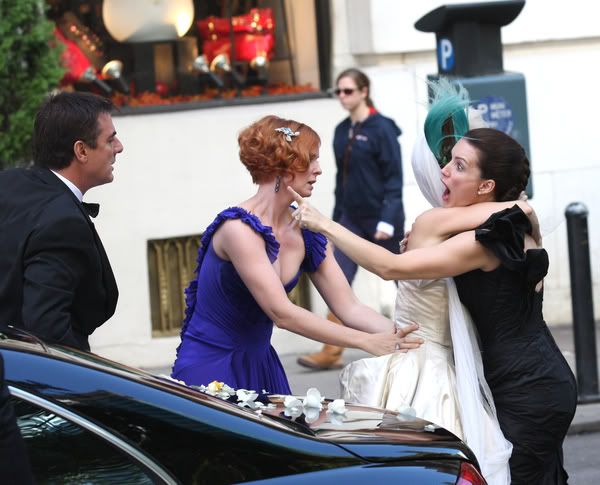 From these pictures that came out on the Sex and The City movie set, It looks like Carrie and Big get into a huge fight at their wedding. Carrie is being comforted by Charlotte and Miranda outside of the church, while Big looks on angrily. In some pictures Charlotte is glaring at Big, and then it looks like Miranda is holding Carrie back from him as they get in an argument. Carrie gets out of the limo and runs down the street in her questionable wedding attire.
There has been some speculation that the whole wedding is a dream sequence, but I bet it's real and the drama seen here is the main conflict in the film.
If they keep filming out in the open in NY City there were be little left that's unknown about this movie. It will probably be a hit, but it seems like it's going to come out too late to capitalize on its success. We'll have to see how it does in theaters.
Look at Kristin Davis' face. Can't she learn to emote properly instead of looking like a grumpy cartoon character? At least Sarah Jessica Parker can act.
Thanks to PRPhotos for these pictures, taken on 10/12/07.