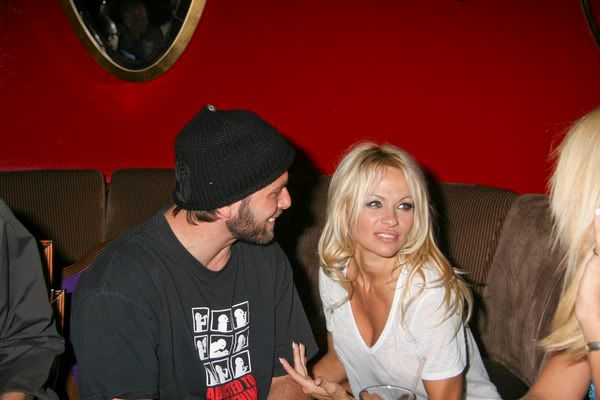 There was a lot of speculation that Pamela Anderson got married to Rick Solomon in a quickie Las Vegas ceremony because she was pregnant with his child. In some photos of the glamorous event, she seems to have a little fullness in the lower abdomen, but it could just be that her denim wedding dress was caught at a bad angle. Anderson has denied that she has a bun in the oven, telling Robin Leach, formerly of Lifestyles of The Rich and Famous, to tell us on her behalf that "it's just not true." She has been out drinking champagne and doesn't want people to think she's being irresponsible.
It's possible Anderson and Salomon had more pressing reasons that an impending baby to jump impulsively into another ill-fated marriage. The National Enquirer reports this week that they're pitching a reality show, ala "Newlyweds," to follow their new life together. Maybe they figure their relationship isn't going to last anyway, and they may as well capitalize on it when they can.
The real reason Pam Anderson and her poker-playing beau Rick Salomon got married Oct. 6 in Las Vegas is because they're pitching a new reality show.

The show, which will include both the wedding and the couple's red-hot honeymoon, will give viewers an intimate look at their new life together, says an insider…

Four networks – NBC, FOX, E! and VH1 – are bidding for the new series, which will be similar to the Jessica Simpson/Nick Lachey "Newlyweds" show, ads the insider.

"Rick assured Pam it would be a blockbuster and they could rake in big bucks.

"He also said they could probably sell different versions of the show – a cleaner version to the networks, an R-rated version to cable."
[From The National Enquirer, print edition, October 22, 2007]
Are there any past reality shows starring celebrity couples who are still together now? Forbes.com has a slide show of reality show couples who didn't make it, which lends credence to the supposed "Reality Show Curse" which dooms couples to break up after the world becomes privy to the manipulated details of their everyday lives.
Just about every couple that has met through a reality dating show has split up, with the notable exception of Trista and Ryan from The Bachelorette. Not counting the reality dating show couples, most every other reality show celebrity couple has met a similar end including Shanna Moakler and Travis Barker, Carmen Electra and Dave Navarro, and of course Jessica Simpson and Nick Lachey.
In an April, 2006 interview with Rolling Stone, Nick Lachey said that the MTV cameras had a definite role in the breakup of his marriage and that it caused him and Jessica to shift roles according to how they were portrayed on the show:
"Jessica and I began playing these parts even when we were by ourselves," says Lachey from his chair at the hotel bar. "It became a really blurred line. There was a question about what truly was our reality."

With Simpson, Lachey played the role of the man who won the pussy lottery. That she was widely perceived to be an imbecile did not trouble him. (Or her, for that matter.) Viewers found her stupidity tolerable, largely because Lachey provided her with much-needed benefit of the doubt. If Mr. Good Guy loved her, she couldn't be all that bad.

Newlyweds ran for three seasons and averaged around 2 million viewers per episode.

"When you are on a reality show, your life ceases to be reality," Lachey says. "It becomes TV."

And TV shows get canceled.
[From RollingStone.com]
Pamela Anderson and Rick Salomon are about to expose their new marriage to a lot of skewed scrutiny in order to make a fast buck. Given that they've only been together a few months, it seems doubtful that they'll be able to handle the pressure.
Anderson and Salomon are shown on 10/10/07 at the celebration of Virgin America's first flight from San Francisco to Las Vegas. Thanks to PRPhotos.