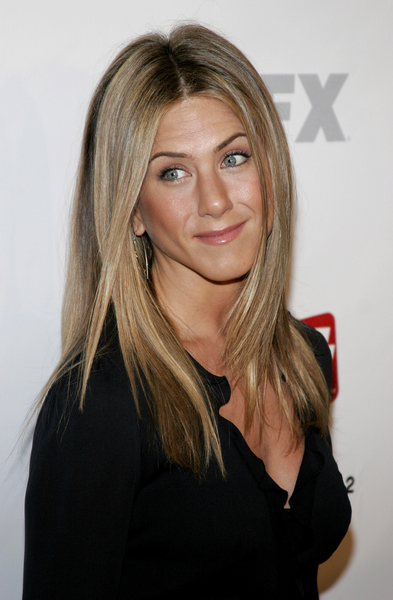 This week's Star Magazine screams on the cover "Hollywood Stylists Tell All!" and it's one of those cellulite/plastic surgery/celebrity beauty secrets filler articles that they're forced to use as headline stories during slow news weeks.
The first story in the supposed Hollywood Stylist Tell-All feature is the shocking claim that Jennifer Aniston is so obsessed with being completely bare down there that she has even her pubic peach fuzz waxed. They seem to have some actual insider information for this one, and quote a woman with the esteemed profession of Brazilian waxer who has had the pleasure of working on Aniston.
Jennifer Aniston's name may be synonymous with impeccable hair, but according to her former waxer, Jen is just as concerned with the hair on another region of her body! "She's neurotic about bikini waxes," reveals Dawn DaLuise of Dawn DaLuise Skin Refinery in L.A., who used to visit the Friends set every other week to work on the actress. "She'd call even when there was no hair to wax. And she'd insist on having it done – literally making me wax off peach fuzz. She's phobic about extraneous stray hairs – especially around her bikini line. She'll [even] tweeze them!"
[From Star Magazine, print edition, October 22, 2007]
Since when did a bikini waxer complain about having to do their job on someone without a lot of hair down there? That seems like it would be one of the more pleasant waxing experiences, you would just breeze in and out. Maybe Aniston was demanding and the woman is a salon owner who felt that it was beneath her to be removing Rachel's curlies.
If this happened during the later era of Friends, Aniston was probably with Brad at that point and perhaps he has an aversion to women who are au natural downstairs. I doubt it, though. He never seemed the type to tell a woman what to do. Plus, Aniston still seems to favor the bald look down there. In recent photos of her out in a bikini there's nary a stray hair.
Other revelatory claims in the article include the fact that J.Lo uses a girdle, that Lindsay Lohan has extensions, and that Kate Beckinsale and Nicole Richie have bald spots.
Aniston is shown in the header image on 12/9/06 at the premiere of Courtney Cox's series Dirt, thanks to PRPhotos.