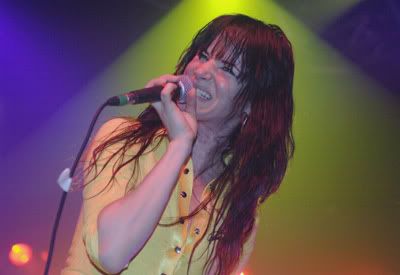 Cults trap members into what cult expert Margaret Singer called a "closed system of logic" where only pro-cult rhetoric is permitted. Cults seek to impair and dismiss personal reasoning skills so that members can't think themselves out of the situation.
Case in point: Juliette Lewis, 32, and Kirstie Alley, 55, long term members of the cult of Scientology. Lewis, appearing with her band Juliette and the Licks at the SXSW music festival in Austin on 3/17, wore a skin tight lemon-yellow body suit with criss cross metal buttons. Alley fared slightly better while also wearing a skin tight outfit at Celebrity Fight Night 12. Alley donned a fitted lingerie slip with a lacey flared bolero jacket.
Whether these two could benefit from the psychiatric drugs forbidden by their cult is up to debate. We think they might dress better if they were simply able to think for themselves.