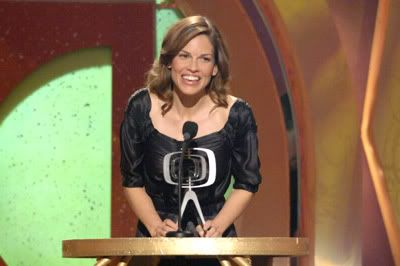 The 2006 TV Land Awards were held last night in Santa Monica. Megan Mullally of Will and Grace hosted. Shows honored included Cheers, Dallas, and Good Times. Two time Academy Award winner Hillary Swank was presented with the "Little Screen Big Star" award. Entertainment included live performances of the theme songs to Family Ties, Good Times, The Muppet Show and The Dukes of Hazzard. The Osmonds and Diana Ross also performed. Jeremy Piven, Quentin Tarantino, Mary Tyler Moore, and Robert Downey, Jr. were among the presenters.
Here are photos of the awards. Red carpet pictures featuring headshots of classic TV stars will be posted soon.
Fifteen more pictures after the jump.