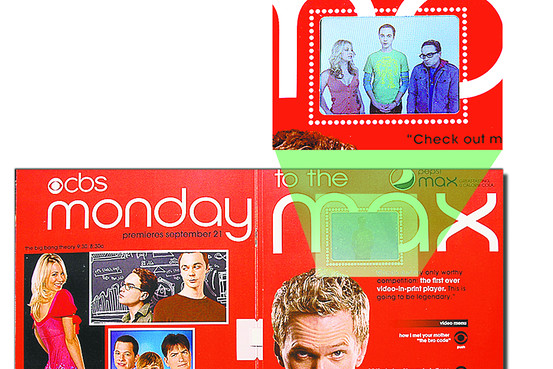 This photo illustration is from The Wall St. Journal
When I first heard this story on BBC radio this morning I was pretty sure that the video that would be featured in some print editions of Entertainment Weekly wouldn't be much longer than a few seconds – like even shorter than an Internet video ad. Instead, on little flat 2 x 1.5 inch screens not much bigger than a cell phone display, Entertainment Weekly will feature 40 minutes of on-demand preview from CBS shows like "Two and a Half Men" and "NCIS: Los Angeles." There will be some Pepsi commercials in there too. They're using microchip technology that's described as similar to the chips that play sound in greeting cards. It's not cheap and each video ad will cost EW over $10. Only a few thousand will be mailed to subscribers in NY and Los Angeles.
Video is invading a new medium: print.

In a marketing stunt to promote its fall TV series, CBS Corp. is inserting thousands of tiny screens in copies of the Time Warner Inc. publication Entertainment Weekly.

The screens measure two and a quarter inches diagonally and play about 40 minutes of clips from new and old CBS shows.

The video begins with a cheeky intro to the "video-in-print" technology, starring characters from the show "The Big Bang Theory."

After that, the reader/viewer can push a spot on the cardboard insert that holds the screen and watch a clip of the sitcom "Two and a Half Men." Push another to see a preview of the new crime-investigation spinoff "NCIS: Los Angeles." Another delivers an ad for PepsiCo Inc., which is helping fund the promotion.

The player, developed and made by Americhip Inc. of Los Angeles, is much like the chips that play music in some greeting cards and magazine ads and is rechargeable.

A CBS print advertising insert that will appear in Entertainment Weekly contains a small black screen that plays videos, enlarged above right.
CBS wouldn't disclose what the inserts or the screens themselves cost. "More than a can of Pepsi," George Schweitzer, CBS's president of marketing, said at a news conference Wednesday.

Apparently, they cost quite a bit more than a soda. According to Paul Caine, president of the Time Inc. magazine group that includes Entertainment Weekly, the ballpark dollar cost for one of these video units is in the "low teens," although he said the cost may come down before the issue comes out.

Time Inc. wouldn't disclose how much it is charging to run the novelty ad, which has to be hand inserted at the printing plant. It is much-needed revenue, though, as Entertainment Weekly ad pages were down 32% in the first half of this year compared to a year ago.

The insert will appear only in copies sent to some subscribers in New York and Los Angeles. A CBS spokesman wouldn't say how many screens would be inserted, saying only that it would be thousands.

It isn't the first time magazines and technology have teamed. Last year, the cover of October's Esquire magazine splashed blazes of electronic ink. Using the same technology as Amazon.com's Kindle, panels on the cover and an ad inside from Ford Motor flashed with messages and an illusion of a car on the road.
My mouth is hanging open and I'm conflicted over this amazing feat of technology that potentially shows a scary new trend in advertising. Will we be seeing interactive ads like in Minority Report soon? Like the glorious Internet, this sort of thing can be used for good as well as advertising. With this type of technology we'll be able to send personal greetings in the mail featuring hours of special moments to our loved ones, but we can pretty much do that already with CDs and SIM cards. And why bother mailing stuff when you can just upload it? It would make for cool wedding invitations and fancy thank you notes at least. There are also potential applications for places where technology is not as available. For now this looks like a very impressive way to show us video ads where we're not expecting them, like in the print magazines we're increasingly reading online anyway – where we have access to much longer, cheaper, higher resolution videos. Is this going to revive print at all or just make us realize how limited it is? I have a feeling these tiny video ads are going to cross over from "cool" to "annoying" very soon.