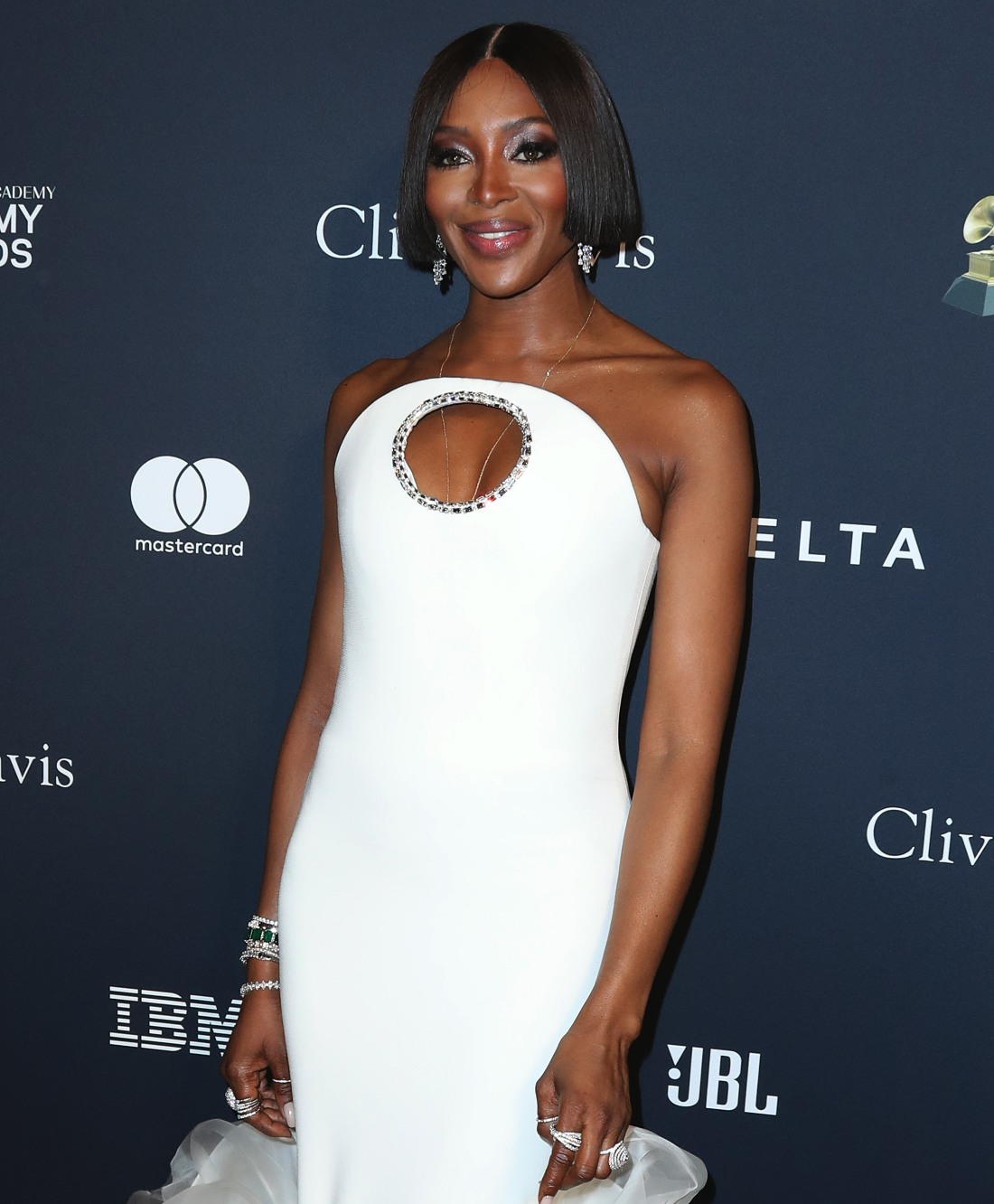 Confession: I've heard the name "Pat McGrath" for years and years but I had never seen her before I looked her up for this post. Her name was always mentioned by that iconic generation of supermodels, and McGrath still works as a makeup artist for fashion houses, magazines, advertisers and individual celebrities. Did you know that Pat McGrath is a black British woman? I swear I didn't know that. I thought she was a white American woman. Anyway, the reason why I looked up Pat McGrath is because she asked Naomi Campbell to collaborate on a new makeup collection. Naomi is the face of it, McGrath is the brains and "makeup designer." Naomi is so proud of her friend too – she did a phone interview with Elle to talk about the collab and her friendship with McGrath and more.
Naomi loves Pat: "…All the colors that she's made for me, foundation, concealer, lipstick and I just want to support my friends. I want to support her. I want her to be on top-top-top-top-top because she deserves to be, she's not just a makeup artist, she's an artist. Of course, I'm going to be proud of her. She's the first woman of color to achieve this and it's a big deal in my business. The first black makeup artist to achieve this, her own line, on such a level. I'm honored and blessed that she asked me to be part of it. And more than anything, when we work together, we just have so much fun. I never look in the mirror, I just sit in the chair and I trust her.

People always ask Naomi about Pat: "I get to meet women in all the different continents that look at Pat McGrath as a God and getting to hold a Pat McGrath product is like holding gold for them. There is no place in Africa where I've been that they haven't asked me about Pat McGrath. Or in the Middle East, in Dohai, and Dubai. She is loved and she brings happiness to people with who she is as a person and her products."

Naomi on how Pat is great at her job: "She is a force in the sense of, she's an excited encyclopedia. Pat knows her research about makeup and you ask about an eyebrow or a shape, she'll tell you what year it's from, what era or she knows her movies, she knows everything. Did you know Pat travels with about 40 cases of trunks of makeup? But some of those trunks aren't makeup, they are full of books. She can at any time adapt to any era, any century of makeup.

What beauty trick she learned from Pat: "She's a stickler about eyebrows and I don't know how to do them very well, so I'd just rather leave them. But she doesn't like block eyebrows, she likes them to be feathery and she likes to build depending on the character she builds. It really makes sense because an eyebrow can change the face—it can frame the face but if you do it too hard, it can mess up the whole thing.

Her beauty routine did not change in quarantine: "I wear lipstick everyday. I wear lipstick or one of the lip pencils, every single day. It makes me feel good about myself and even for a workout I'm wearing it. I have to tell you, I do when I go work out in the gym with my trainer, I probably wouldn't remember to put on my lips, but now that I'm at home, it makes me feel good to put on my lipstick. I want to put on lipstick when I work out. It feels good and makes me feel good. It's good for self-esteem. We all need to look for anything that makes us feel good during this time. Positivity, enthusiasm, and during challenging times, they always say women turn to lipstick.

Less makeup now: "When I was younger, I wore so much makeup. I see it from myself in pictures. I thought when I would do it myself, I thought the more I put on the better. As I get older, I think less is best and the more skin the better.
I don't wear lipstick but I have tinted lip gloss and I wear that whenever I do go outside (even if I'm wearing a mask), and I used to wear it to the gym too. I also like the feeling of a little color on my lips when I'm working out or walking/hiking. I've never really thought about it as something I do for me, to make me feel good. It's just something I do. Also, yes, eyebrows are so important. And I can't imagine packing 40 trunks of makeup everywhere!
Photos courtesy of WENN.