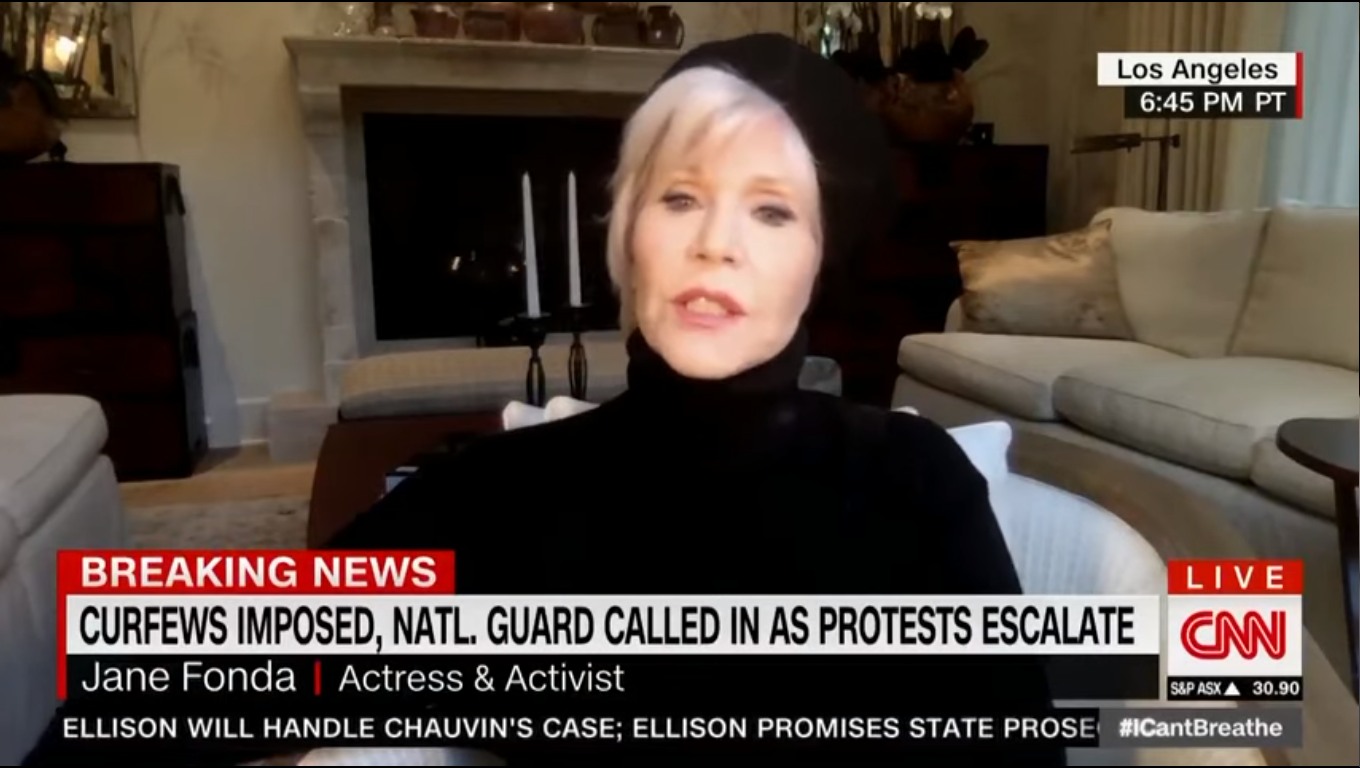 Jane Fonda was a radical in the '60s and '70s. She worked with Black Panthers, she worked to end the Vietnam War (whoops), and she's been active in reproductive rights, civil rights and social justice causes for decades. Some people might question her actual causes or opinions, but she's truly put her money, reputation and body where her mouth has always been. So Don Lemon at CNN did a video-link interview with Fonda last night to talk about the ongoing protests:
"We are in a very important moment," says @Janefonda. "We have an election coming, we have a pandemic crisis, we have a climate crisis, we have a race crisis, and we have a choice to make." https://t.co/K5Gzn1gRT0 pic.twitter.com/ZZbLq1T2pt

— CNN Tonight (@CNNTonight) June 1, 2020
Some people were questioning Jane's Black Panther couture (the beret!!) and some were questioning why we needed to hear from Jane Fonda at this very moment. Thankfully, it became an educational moment for how Fonda has always been an ally to disenfranchised people and disenfranchised communities.
Before you pop yang about Jane Fonda or her all-black attire on CNN tonight, I suggest you check the resume.

Jane Fonda's been doing this since the Panthers, Angela Davis & Vietnam in the 60s.

Jane has LONG been about that life.

— Darryn M. Briggs (@darryn_briggs) June 1, 2020
Jane Fonda getting arrested for the 479,765th time

Before ppl start talking wild, Jane lent her home 2 Black Panthers hiding from the FBI. She adopted the daughter of one after the child's parents were arrested.

Auntie Jane gets to come to the cookout. Hell, she'll be hosting. pic.twitter.com/zlwlkClasI

— Dana (Store Name)'s Life is at a Social Distance (@sagesurge) June 1, 2020
jane fonda has been with black panthers since the beginning you better ask somebody pic.twitter.com/0RTEPLckX8

— quarantine alfredo (@ndilettante) June 1, 2020
Guys, Jane Fonda is 82. Notice how you age when you aren't toxic. pic.twitter.com/iBoXnK2LRq

— victoria whitlock (@vwhitlockmusic) June 1, 2020
Photos courtesy of Getty, CNN.