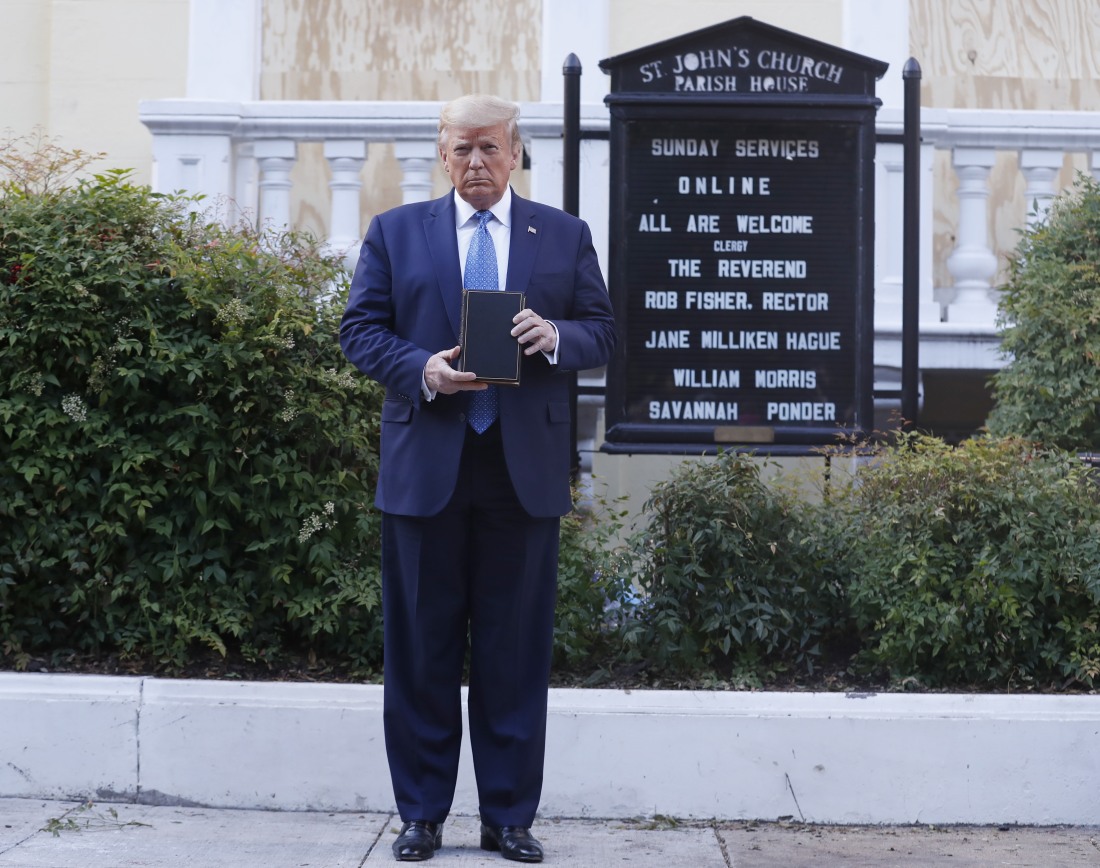 When protesters were on the streets of Washington DC Sunday night, Donald Trump got bigly scared and he ran down to the White House bunker to suck his thumb and rage tweet like the chickenhawk coward he is. This cowardice was what fueled everything that came next. Once everyone learned that Trump dumped a load in his diaper as he cried in the bunker, Trump *had* to tear-gas kids and clergy the next day to prove that he was a big man with normal-sized hands. And because of his diminished mental capacity, Trump keeps claiming he really didn't crawl down to the bunker because he was scared. He was there for an inspection, y'all.
Reportedly angered by the perception that he was hiding in a bunker while parts of Washington, D.C., burned around him over the weekend, Donald Trump reemerged publicly on Monday to speak in the Rose Garden as peaceful protesters were violently expelled near the White House.

Trump got his comeback glamour shots—posing in front of St. John's while waving around "a Bible" for the cameras—and is now denying that he ever retreated to said bunker at all. During a Wednesday interview on Fox News Radio, the president acknowledged that, yes, he did briefly go subterranean, but only to inspect the secure quarters. "Well, it was a false report," he told Fox's Brian Kilmeade. "I went down during the day, and I was there for a tiny little short period of time, and it was much more for an inspection. There was no problem during the day." The president went on to say that he'd "gone down two or three times, all for inspection," because "someday you may need it," the implication being that nationwide unrest, triggered by a white Minneapolis police officer killing George Floyd, an unarmed black man, was not one of those times. "We never had a problem. Nobody ever came close to giving us a problem," he said, noting in the same breath that "one evening…was a little rough," so that's why he "brought in the troops."
Yeah, he totally hid in the bunker Sunday night. That's why they turned out all of the lights in the White House and pretended he wasn't there. There's this thing called the tick-tock where the White House has to account for the president's whereabouts at all times, and those tick-tocks are accessible via FOIA. He was in the bunker. Which now brings me to his actions on Monday, when he tear-gassed and flash-banged kids and clergy. The NY Times had a "behind-the-scenes" account of that:
After a weekend of protests that led all the way to his own front yard and forced him to briefly retreat to a bunker beneath the White House, President Trump arrived in the Oval Office on Monday agitated over the television images, annoyed that anyone would think he was hiding and eager for action. He wanted to send the military into American cities, an idea that provoked a heated, voices-raised fight among his advisers. But by the end of the day, urged on by his daughter Ivanka Trump, he came up with a more personal way of demonstrating toughness — he would march across Lafayette Square to a church damaged by fire the night before.

The only problem: A plan developed earlier in the day to expand the security perimeter around the White House had not been carried out. When Attorney General William P. Barr strode out of the White House gates for a personal inspection early Monday evening, he discovered that protesters were still on the northern edge of the square. For the president to make it to St. John's Church, they would have to be cleared out. Mr. Barr gave the order to disperse them.

What ensued was a burst of violence unlike any seen in the shadow of the White House in generations. As he prepared for his surprise march to the church, Mr. Trump first went before cameras in the Rose Garden to declare himself "your president of law and order" but also "an ally of all peaceful protesters," even as peaceful protesters just a block away and clergy members on the church patio were routed by smoke and flash grenades and some form of chemical spray deployed by shield-bearing riot officers and mounted police.

After a day in which he berated "weak" governors and lectured them to "dominate" the demonstrators, the president emerged from the White House, followed by a phalanx of aides and Secret Service agents as he made his way to the church, where he posed stern-faced, holding up a Bible that his daughter pulled out of her $1,540 MaxMara bag. The resulting photographs of Mr. Trump striding purposefully across the square satisfied his long-held desire to project strength, images that members of his re-election campaign team quickly began recirculating and pinning to their Twitter home pages once he was safely back in the fortified White House.
Everyone was saying "oh, Ivanka is responsible for this" or "Hope Hicks will get thrown under the bus for this." While Hope and Ivanka absolutely had a hand in it, let's be clear: Trump WANTS to be a tin-pot dictator. He wanted this. His political instincts are to hide in bunkers and then tear-gas peaceful protesters and CLERGY for an authoritarian photo-op. Also, the detail about Ivanka's handbag… *chef's kiss*
One last thing to haunt our nightmares:
Scary. Maybe it's their blank faces, or the barren church….I don't know why this reminds me of the last scene in a movie about the Nuclear Apocalypse.

I guess the communication geniuses at White House thought this makes a great photo-op or something.

They were wrong.

Again. pic.twitter.com/6PIveaALcc

— Ana Navarro-Cárdenas (@ananavarro) June 3, 2020
Photos courtesy of Getty, Backgrid and Avalon Red.