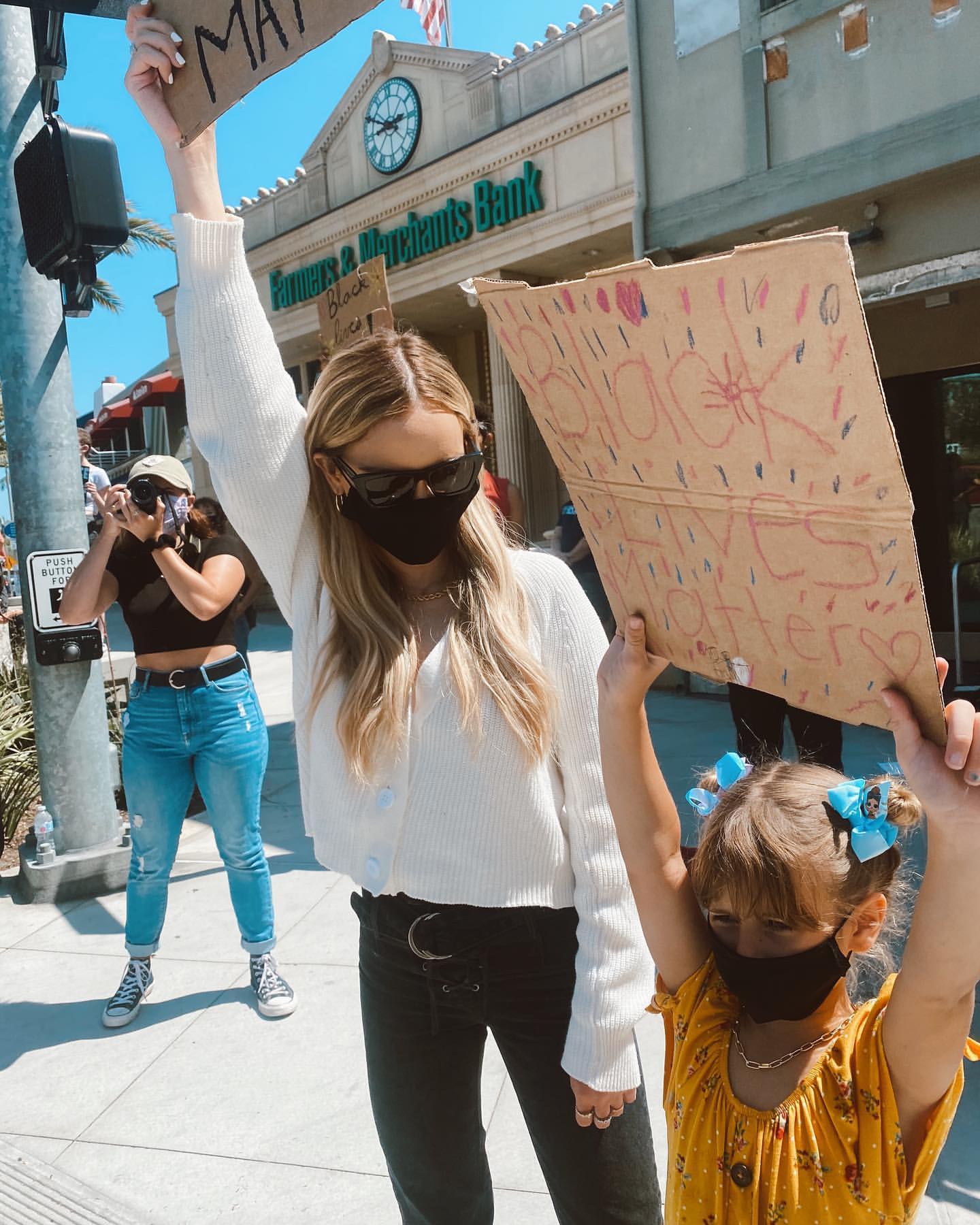 The last time we covered Bachelor and Bachelor in Paradise alum Amanda Stanton it was because she drove from California to Arizona to get her hair done, posted about it, and then defended it. It was a douche move and people rightfully dragged her for it. We're in the middle of a pandemic and it's selfish to put aside social distancing for personal grooming. It's not selfish if you protest at this time though. The fact that millions of Americas are putting their lives at risk to do that is a testament to how committed people are to speaking out against police brutality, fascism and systemic racism. This is vastly significant moment in history and I hope and pray that massive change will come from this. Anyway Stanton went to a protest. There are so many happening all around the US, and when they're not in urban centers populated by Black and brown people the police are surprisingly accommodating. When someone dragged Amanda for taking her young daughters with her she defended herself.
Amanda Stanton is defending her decision to take her daughters to a protest calling for change after the death of George Floyd after a troll accused her of bringing them along for "fame."

Stanton, 30, shared a photo of herself and her youngest daughter Charlie, 6, holding up "Black Lives Matter" signs at a protest in Newport Beach, California, on Tuesday. The former reality star is also mom to 8-year-old Kinsley.

"I can't believe you put your girls in an uncompromising situation and instill fear in their hearts just for fame. Shame on you!!" one Instagram critic commented on the photo.

Stanton responded to the critic, saying that her daughter "was not scared" and that the protest was "very peaceful."

"She was proud to make her sign and be there and I'm happy she got to experience the emotion and passion in everyone there," Stanton wrote.

The Bachelor alum further explained her decision on her Instagram Story, sharing some tips a friend had given her and sharing that she carried Charlie for the majority of their time at the protest.

"I understand not everyone is comfortable protesting or bringing kids and I totally understand that!" the mother of two added in another slide. "I went back and forth on it and it was a decision I made so they could learn from an early age to use their voice and exercise their rights to stand up for something that's so important."

"It was peaceful and powerful," she continued. "I didn't expect to get emotional as I did. No books or words can ever teach them the passion and emotion behind what they experienced firsthand today. I hope it encourages them to be braver than I was growing up when it comes to using their voice and taking action."

"And if you're not comfortable taking your kids, I think showing them videos of these protests is a great way to educate them!" Stanton added. "The next generation HAS to be better than us."
Amanda also posted on her stories the viral video of Twitch and his wife, Allison Holker, educating people about white privilege. I agree with Amanda that you can't just teach your children activism unless they participate. Last night my son went to a protest in our town. He wore a mask, he socially distanced, and I felt good about letting him do that. That was a valid reason to go out and be among people. (I did not go because it was at the same time as our weekly CB Zoom meeting.) Other than last night, neither of us have seen friends in over three months. This is a time to gather and to protest, only if you can and only if you don't have underlying conditions that make it dangerous for you or a family member.
Decades from now we will remember this time, when people went out and gathered in the middle of a pandemic, and when police violently responded under the orders of a fascist dictator. Instead of fire hosing protesters like during the civil rights movement, police and military are murdering people, tear-gassing them and shooting them with rubber bullets. They're infiltrating activist groups and trying to criminalize dissent, just like they did in the 60s too. History will not remember this government fondly and we all need to stick together and resist, even influencers who post selfies constantly and do stupid sh-t like driving hours to get their hair done. She is using her platform. Respect.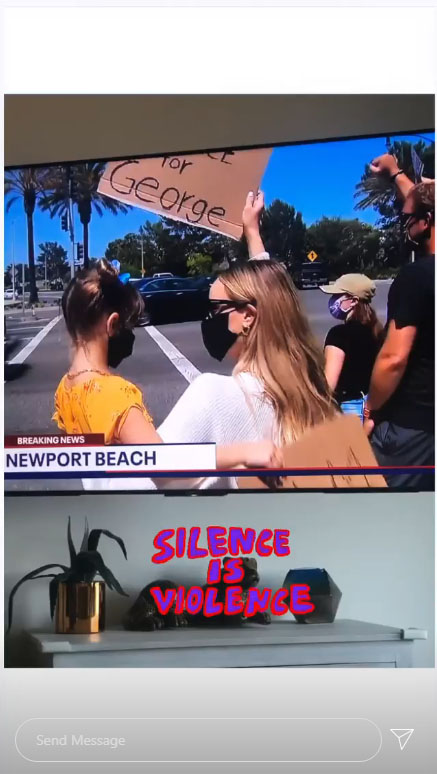 This post does make me lol though.