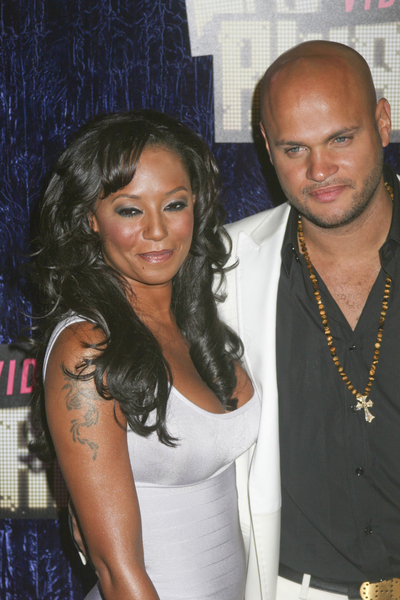 Well it's been a little while since we've heard much about the bitterness that is the relationship between Melanie Brown and Eddie Murphy. Once in a while I'll think about it, and then think about how I'd like to drop-kick his head. Then I remind myself that I'm not the ninja I like to think I am. Though I will admit I'm damn close. But it appears the two haven't come any closer to an agreement regarding support for their daughter, Angel Iris. There's really no talk of visitation, so it seems Murphy doesn't want a thing to do with her – supposedly he hasn't even bothered (or maybe been allowed to) meet Angel yet.
"Mel B and Eddie Murphy are headed to court again — this time in regard to child support for their 6-month-old daughter, Angel. The exes are scheduled for a Nov. 14 hearing in Los Angeles to iron out the dollars and cents. In June, DNA tests proved the Oscar-nominated star to be the father of Angel. Eddie had infamously and publicly questioned his paternity of the child, born on his 46th birthday, Apr. 3.

"Despite claims from Eddie, who has five children with ex-wife Nicole, that he has paid child support, the Spice Girl and Dancing With the Stars contestant, 32, insists that the star has not coughed up "one penny" and filed a lawsuit in July to legally establish paternity."
[From OK magazine]
I really don't understand what the hell Eddie Murphy's problem is. But then again we're not privy to the private legal workings behind the case. But I'm wondering why he thinks he has a leg to stand on – the kid has been proven to be his. I'm guessing the argument is not about child support in and of itself, but about how much child support he should have to pay. I feel so badly for their baby daughter. It's hard to imagine that she'll ever be able to have a loving, supportive relationship with her dad. I would hope that Eddie Murphy could put aside whatever his issues are with Melanie so that they can raise their kid together. But the guy is supposedly a crazy control freak and sort of a jerk, so I'm not holding my breath.