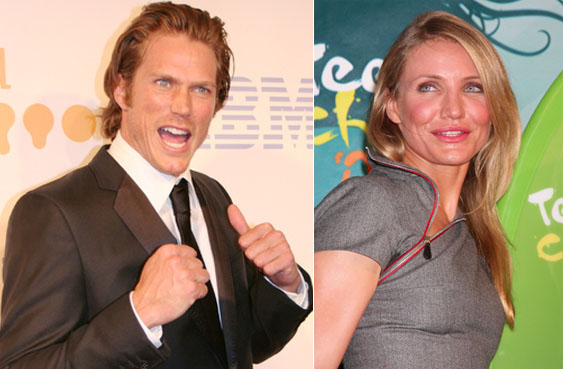 Earlier this week, Cameron Diaz was connected to Sex and the City hottie Jason Lewis (the big, strapping blonde who played Samantha's lover Smith Jared). According to reports, coming mainly out of the British press, claim that Cameron and Jason were "sitting in the corner of Shima totally wrapped up in one another. They couldn't stop touching each other. And we couldn't stop looking." To be fair, Cameron and Jason have allegedly been friends for a while, so it could have totally been a simple, friendly dinner. Or it could never have happened.
In the past month, the British press was also eager to set Cameron up with either/both Leonardo DiCaprio and/or Jude Law (before the Samantha Burke baby-mama news broke). The things with Leo and Jude came mainly out of reports that Diaz was partying with those guys in London. And where the Jason Lewis thing is a long way from being confirmed, People Magazine has a little blurb that will blow your mind – if your mind if blown by People's "Caught In the Act" column. They claim: "Cameron Diaz and Keanu Reeves, grabbing drinks with a female companion at The Whisper Lounge at West Hollywood outdoor shopping mall The Grove. The two sipped pinot noir during their friendly-looking 45-minute meeting." That sounds like the perfect little story to launch a British newspaper's naughty hamburger story:
CAMERON DIAZ has been spotted on a date with Speed star KEANU REEVES – after a quick-fire round of romances with three other Hollywood heart-throbs.

The couple dined together at a secluded restaurant in Los Angeles before heading off to a cinema until the early hours. Playful Cameron entertained Keanu, 44, by trying to stuff an entire HAMBURGER into her mouth.

The star of There's Something About Mary enjoyed a string of dates with both JUDE LAW and LEONARDO DICAPRIO on a visit to London last month. And earlier this month she had reportedly started dating Sex and the City hunk JASON LEWIS.

An onlooker at low-key eatery the Whisper Lounge in Los Angeles said of Cameron and Keanu: "They looked very cosy. Cameron was stuffing her burger in her mouth and playing up the fact that she has that wide mouth. Keanu was laughing – it was strange to see him giggling like that as he's regarded as a bit serious."

The duo washed down their meal with cocktails before heading arm-in-arm to a cinema where they stayed until 1am. Cameron, 36, and Keanu played lovers in 1996 flick Feeling Minnesota.
[From The Sun]
Even though I'm generally kind of "meh" about Cameron (I don't hate her but I don't love her), I kind of think she and Keanu would be great together. Cameron and Jason? Not so much. They're too blonde, too tall. Too matchy-matchy. But Keanu and Cameron would be totally hot together. I've been waiting for him to find someone nice, someone who can make him laugh. He's had so many struggles in his personal life, I just feel for the guy. I want him to be happy – and Cameron would be great for him.
Keanu Reeves is shown out shopping for a cellphone on 8/20/09. Cameron Diaz is shown at the Kids' Choice Awards on 8/9/09. Credit: WENN.com. Jason Lewis is shown at the GLAAD Awards on 5/9/09. Credit: PRPhotos