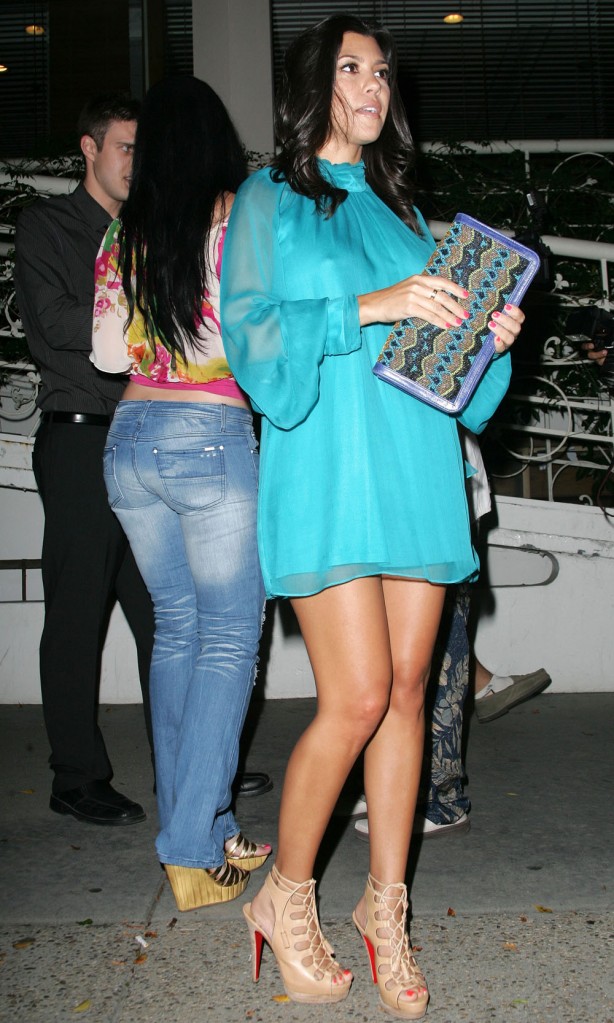 Star Magazine has an interesting article about the drama surrounding Kourtney Kardashian's pregnancy. Much of it reads like yesterday's report from the Enquirer – that Scott Disick is a cheater and a wanker, and that Kourtney's family and friends don't think much of him. Most of this piece is a confirmation of that, but there is some new information. Apparently, Kim Kardashian was really pissed that Scott didn't drop to his knee and propose immediately when he learned of Kourtney's pregnancy. Also – Kim read Scott the riot act about his immaturity. The way Star makes it sound, it's as if they came thisclose to referring to it as a "man-to-man chat". Kim has also been trying to act like Scott's official chaperon, although I don't know how she's managing to watch Scott while she's allegedly reconnecting with Reggie Bush.
The most interesting part, to me, was about how Kourtney thinks her pregnancy is her ticket to fame. Kourtney thinks the baby will "raise her profile" and "the timing is perfect" to coincide with the promotion of her new show. She also has dreams of doing a maternity line:
"[The Kardashians] are all super concerned because Kourtney and Scott have never had a solid relationship," an insider tells Star. "He's a cheater, and he's really hurt her in the past."

Kourtney, 30, called off their 10-month engagement in February because of Scott's wandering eye. "He was openly flirting – probably more – with other women," a source said at the time. But by March, they were back on. Then Kourtney forgot to take her birth control pills, and a baby was on the way.

"Kim and the rest of the Kardashians are really rallying around Kourtney," a source says. "Thye want to make sure she has all the love and support she needs." Because she isn't getting it from Scott.

Kourtney admitted: "Scott's had moments when he's really scared."

"Kim pulled him aside for a long lecture," an insider reveals. "She told him that he needs to stop being so immature and noncommittal." Kim couldn't believe that Scott didn't propose as soon as he heard the news.

But for Kourtney, the ring really isn't an issue. "She's got what she wants," says a source. "Attention!"

The mom-to-be seems more concerned with making headlines than playing house. "She thinks the pregnancy will be great for raising her profile," says a source.

Indeed, the publicity is perfectly timed to coincide with the start of her new show, Kourtney & Khloe Take Miami. Next, she plans to open a children's clothing store in LA. And she even wants to design her own maternity line! "She wants to do something like Nicole Richie did for A Pea in the Pod," one source explains.

While Kourtney travels to promote her show, Kim is keeping an eye on the father-to-be, even chaperoning Scott to an event on August 12. "She didn't let him out of her sight all night!" a source tells Star.

"Kourtney wants Scott in her life, but she's not going to put up with any drama," says a source. "She'll raise the child alone if it comes to that."
[From Star Magazine, print edition, August 31 2009]
I don't find any of this hard to believe in the least. Kourtney has been looking to break out and get more attention for a while now – Khloe too, for that matter. They've been eclipsed by Kim's badonkadonk long enough! And Kourtney's plan to get more attention is working! People Magazine is now doing daily updates on Kourtney, all with "exclusive" interviews. Today's story is "I Wish My Dad Was Alive". I have no doubt that Kourtney does miss her father, but I'm starting to find the coverage, the interviews, and the updates a little… what's the word?… famewhorish. I'm already over it. That was quick!
Here's Kourtney leaving Madeo restaurant in Beverly Hills on July 28th. Images thanks to Fame Pictures .