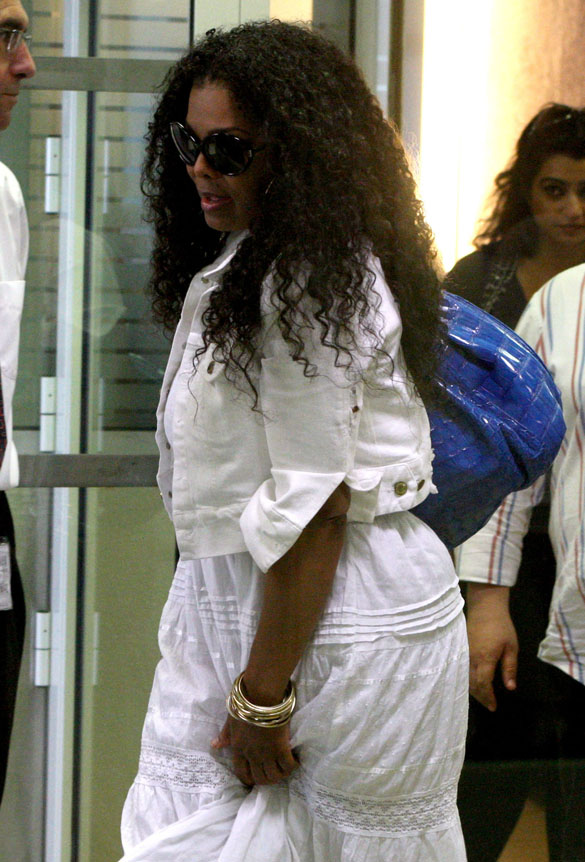 Janet Jackson's long planned book about her struggles with weight has been expanded into a "tell-all" about her family, obviously with special attention paid to brother Michael. It sounds like the book is mainly staying the course in terms of talking about her fluctuating weight and dramatic diets, along with talking about her self-esteem issues and most of the things you'd expect in a weight loss memoir. But she's also going to talk about how Michael's death has impacted her entire family – including his three children.
Janet Jackson is penning an explosive tell-all about her life and family, including her late brother Michael, an insider tells "In Touch." The book, which will be published early in 2010, is set to coincide with the release of the star's new album.

"She is going to talk about Michael's death and how it's affected her and his children and the rest of the family," says the insider. "But a lot of it will also focus on her battle with self-esteem and weight."

According to the insider, Janet, who is filming Tyler Perry's "Why Did I Get Married Too," has long suffered with her yo-yoing weight and self-imagine problems. "She's a huge success," says the friend. "But that's not what she has always seen when she looks in the mirror, so the book will talk about how she has coped, and about her family relationships. She wants to help other young women out there."
[From In Touch, Aug. 31, 2009, print ed.]
Janet's book is one of the few celebrity-authored ones that I think I'd actually sit down and read the whole way through. She's notoriously private, and I'd be interested to read what she has to say about Michael's passing. And frankly her weight loss issues are pretty fascinating. It's rare to have someone who's famous gain and lose so much so quickly and so often. Whenever she's heavier, Janet tends to stay out of the public eye, but every so often pictures will pop up in the Enquirer or Star of a much, much heavier Janet going to the grocery store or something. And then six months later she's got washboard abs again! It's mind boggling.
In other Jackson family news, they're also taking issue with AEG's planned Michael Jackson memorabilia tour – they want more than the 50% profits the administrators of the estate negotiated.
Michael Jackson's younger brother Randy is on the witness list and could possibly testify Friday in Los Angeles County Superior Court against a proposal by concert promoter AEG Live for a 3-city memorabilia tour that would begin this October, according to the Associated Press. The tour will coincidence with the release of a feature film using footage from Jackson's final rehearsals.

Like Randy, the Bad singer's mother, Katherine, also disapproves of the proposal, which was ironed out by John Branca and John McClain, who are serving, for now, as special administrators of Jackson's estate. As it stands now, the deal would give half of the profits from the exhibition to the Jackson estate and the other half to AEG Live.

Lawyers for the Jackson family argued during a hearing last Monday that the 50-50 split of profits for the exhibition was too generous to AEG Live, but estate lawyers said they negotiated the best terms possible. Katherine wants the deal renegotiated. Other industry experts will also likely take the stand during Friday's hearing. Upon completion of the proceeding, Judge Mitchell Beckloff is expected to make a ruling on Katherine's objection to the agreement. AEG Live lawyer Kathy Jorrie has previously said any further delay in approval would cause the company to abandon the deal and the company would not renegotiate.
[From Radar]
I don't know why, but my gut instinct is that the memorabilia tour won't end up happening. It sounds like AEG is sick and tired of dealing with the Jacksons, and I doubt they'll budge. So far AEG's been claiming that they've only lost money on Michael Jackson since he died before he performed any concerts. They're a business and they're obviously trying to recoup some of their costs more than honor Michael's memory. That said, it's hard to argue the Jackson family is only focused on keeping his memory alive either. It seems like all the parties are focused solely on money, which will probably leave them all with nothing.
Here's Janet Jackson landing in Nice Airport with brother Jermaine Jackson and his wife Halima Rashid on May 26th. Images thanks to BauerGriffinOnline.