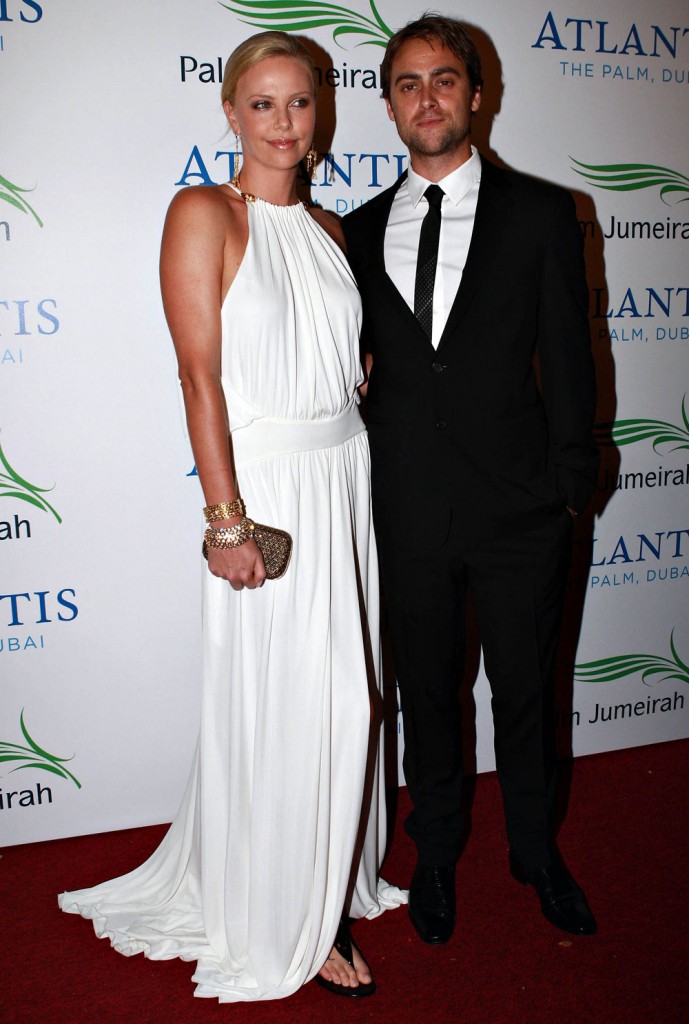 Charlize Theron usually does a good job of staying out of the tabloids. She works consistently and seems to have the respect of her peers. Her nine-year relationship with Irish actor Stuart Townsend seems solid (though there is the odd whiff of trouble every six months or so). Her politics are pretty basic – she seems like a pretty solid Democrat, and her biggest cause seems to be gay rights and gay marriage, the struggle for which she has compared to apartheid. Her interviews are usually pretty innocuous – her most recent Vogue interview included revelations like "I just know I'm going to have five boys" and "Stuart and I been together for almost nine years, so by now we've kind of realized that we're going to take this journey together." So it's pretty weird that a report would come out featuring some less-than-perfect story of Charlize. This story involves Charlize spanking a random stranger, and Stuart getting pissy:
Although we're not sure what the custom is in Charlize Theron's native South Africa, there is still a universal code for what's acceptable when it comes to slap and tickle with other guys.

Just ask her beau Stuart Townsend, who stormed out of West Hollywood's Crown Bar on Friday night with the blonde after she got a bit rowdy with a bystander.

The couple, attending an anniversary party, were hitting a bottle of bubbly all evening until one onlooker tells RadarOnline.com that Theron got a little hands-on with a nearby dude.

"She leaned over the table and smacked some other guys ass," an eyewitness tells us. "Stuart looked pissed, and looked at her and said 'Why did you do that?'"

Clearly she didn't have a satisfactory answer, as our onlooker tells us the couple bickered all evening before heading out.

"They constantly fought the rest of the night together, and ended up leaving the party early in a big huff," said the spy.
[From Radar]
Will this get blown up like a few previous reports, and become something like "Oh my God they're breaking up because she spanked a stranger!" While that would be hilarious, I doubt it. But the hell is Charlize doing spanking random strangers? Was she drunk? Was she high? Charlize is a girl who enjoys having a good time, and I could see how some sort of drunken horseplay would get out of hand (so to speak). Why did Stuart get upset? Did she promise to only spank him… in private? Oh… I wish I knew.
Charlize Theron is shown out walking her dogs on the beach in Malibu on 8/16/09. She's also shown with Stuart at an event on 11/20/08. Credit: Fame Pictures