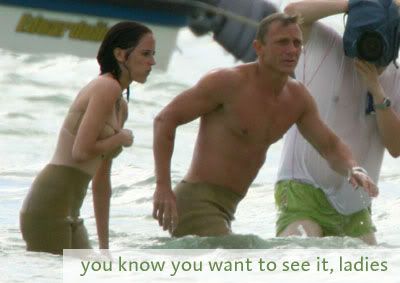 It looks like the only card Daniel Craig can play is the nudity one, because he doesn't know how to play poker:
When film bosses realised Craig was clueless at the game they flew an expert to his Berlin hotel to give him some last minute tips. An insider told The Sun newspaper: "
Daniel could not play cards
– it was so funny. It is a critical part of the film, where Bond shows how cool a customer he is.
But it was frustratingly ridiculous how long it took to teach the cast how to play or behave at a poker table
.
"Everyone at the hotel has been laughing about a Bond who can't play cards."
Let's revisit Craig's various other public failings as the shortest, blondest Bond:
He can't drive a stick shift
He hates guns (This is a personal preference and is not damning, just interesting.)
He had his teeth knocked out while filming his first fight scene
He got prickly heat from a sunburn
His on-set requests include: "wet wipes, baby lotion and two nail files."
Speedboats make him sick to his stomach

Despite the fact that he's quite obviously a wuss, Craig is amazed that he's become the new gay icon.

On the other hand, Craig sports a six pack and has no qualms about getting naked or filming graphic sex scenes.

It might even out, and we're willing to sit through the film for a glimpse of his goods.