Embed from Getty Images
I know it's been a year since it ended, but I am still mad about the Game of Thrones series finale, particularly how they handled Khaleesi and especially what they did to Missandei, played by British actress Nathalie Emmanuel. Not only was Missandei beautiful, but she was also loyal, strong, and her friendship with Daenarys kept me coming back every week. Besides Daenarys and Arya, Missandei was my favorite character on the show and I wanted her to have a happy ending. Not to mention the fact that Missandei was the only woman of color on GoT.
Now, the show is over, everyone has moved on and so has Nathalie. She is reprising her role in the Fast and Furious franchise and starring in her Quibi show, Die Hart, with Kevin Hart and John Travolta. As Nathalie's star rises, so has her sense of responsibility to speak out against racial injustice, inequality, and representation in the mostly white world of film-making. Nathalie did an interview with Harper's Bazaar where she talked about Missandei's fate, representation in Hollywood, and more.
On being on mostly white sets
I'm used to just being on sets that are mostly white. And then I'm probably one of maybe two or three—which is rarer—people of color. There's so much untapped talent that's not being utilized. And I think that's just such a shame. We need to actively hire Black people and other people of color into the industry in every single way. And hopefully then we will see actually long-lasting change.

On Missandei's death:
Missandei stayed kind and graceful and dignified despite unimaginable pain and suffering. She just represents something that so many people experience, just pain and oppression, and just still being the best that you can be, and be a good person, and be a kind person. And it's so easy for trauma like that to make people angry. Trauma just can make people really unhappy and really angry. And she just wasn't. But she had a fierceness, a quiet confidence and a quiet strength. I have to muster that sometimes for me. And I think she really represented that so well.

"Missandei and Grey Worm represented a lot for Game of Thrones fans and people of color who watched the show and were seeing themselves on the screen when there wasn't a lot of representation"
Absolutely. Missandei and Grey Worm were very much existing in a predominantly white world, and that is an experience I 100 percent relate to. I grew up in an area like that, so I completely can relate to the journey and the struggles of that, whilst very different, I can imagine. I think that those characters, like you said, had to represent a lot of people, because it was just them. And I think the kind of response to Missandei's death, and those characters just in general just really speaks to why representation is so important, and how going forward when we're making big shows like this, that representation looks more like the world that we live in. Hopefully, people will be aware of that going forward in the future.

On recent changes in representation
Every time you see a story that isn't just centered around white people, I feel it's a step in the right direction. I'm not saying that stories that are centered around white people should never be told again, but that there is opportunity for everybody to have their voices heard. But for me, I always feel like there is this moment where there's this outrage about certain issues around inclusivity and representation. And then there's this flurry of films made, and opportunities are given to Black filmmakers and writers and actors. And then it goes back to the way it was. I think this issue can only be resolved when people in power, in powerful positions, are actively hiring Black talent and Black creatives at every level. And not just in front of the camera.

I think this issue can only be resolved when people in power are actively hiring Black talent.

It's got to be in the writing rooms, in producing teams, in directors, and all the way up the ladder. That's true for not just Black people, but for every minority group that feels underrepresented in film and television. That's a systemic change, and that just has to happen if we don't want to fall into these traps again of just amplifying one certain group's voice. Because to be honest, when that happens, when you get this flurry of films that come out, there's something that you celebrate.

But it's also something that needs to be replicated over and over and over again. And not just because people don't want to be seen as racist, so it almost feels performative. You need it to be like, "I'm a studio exec, I've got power. Let me find and work with actors or filmmakers that are completely outside of my usual remit." That takes action from people in power. And I think that is the only way we're going to see it change in a long-term sense.
I have been following Nathalie's career and personal life since she was introduced on Game of Thrones. Her recent interviews, tweets and Instagram posts have made me love her that much more. I love that Nathalie talks about self-care as an act of defiance and that she uses yoga and silence to help her integrate the chaos happening in the world. I am sure her family and friends are enjoying her racial justice reading list and learning yoga from her as well.
In this interview what really hit home for me, especially in the climate we are in now, is her skepticism around systemic change as it concerns racial injustice and representation. The whole performative allyship thing can be especially egregious. I have hope because this time around does feel completely different from when the BLM protests began. I appreciate her willingness to join the movement like others in her industry who are using their art and voice as disruption.
If more people like Nathalie stand for change maybe we will see the benefits of an equitable world in our lifetime. Perhaps her little nephew will never experience discrimination or racial profiling when he is older. And hopefully, there will be more stories and voices on screen that reflect the actual world we live in.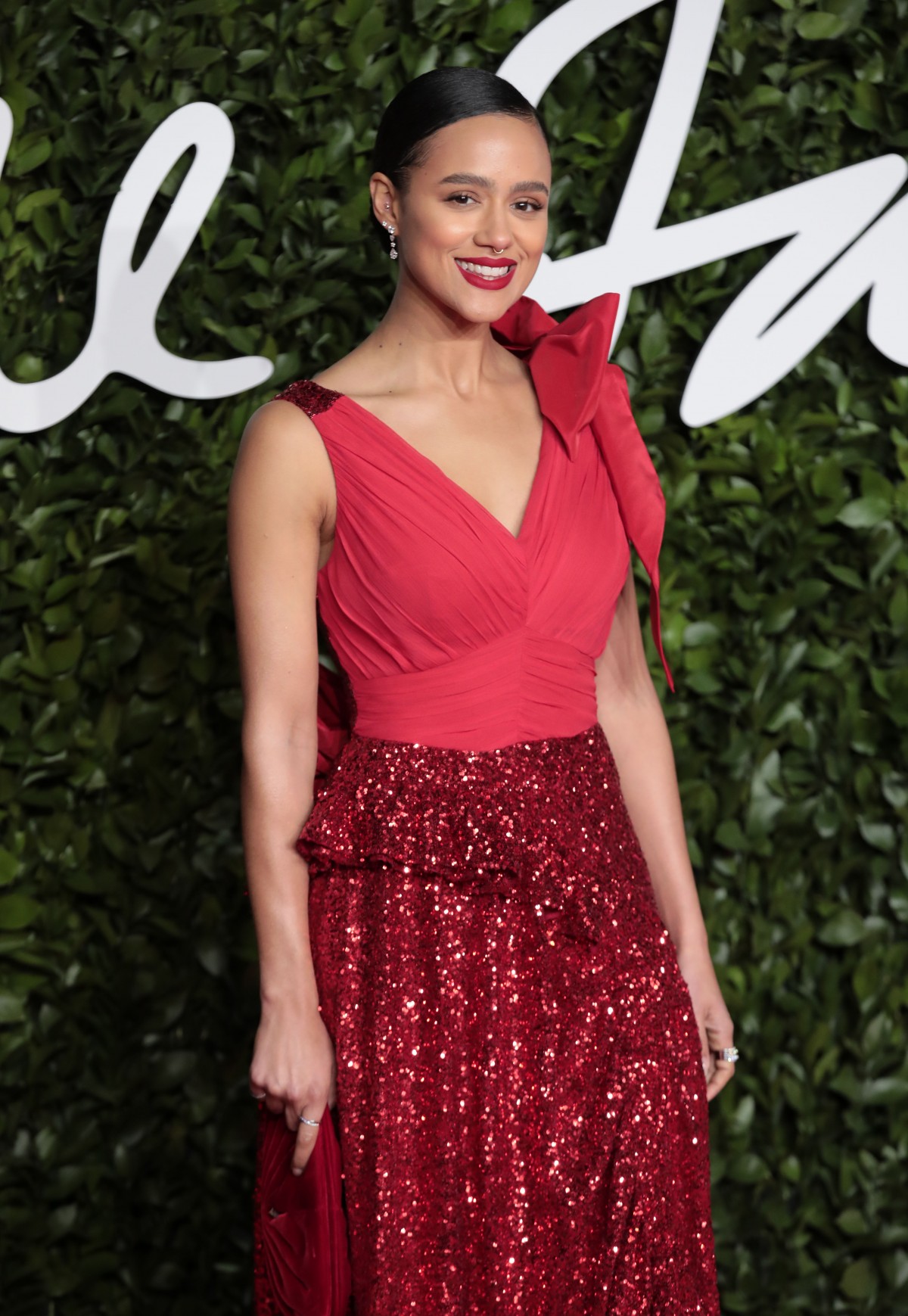 Photos credit: Avalon.red and via Instagram