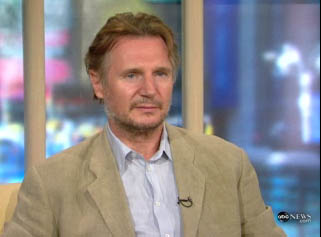 Liam Neeson was interviewed this morning on Good Morning America by Diane Sawyer. He was there to promote his new film Five Minutes of Heaven, a true story set in Northern Ireland after the Good Friday Accord in the late 1990s. Diane went off topic quickly, asking the haggard-looking Liam how he was doing. Liam admits that he and his two boys (Michael, 14, and Daniel, 12) are "taking each day as it comes" since Natasha Richardson's death in March. Liam also volunteered his sincere condolences to the Kennedy family with the passing of Senator Ted Kennedy early this morning: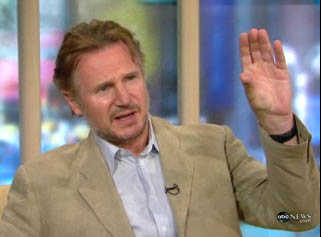 "We're taking each day as it comes," a subdued Neeson said of his family's coping with Richardson's untimely death after a March 18 ski accident. "I'm still getting extraordinary condolence letters from American people that's deeply, deeply touching, and that's partly the reason why I've recently become an American citizen. I'm still a proud Irishman, but I've become an American citizen, and I'm very, very proud of that."

Neeson also acknowledged the passing of Sen. Edward Kennedy, whom the actor first met when he was 10 years old during a visit to the Kennedy ancestral Irish homestead. Kennedy was one of those who contacted him following the March death of Richardson, 45.

"I met him a couple of times over the years, and he wrote my family a very, very beautiful touching condolence letter when Natasha died," said Neeson. "He was a special man. It is the end of an era."

Neeson, who is appearing in the new film Five Minutes of Heaven, says he's been moved by the letters from so many Americans. "[That] is partly the reason that I have recently become an American citizen," says the star who was born in Northern Ireland. "America has been very, very good to me. I am still a proud Irishman … but I have become an American citizen, and am very proud of that."
[From People]
God, I'm sitting here welling up with tears. The news about Ted Kennedy is sad enough on it's own, but hearing Liam talk about how Sen. Kennedy sent him a beautiful letter of condolence is just heartbreaking. I might need to have a little one-person Irish wake here at the computer this afternoon. Oh God, and when Liam talks about becoming an American citizen… well, this daughter of an immigrant always chokes up with naturalization stories. I find them so moving… and it's the kind of story Sen. Kennedy would have loved too. Here come the tears… f-ck it, I'm finding a video of someone singing "Danny Boy" and pouring myself a shot of whiskey. For Teddy. And for Liam.