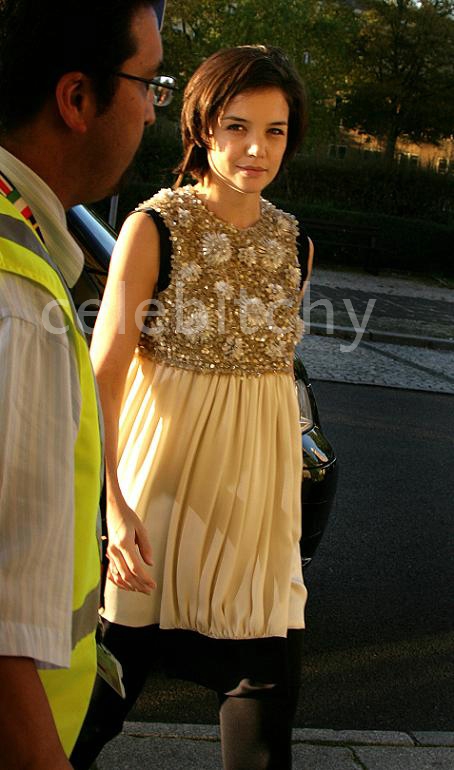 Despite a lot of internet speculation over an unfortunately poufy dress, it appears that Katie Holmes isn't pregnant after all. At least according to her PR rep, who I have a policy of never believing. I'm pretty sure they're just paid to come up with a variety of ways to say "No." If a "No comment" was given, or the always classic "We don't comment on our clients' personal lives" (my favorite, because what the hell do you do to earn you fee, Ms. Publicity Rep?) I would hope there was a little wiggle room and in a few months a baby would pop out. But the rep flat-out denied any pregnancy, which leaves me wondering: what the hell are TomKat going to do to stay in the spotlight now? I think it's time for Tom to go on another Scientology rant. I think this time, he should choose… vegetables. They're pseudoscience, and they're bad for you! Anyway, here's the official denial of another impending TomKitten.
Katie Holmes is the latest victim of the poufy dress pregnancy scare. She sent bloggers buzzing when she wore a high-volume Balenciaga gown at a Berlin airport October 13.

But a rep for the actress, 28, tells Usmagazine.com: "She is not pregnant." Still, a family insider tells the latest issue of Us, "Katie told me she wants another child with [husband Tom Cruise].

"She talks about it a lot. But I do not know when exactly they plan to have another baby." For the time being, she has her hands full with her 18-month-old daughter. "Katie treats Suri like her best girlfriend," a source close to the family tells Us. "Suri is the center of it all."
[From Us Magazine]
She treats a two year old like her best girlfriend? I don't know about Katie, but I talk about some pretty inappropriate stuff with my best girlfriend – I doubt I'd tell my two year old how that guy I was dating turned out to be a total jerk. But it's probably a good idea that Suri finds that out now, since Katie's boyfriends are likely to pop up in her life from time to time. Oops! Did I say that? I would never accuse Katie Holmes of being Tom Cruise's beard. That's a lawsuit right there, is what that is. Either way, I find that comment kind of curious. Does your best girlfriend eat Gerber Graduates? I think not.
Picture note by Jaybird: Header image of Katie in the dress that made everyone speculate she was pregnant on October 13th. Probably not a good idea to wear it again. Splash Photos: Images thanks to Splash Photos.