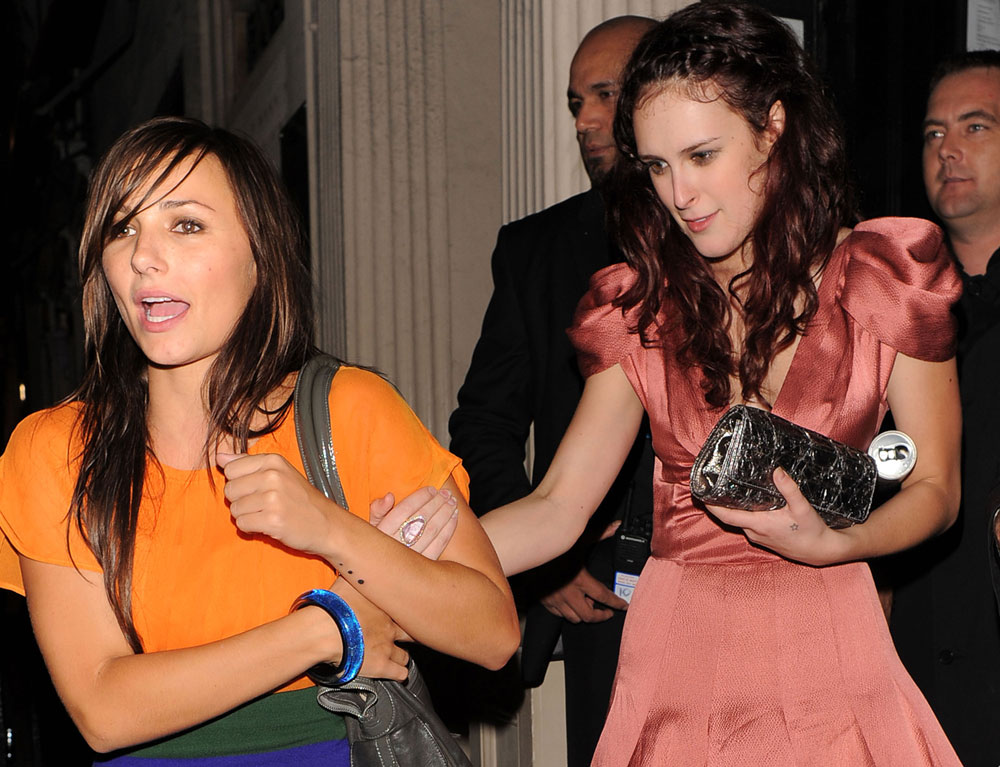 Rumer Willis is out doing the promotional rounds for her September release of Sorority Row. Sorority Row is a totally B-List (if not C-List) horror film starring Rumer, Audrina "Wall Eyes" Patridge and Carrie Fisher. The plot: "A group of sorority sisters try to cover up the death of their house-sister after a prank gone wrong, only to be stalked by a serial killer." I'm already asleep. But Rumer is a professional, and she's fulfilling her promotional obligations with vigor. Rumer was asked about what part she thinks her famous parents (Demi Moore, Bruce Willis and step-dad Ashton Kutcher) play in her career. Rumor responded:
"You can't do anything about who your parents are. I think everyone has opportunities and everyone has doors that are open to them in different ways. If you're talented you'll get work. If you suck then you won't. In the end, talent is all that matters because you could go and get an audition, but if you go in there and you suck you're not going to get a job."
[From I'm Not Obsessed]
Now, before everyone jumps on Rumer's ass, let's parse her words. Is she saying that she's so talented, she's like the next Meryl Streep, and it wouldn't matter who her parents were? Not really. I think she's saying that yes, her parents and her name got in the door for auditions or meetings, but that she's able to get parts on her own talent. CB wants me to point out "that's distinctly different than saying she's massively talented or would have made it without her family. She's just saying she did have more opportunities, but that if she wasn't able to act she wouldn't have gotten roles. I think that's fair, not like she's saying she's all that and could have made it on her own." I think CB's right, to a certain extent… but I still have some qualms.
Here's the thing – Hollywood isn't just about who's talented. We see that every damn day. There are many, many "actresses" out there who are hired for parts despite the fact that they can't act their way out of a paper bag (cough cough Megan Fox cough). But those "actresses" are hired because they're hot – because they're sexy, because guys like to look at them, or because they slept with the producer. I don't mean to be cruel, but I don't think Rumer will ever have that problem. Here's another thing – I've seen Rumer in movies, and the girl isn't talented. So why is she getting parts, albeit in B-List productions? I have no idea. I tend to think her own ambition and unyielding desire to work and be "famous" is a big part of it. Sigh. Maybe she'll grow into a half-decent character actress. Here's hoping.
Rumer Willis is shown outside a club in London with her Sororiety Row co-star Briana Evigan on 8/27/08. Credit: WENN.com