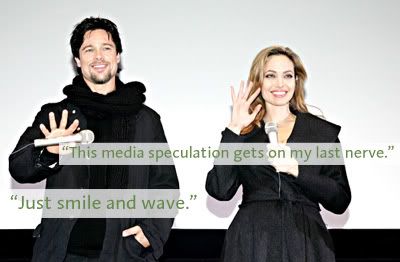 Since the wedding speculation is over for now, the media is focusing on the Jolie-Pitt fetus and where and when it will first emerge.
The Sun says that Jolie will have the baby in France to honor her mother, Marcheline Betrand, who is French. Bertrand has uterine cancer that is thought to be terminal and is convalescing in Beverly Hills.
A source states the obvious:
"Angelina is torn between wanting to be close to her gravely-ill mum in America and respecting her wishes by having the baby in France. She adores her mother and wants more than anything for her to be around to see her firstborn.
Angelina takes her mom's advice on when to have the baby, too:
"We planned on having the baby right near my birthday, June 4. My mom suggested it," Angelina Jolie was quoted as saying.
"She's really into astrology and thought it would be great to have a Gemini like me."
Only a very powerful woman can tell Jolie and Pitt when to have sex. If Betrand's wishes come true the baby will be the right sign and nationality.
We hope that Angelina's mother is comfortable in her illness and that she gets to spend time plenty of time with one of the world's most anticipated babies.
A newborn may change the Jolie-Pitt family dynamic, but for now Maddox is the number one celebrity child.