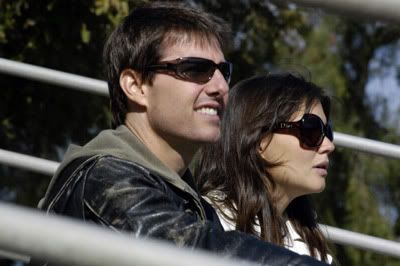 So now Tom says via his publicist that he didn't threaten Viacom to not publicize MI3 if South Park's "Trapped in the Closet" aired again. This seems untrue in light of South Park creators Matt Stone and Trey Parker's hilarious statement:
"So, Scientology, you may have won THIS battle, but the million-year war for earth has just begun!…Temporarily anozinizing our episode will NOT stop us from keeping Thetans forever trapped in your pitiful man-bodies,"
Yeah, I know you've already read it, but it's quite clever. Cult expert Rick Ross points out that the Latter Day Saints can take a joke much better than the Scientologists.
You've probably already seen these pictures too. Here are Tom Cruise and Katie Holmes at Conner's softball game on Saturday. I'm sure he's thrilled to have his dad and his dad's girlfriend there along with the team of photographers that follow them everywhere.
Pictures [via]
Four more after the jump.