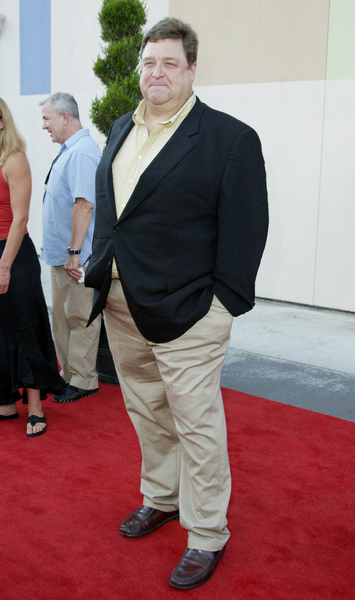 This story would have been better if we'd ever reported that John Goodman checked into a rehab center, but let's be honest: it's John Goodman, so it didn't really register on our radar. But John Goodman checking out of rehab? Totally worth a story. You know why? Because celebrities have been really, really well behaved this week, and that means we have to write about what's left: the John Goodmans of the world. If you don't like it, I suggest you go to your local celebrity, hand them a bottle of booze, some car keys, and a donkey, and just see what the hell happens. Until then, I'm writing about Q-list stars in rehab.
John Goodman has checked out of rehab after being treated for an undisclosed reason. It was unclear how long the actor was treated, or when he was released. "For my family and myself, I voluntarily took the necessary steps to remain sober the rest of my life," Goodman said in a statement issued by his publicist, Stan Rosenfield. Goodman left Promises Treatment Center in Malibu, "Entertainment Tonight" reported Wednesday on its Web site.

Reached by e-mail late Wednesday, Rosenfield referred to the statement and declined further comment. Goodman, 55, is best known for playing Dan Conner on the hit sitcom "Roseanne" in the 1980s and '90s. His film credits include "The Big Lebowski," "The Flintstones" and "The Babe." He won an Emmy Award this year for guest actor in a drama series for "Studio 60 on the Sunset Strip."
[From the Associated Press]
Something tells me John Goodman probably hooked up with some total hotties at Promises. We all know that's where the sexiest stars go for rehab. A lot of long-time sober actors have been having issues lately. Last year, Robin Williams relapsed after being sober for 20 years, and managed to keep it pretty quiet. It's got to be incredibly challenging to maintain your sobriety over the course of your lifetime. The only thing I'm addicted to is sugar, and just trying to beat that has been life-consuming for me. Despite the jokes, I have a lot of respect for anyone who confronts their addictions head on. Hopefully John Goodman has managed to deal with whatever demons he's got.