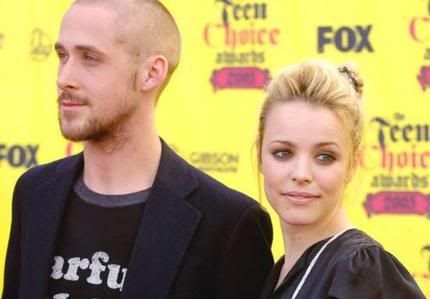 Canadian actor Ryan Gosling has spoken out about his split from his longterm girlfriend and costar in The Notebook, Rachel McAdams. He told GQ Magazine that he's been confronted by accusatory women on the street who wonder why it didn't work out with McAdams. He said he feels like he should be giving strangers hugs to comfort them over their misplaced heartbreak that he's no longer with McAdams. Gosling also comes across like a gentleman in the way he describes both his courtship with McAdams and how they broke up. He said that their romance was better than The Notebook, and to compare it to that movie does it a disservice.
I really like how he explains their breakup, because it sounds like something your grandpa would say with a wise look and you'd say "I never thought of it like that, but that's a really good way to describe it." He said they "Went down swinging and called it a draw." Who talks like that except cool old grandfathers? It's also a very gracious way of saying they fought a lot and that it was mutual:
"I mean, God bless The Notebook," Gosling says. "It introduced me to one of the great loves of my life. But people do Rachel and me a disservice by assuming we were anything like the people in that movie. Rachel and my love story is a hell of a lot more romantic than that."

They broke up, is the thing. It's been a few months. Gosling says it wasn't the attention that did it, but other than that he doesn't really know what to say. "The only thing I remember is we both went down swingin' and we called it a draw," he says.

The Notebook people have taken it harder. "Women are mad at me," Gosling says with a rueful smile. "A girl came up to me on the street and she almost smacked me. Like, 'How could you? How could you let a girl like that go?' I feel like I want to give people hugs, they seem so sad. Rachel and I should be the ones getting hugs! Instead, we're consoling everybody else."
[From Men.Style.Com]
It seems like Gosling and McAdams had a a tumultuous relationship, at least at the end. They were rumored to have broken up and to have reunited several times before it was official. They may have been engaged at one point as McAdams was seen out wearing a diamond ring on her left ring finger. No announcement or anything official came of that, and like many couples who started out with a lot of passion it sounds like it ended that way too. It's nice to know that Gosling has fond memories of their time together and it's refreshing how he manages to tell the truth about how it ended without trashing McAdams or placing blame. It kind of makes me sad and want a hug, and if Gosling was around I'd be sure to hit him up for one.
For his part Gosling is a lot more huggable lately. He has gained a considerable amount of weight in a short period of time for two roles, for Lars and The Real Girl in which he romances one of those silicone Real Dolls, and for an upcoming role as the father of a murdered teenager in The Lovely Bones.
Maybe it's because I'm old, but Gosling looks hotter to me with a few extra pounds, like he would give me the time of day and rub my feet afterwards.
Thanks to WENN for the picture below of Gosling at the premiere of Lars and The Real Girl in NY on 10/3/07. He is also shown with his sister, Mandi, at the LA premiere on 10/2. Thanks to PRPhotos.