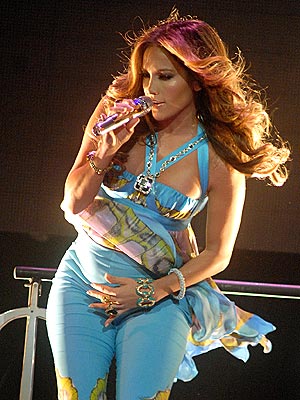 Jennifer Lopez sure is a bundle of contradictions. Though she's talked quite a bit about her desire to have children, she has yet to confirm her pregnancy, which doesn't seem to be a matter of "if" so much as "when" and "how many" at this point. A lot of people have pointed out that even if someone is famous, they're still under no obligation to inform the rest of us as to the status of their bellies. Alright, I'll buy that (you're forgiven, Christina Aguilera) but J Lo has actually said that if she was pregnant, she'd be hollering about it so loudly you'd hear her from the other side of the county. Or some such thing. My point being, she hasn't given us any reason to believe she'd be coy about it, and yet here she is, keeping her lips sealed.
So would you like further proof that she's got a bun (or two, depending on reports) in the oven? She and husband Marc "Skeletor" Anthony spent two hours at famed Los Angeles baby boutique Petit Tresor shopping for the future baby Lopez. They even had the store closed down so they could do it in privacy. Ahh, to be rich and powerful. And married to a really ugly guy.
Jennifer Lopez and Marc Anthony still aren't speaking about their pregnancy, but their shopping is doing all the talking for them! The parents-to-be visited Petit Tresor, the baby boutique to the stars, Wednesday afternoon to iron out nursery design details, a source tells OK!. And the two spared no expense, dropping more than $50,000 on supplies!

"Petit Tresor will be designing their baby nursery and the theme is nursery rhymes," the source says. After being ushered into the store, which was closed off to the public, through a back entrance, Marc and J.Lo spent two hours picking out the perfect baby necessities and accessories, most of which will be custom-made, including the cribs, changing tables and armoires. "There will also be custom-painted murals on the walls," the source adds. As OK! confirmed earlier this month, the couple is doubling their pleasure with twins. But because they have yet to find out the sexes, "they've chosen both 'boy' and 'girl' items, which will be interchangeable and the design for the nursery will be finalized when they do know the genders of both." Also on the registry are strollers, Moses baskets, a complete layette, blankets and a handful of toys.
[From OK!]
Can you imagine having $50,000 to spend on your own, adult room? Most of us would be thrilled with $50,000 to spend decorating our whole house. But a baby? Come on, the kid is going to have no idea. You know the rule, you buy your child an expensive toy, and they have more fun playing in the box it came in. I bet you anything, Baby Lopez (I'm calling him/her that because the idea of a Baby Anthony is utterly terrifying to my soul) will spend more of its time making forts under the golden crib than giving a care that he/she has a golden crib in the first place. Regardless, I'd love to say "Congrats" to the happy couple, but until I hear an announcement, I'm going to technically assume that J-Lo has just gotten fat in one very specific area. So until you tell me otherwise Jennifer, I'm going to suggest that you might want to do some sit-ups.