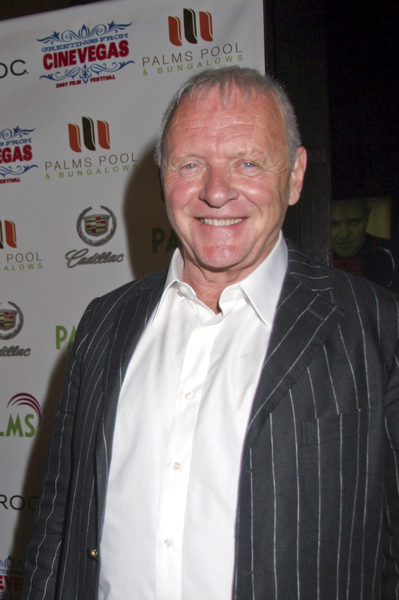 I consider messing with Anthony Hopkins about as advisable as messing with O.J. Sure Hopkins is a gentleman and a knight, but I'm pretty sure he's about 2 clicks away from actually being Hannibal Lecter. You know how they talk about roles an actor was born to play? Well when you're born to play an erudite cannibal, I'm going to assume that says something about you. Merchant Ivory films, however, doesn't appear to have taken my advisory seriously: they've shortchanged Hopkins by $750,000 for work on his latest project for them, a movie called "The City of Your Final Destination." If they find a bottle of chianti on their doorstep, I think they should run. That's Hopkins' equivalent of filling your shoes with cement.
Anthony Hopkins has filed legal papers seeking to take art-house fave Merchant Ivory Productions to arbitration for refusing to pay $750,000 he claims he's owed for their most recent movie together, The City of Your Final Destination.

The film, directed by James Ivory and penned by longtime collaborator Ruth Prawer Jhabvala, finished shooting late last year and is currently in post-production.

In a complaint filed on his behalf by his trust, Samson Inc., and first reported by TMZ, the Oscar-winning thesp alleges Merchant Ivory "materially breached" a performance agreement by failing to deliver the agreed-upon sum in two parts. Hopkins says he the initial $375,000 was payable in weekly installments beginning Dec. 29, 2006 and continuing through Jan. 10, while the second $375,000 was due no later than Sept. 30.

Hopkins says he "suffered damages in an amount to be proven at trial, but in no event less than $750,000" for services rendered. He's also seeking accrued interest, payment of attorneys' fees and any associated costs of the arbitration.
[From E! News]
I know Merchant Ivory isn't one of those companies that's flush with cash… I mean they're paying Anthony Hopkins $750,000, which I'm guessing is far below his normal fee. But you'd think they'd manage not to stiff the guy on that meager (for Hollywood) amount. I'm trying really hard not to make more trite, over-used "Silence of the Lambs" jokes here, but it's really hard. I could make a "Hannibal" joke, that's a little less common… something about Hopkins dumping their bodies into a pen filled with angry boars… no, not that funny. Just pay the guy his cash, so the rest of us don't have to make cannibalism jokes, alright? Merchant Ivory, your movies are arty and pretentious (not that there's anything wrong with that); they're not exactly blockbusters. If you want to keep making them, you should probably pay the actors who are kind enough to dress up as repressed butlers in dreary English villages over and over and over again.