Embed from Getty Images
Alexandria Ocasio-Cortez is like most of her millennial counterparts in that she uses social media to share her day to day on The Hill. She was recently featured in a Vogue video where she takes us through her beauty and skin care routines as well as her thoughts on fashion and makeup.
On Sunday, she posted a "what's in my bag" video on Instagram stories. Her red bag is from Black queer designer Telfar Clemens, who she says is from the same hometown, Lefrac, Queens. AOC pulled out a shawl because it gets cold in the chambers, sunglasses for her walk across the lawn, an eco-friendly glass water bottle, an iPad and her dental kit. All standard for long days I assume but I also expected to maybe see an iPhone, laptop or a tube of red lipstick in her bag. Instead she also had a crap ton of notebooks, five to be exact.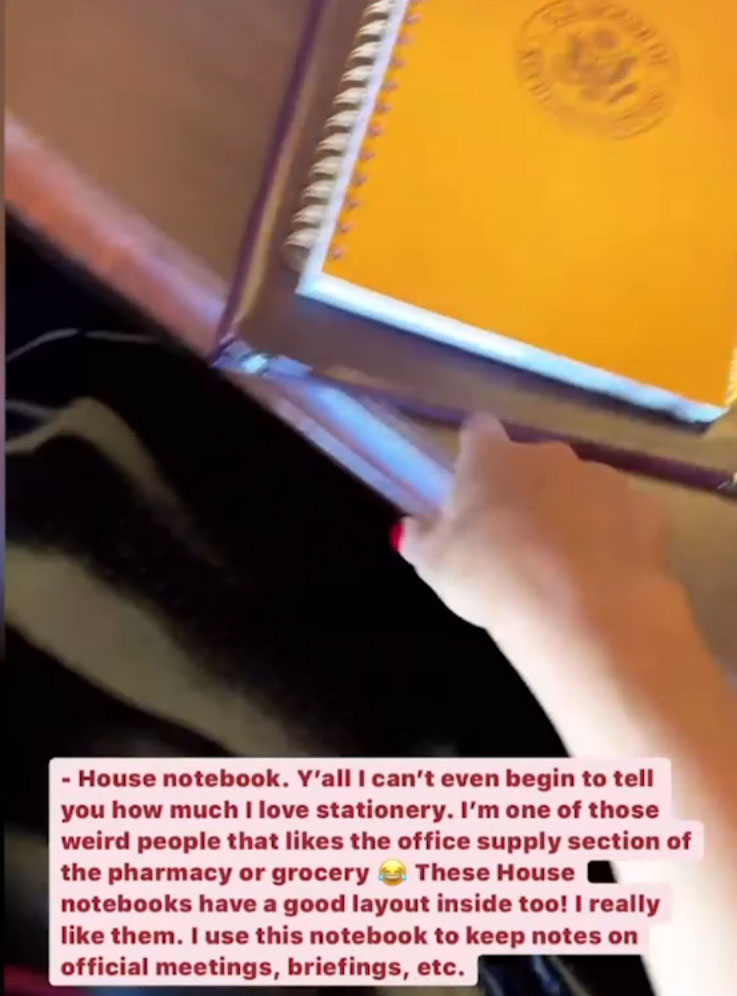 Now I was intrigued as to why she carried so many notebooks and not a cell phone and with a little digging Celebitchy found out that you can't have mobile phones or laptops on the floor, although tablets are allowed. AOC also admits that she likes to collect stationary, too.
Here's a few more details from her stories as reported by Jezebel, which also has the video:
On Instagram Stories Sunday, AOC took followers through a tour of her red Telfar bag, which included predictable elements like her eco-friendly water bottle and sunglasses. It also contained her Congressional binder, a "dental bag," some stationary, and her iPad, "because technology." Queen of utilitarianism!

Her delve through the recesses of her purse comes on the heels of comments she made last week praising designer Telfar Clemens, the bag's eponymous creator, after a week in which he made his popular, often sold-out bags available for pre-order caused something like a frenzy. She wrote, on her Instagram Stories: "Fun fact: @telfarglobal is now known as a globally celebrated designer, but did you know this Black, LGBTQ+ designer + founder got their start in Lefrak City, Queens? That's right! Telfar Clemens is a HOMETOWN HERO."
I too am a stationary geek as well. I used to carry different colored pens, highlighters and calligraphy pens along with at least two notebooks to write down information. I have actually kept some of them over the years.
I love a politician who stands by their principles. By carrying a glass water bottle, she demonstrated to her followers how just doing these small things helps the environment. She also showed her support for a black queer business owner.
Anyways, enough of my fan-girling. I'm here for physical note-taking.
photos credit: Getty and via Instagram/Jezebel video