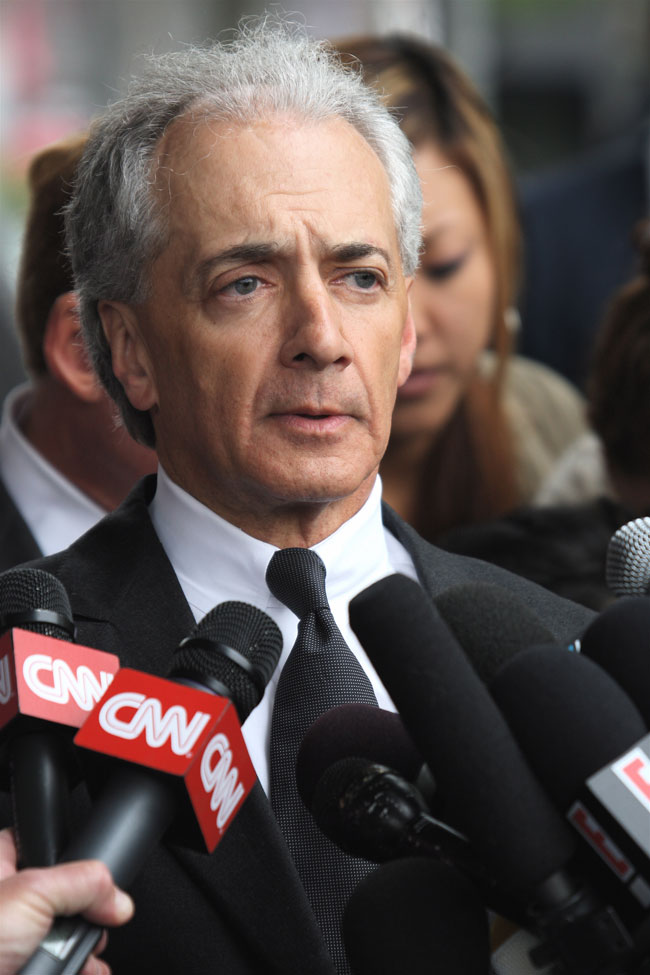 Mark Vincent Kaplan is shown on 6/5/08. Credit: WENN.com
The lawyer for Dr. Arnold Klein, the shifty dermatologist/plastic surgeon who counted Michael Jackson and Elizabeth Taylor among his closest friends, says that Klein is probably the father of Jackson's children. It's worth noting that Klein's lawyer is none other than Kevin Federline's attorney, Mark Vincent Kaplan, who seems just as eager for fame and notoriety as many of his clients. Kaplan seems to enjoy giving sensational quotes about his high profile clients to ensure that he gets maximum coverage, and his latest statement is a doozy. US Weekly is claiming in the title to this story that "Klein is 'Well Aware' He's Father of Michael Jackson's Children." That's not what Kaplan says, however. Kaplan told US that "There was a possibility that the two older kids could be biologically linked to Dr. Klein. And Dr. Klein was well aware." That's not a statement of certainty at all. Kaplan than went on to say that Klein won't take a DNA test or try and raise the children. It sounds like all of this is being brought up due to Michael Jackson's friend Mark Lester claiming Paris could be his biological daughter, as there's a reference made to "concerns [over] the influence of other people" on the children's guardian, their grandmother Katherine Jackson:
Dermatologist Arnold Klein knows he's the father of Michael Jackson's two oldest kids, Prince, 12 and Paris, 11, his lawyer admits to Usmagazine.com. [sic: read his statement, he doesn't definitely say this]

"There was a possibility that the two older kids could be biologically linked to Dr. Klein. And Dr. Klein was well aware," his lawyer, Mark Vincent Kaplan, tells Us when explaining why he was present at a guardianship hearing for Jackson's children.

Us Weekly first confirmed from multiple sources that Klein — Jackson's longtime dermatologist — is Prince and Paris' biological father. Debbie Rowe, who worked for Klein for 23 years, is the biological mother, and was wed to Jackson for three years. (Jackson was also father to Blanket, 7, born to a different surrogate mother.)

Kaplan continues: "Dr. Klein wanted to assert a request that he had concerns. He had an agreement with Michael Jackson that if anything happened to Michael Jackson… Dr. Klein would do what he could to see that they were protected."

Still, Klein won't take a DNA test, Kaplan says.

"It would serve no helpful purpose for the children to be distracted from believing Michael Jackson is not the father in every possibility. It would be of interest to other people. It is not something Dr. Klein feels he is interested to establish. It would serve no purpose other than creating distraction or noise. It is not going to help the children," he says, "other than to solve the answered question, which is a selfish motive to see who the ultimate provider of the 13 chromosomes [is]."

Klein does not want to challenge the [sic] Katherine Jackson's guardianship of the kids.

"Katherine Jackson is responsible for the decisions and upbringing of the children," Kaplan says. "And his concerns were the influence of other people around her." (Kaplan does not name specific people Klein is concerned about.)

Klein has never officially confirmed he's Prince and Paris' father, but he hasn't exactly denied it.

In a July interview on Good Morning America, he said he's not their father "to the best of my knowledge." The next day on Larry King Live, he admitted he once donated sperm but couldn't answer paternity questions "one way or another."
[From US Weekly]
Again, Kaplan is not definitely saying that Klein is the father of Paris and Prince Michael II, he's only saying it's a possibility and that they want to make sure other people don't try and influence Katherine Jackson. This statement is a real departure from Klein's past stance on paternity. In Klein's Larry King Live interview in early July, he said that he was willing to take a DNA test and that if he was the father "I would spend every moment of the day with the children," and would "absolutely" become their father. Now Klein is saying that there's no use taking a DNA test and that Michael Jackson will always be their father. It's strange that he would change his position so much in just a few weeks.
Yesterday Klein's former nurse and the mother of Jackson's two older children, Debbie Rowe, was seen visiting Klein's office. She explained to the paparazzi that another doctor in the practice was a close friend and that it was his anniversary that day. When asked about the other people coming forward claiming to be the father of Jackson's children she say "everybody wants their fifteen minutes I guess." Does that include her former employer?