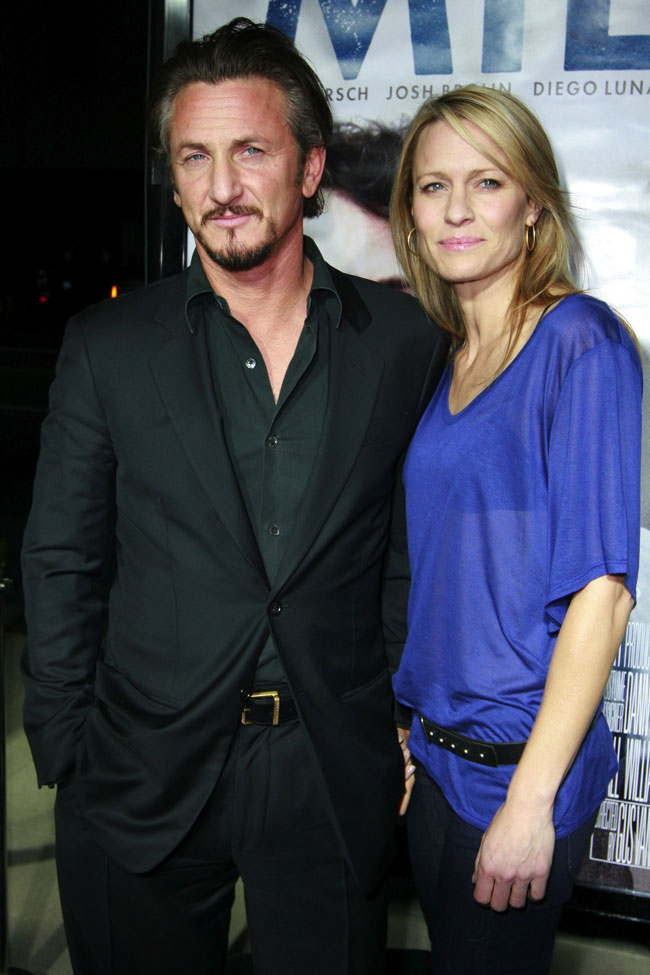 Robin Wright Penn is totally done with Sean Penn. We could have figured this out last week, when Robin delivered the one-two punch to Sean, badmouthing their relationship in a magazine interview, then filing for divorce the next day. After all that Robin had put up with, I don't think anyone begrudged her statement at the time: "I hit that crossroad a while ago. I know what I don't want. There's no limbo anymore. There's no time. I'm too old for this sh-t." It was a long time coming, and now the Enquirer is reporting that Robin is keeping her act together as Sean begs her to come back. Robin hit her breaking point after accumulating twenty years of "the lies, the cheating rumors and the temper tantrums." Well done, Robin:
Sean Penn begged his wife to stay with him – but she ignored his desperate pleas, moved out and filed for divorce.

"Robin finally stood her ground and said she'd had enough," a source close to both told the Enquirer. "She got her own place and moved out."

Sean pleaded for one more chance, said the source, but Rob filed divorce papers in Marin County on August 12.

"Robin doesn't want a dime from Sean – nothing," said the source. "She's just had it with all the lies, the cheating rumors and the temper tantrums. Now she just wants to be left alone to start her life over. Sean is still begging her to take him back. But Robin insists it is finally over."

Sean and Robin had been together since 1989, and married in 1996. When Sean filed for separation in April of this year, he withdrew it a month later.

"It was an arrogant mistake," pugnacious Penn told a reporter at the time. He tried hard for a reconciliation, but in a recent interview, Robin revealed she had no plans to fix the broken marriage. "I know what I don't want," she said.
[From the National Enquirer, print edition, September 7 2009]
Here's the thing – if Robin ever did go back to Sean, my guess is that nothing would really change. He would still treat her like dirt, he would still lie and cheat and throw his asinine tantrums, just because that's their dynamic. It's better if he just finds some young girl who thinks that those qualities make him some kind of complicated genius. I hope Robin continues to show this backbone, and I hope she moves on with someone really great. I swear, I could see her with Clooney. If only he liked smart women his own age.
Robin Wright Penn and Sean Penn are shown at the premiere of Milk on 11/13/09. Credit: WENN.com