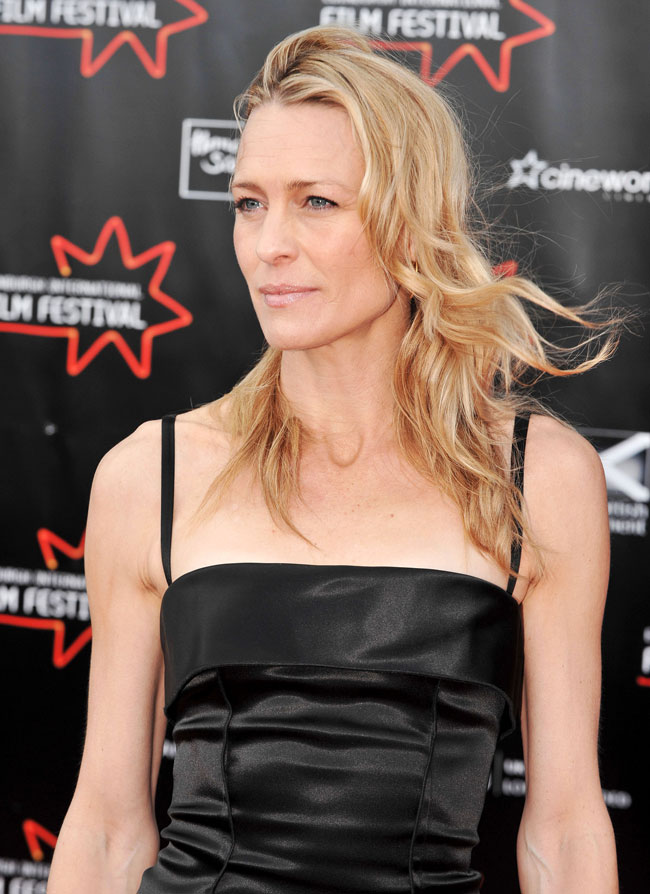 The history of Robin Wright and Sean Penn's relationship is too sordid and contradictory to even try to sum up. Let's see if I can do it one sentence: after a complicated twenty-year relationship, marriage, two kids, two competing careers, two Oscars, multiple separations, and most likely several significant affairs, it finally seems like Robin and Sean's divorce is a sure thing. Robin sat down for the cover interview with More Magazine, and she talked about how she knows "what I don't want" and how she's "too old" for Sean's crap:
Robin Wright Penn, whose relationship with Sean Penn has been on-again, off-again for the several years, says she has no plans to reconcile with the actor.

"I'd been stagnant," the actress, best known for roles in The Princess Bride and Forrest Gump tells More magazine for its September issue, on sale Aug. 25. "I think I've always been waiting for things to happen. Now I'm like, 'I'm okay – I know the direction, whoever's on board can go with me."

One person who won't likely be onboard is Penn. Together since 1989 and married in 1996, the couple endured a roller-coaster relationship only to file papers of legal separation not once, but twice – only to patch things up again as recently as May.

But that was then, not now. "I hit that crossroad a while ago," Wright Penn says. "I know what I don't want." What she does want is to re-activate her career. "There's no limbo anymore," she says. "There's no time. I'm too old for this s—."

Regarding her much-discussed marriage, friends tell More that what the couple had was a "peculiar chemistry." For her part, Wright Penn tenders no regrets.

"I, we, have two amazing children we raised together," she says. Daughter Dylan Frances, 18, is headed off to college, with son Hopper Jack, 16, preparing to follow suit – which will leave mom with an empty nest.

"At least twice a week, I pull over and sob," she says. "My baby is leaving. It's an emotionally full time, but it's not sad. I can't wait for Dylan to go [out and] live. That's what makes me cry."
[From People]
Uh-oh. Will an empty nest drive Robin back into Sean's arms? I hope not. I hope that douchey chapter is over, at long last. And I hope Robin finds someone really cool to date. I see her with some Hollywood biggie, like a major producer or a director. Not some actor who will always be "keeping his options open".
As for Robin's career options, I'd say she's got a chance to do some more good work. I'm always happily surprised when she shows up in films, and her career in the past decade has been a study in solid, effective, well-rounded character work. One of my favorite performances of hers from the past few years was the criminally underrated Breaking and Entering, where she played Jude Law's wife and mother to an autistic girl. What's good about Robin is that she was never some huge Julia Roberts-type star – Robin can easily glide between small and large parts, and she seems to be without ego. She's an actress, not a celebrity. That means her career will last a lot longer.
Robin Wright Penn is shown on 6/18/09. Credit: Fame Pictures. Cover of More magazine via E!