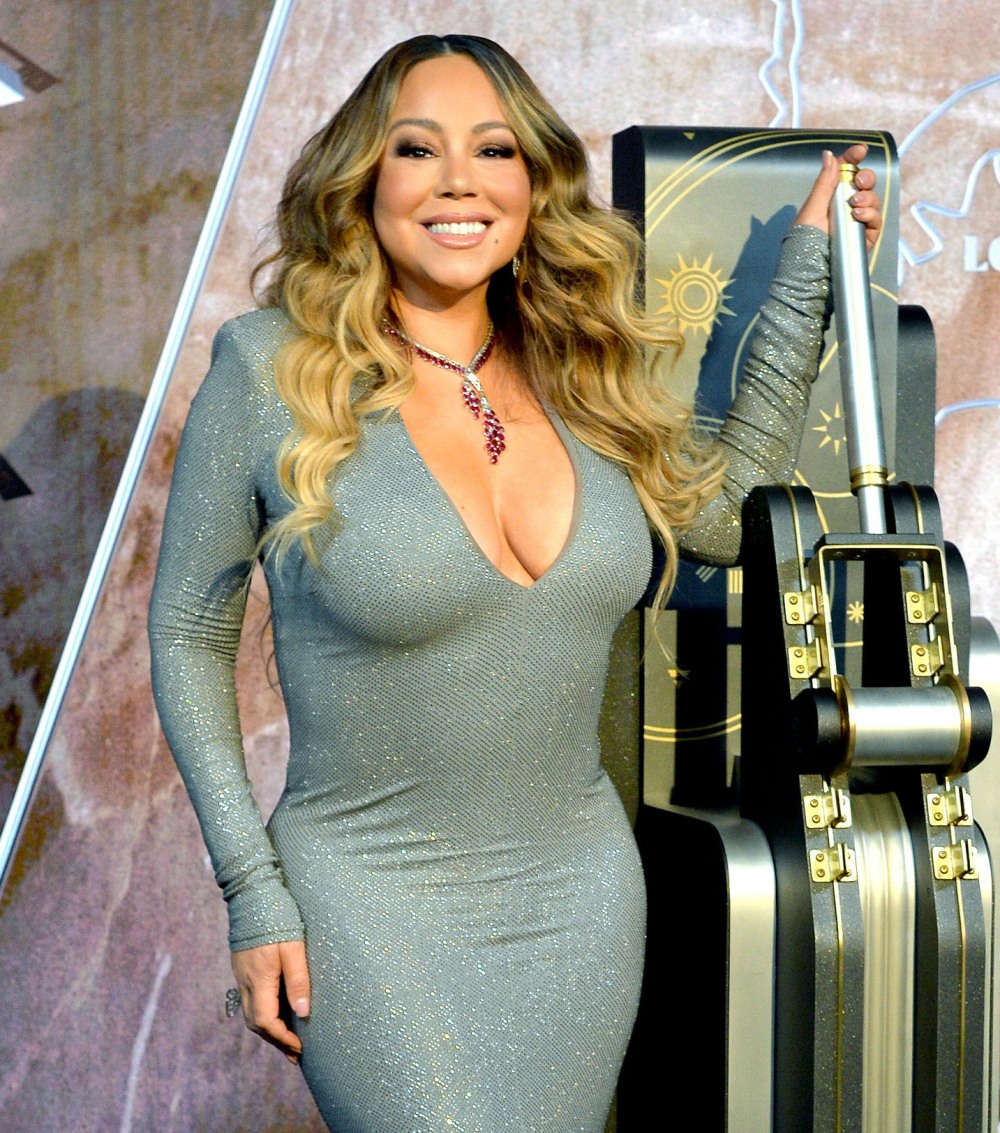 Mariah Carey has a great new long-read interview in Vulture. She's promoting many things all at once: the 30th anniversary of her first album, the release of The Rarities (rare and unreleased songs from her career), and her memoir, The Meaning of Mariah Carey is coming out. The interview takes place in the upstate New York estate she bought so her kids would have room to grow and play. The interviewer had to come to Mariah's house at nearly midnight, and they basically spoke throughout the night. Because she's a vampire! Her home apparently smells of vanilla and gardenias and she has been in a "Bubble" since March with the same five staffers. The piece is wonderful even if you only mildly like or appreciate Mariah and her whole deal. Personally, I think she's A LOT, but I enjoyed this. Some highlights:
Whether Eminem should worry about the memoir: Eminem, who was reportedly "stressed" over what Carey might say about their rumored 2001 fling, doesn't have to worry. "There's some songs that I can sing in response to that, but I will not do it," she'll say when I ask. And then, with a roll of her head: "If somebody or something didn't pertain to the actual meaning of Mariah Carey, as is the title, then they aren't in the book."

Co-parenting with Nick Cannon: "Co-parenting. 'Yeah, it ain't easy, baby. It ain't easy.' But you know what? It's important. We keep it good for them," she says of Cannon, whom she divorced in 2014. She won't comment on his recent career drama (he was fired from his longtime gig hosting Wild 'N Out for making anti-Semitic remarks on his podcast, Cannon's Class) but speaks fondly of him in her memoir in the chapter called "Dem Babies."

She remembers everything about falling for Derek Jeter: "Of course I do! I can never forget that moment. I mean, it's not like it was some intensely deep, intellectually stimulating — again, it was a great moment, and it happened in a divine way because it helped me get past living there, in Sing Sing, under those rules and regulations." When she belts, "I'd risk my life to feeeeyall / Your body next to mine," in "My All," it's because she really was risking her life to have a night with Jeter in Puerto Rico, she says.

She moved out of the city for her kids: "They're not running around with matted locks," she says when asked how her own childhood has shaped how she parents. "They know that I'm here for them. They know that if they want to talk with their father, he's a phone call away. They have stability. That's what I didn't have. They will never have a holiday that's not happy unless something I can't do anything about happens. They understand that they are Black. They have a whole lot of self-esteem and self-worth that I never had. And I probably still don't now. I know that I still don't."

On being mixed race: "I really have been like, 'I'm mixed. I'm mixed. I'm really, really mixed.' The truth is I will never say I had the same experience as a darker-skinned woman," Carey starts in. She acknowledges the privilege in her being accepted by white audiences and a white-run music industry, but to her, it also means "having a white mother, and being forced to live in white neighborhoods, and feeling ashamed that there is nobody visibly Black there … and I'm being so real right now that I want to edit myself. Believe you me, I'm not thrilled to be this skin tone all the time. How was I supposed to fit in? I was, like, the only one that's this weird mutant, mutt — using an antiquated phrase that I'm not asking anyone else to ever use again, but I'm embracing it — mulatto girl. I'm not even embracing it. It's a horrible way of defining somebody. It actually means 'mule.' "

An Ellen DeGeneres story: The interview was from 2008, when there were rumors Carey was pregnant. DeGeneres, apparently determined to get Carey to confirm the speculation, challenged her to drink Champagne. Carey was forced to announce her pregnancy. She miscarried soon after. "I was extremely uncomfortable with that moment is all I can say. And I really have had a hard time grappling with the aftermath," she says. "I wasn't ready to tell anyone because I had had a miscarriage. I don't want to throw anyone that's already being thrown under any proverbial bus, but I didn't enjoy that moment." Carey goes on to say that there is "an empathy that can be applied to those moments that I would have liked to have been implemented. But what am I supposed to do? It's like, [sings] 'What are you going to do?' "
I friggin' love her horny-for-Jeter story and how she apparently remembered every single thing about the night they met. I love that she's too classy and too over it to even talk sh-t about Eminem. I really love what she says about race too – that's when she's at her most real, her most vulnerable, and her most authentic, when she's trying to talk about what it was like for her growing up as a mixed race child and then being a light-skinned, ethnically ambiguous artist in the music industry. There's still a lot of damage for Mariah around her racial identity. Also: God, I hate Ellen.
Photos courtesy of WENN, IG.