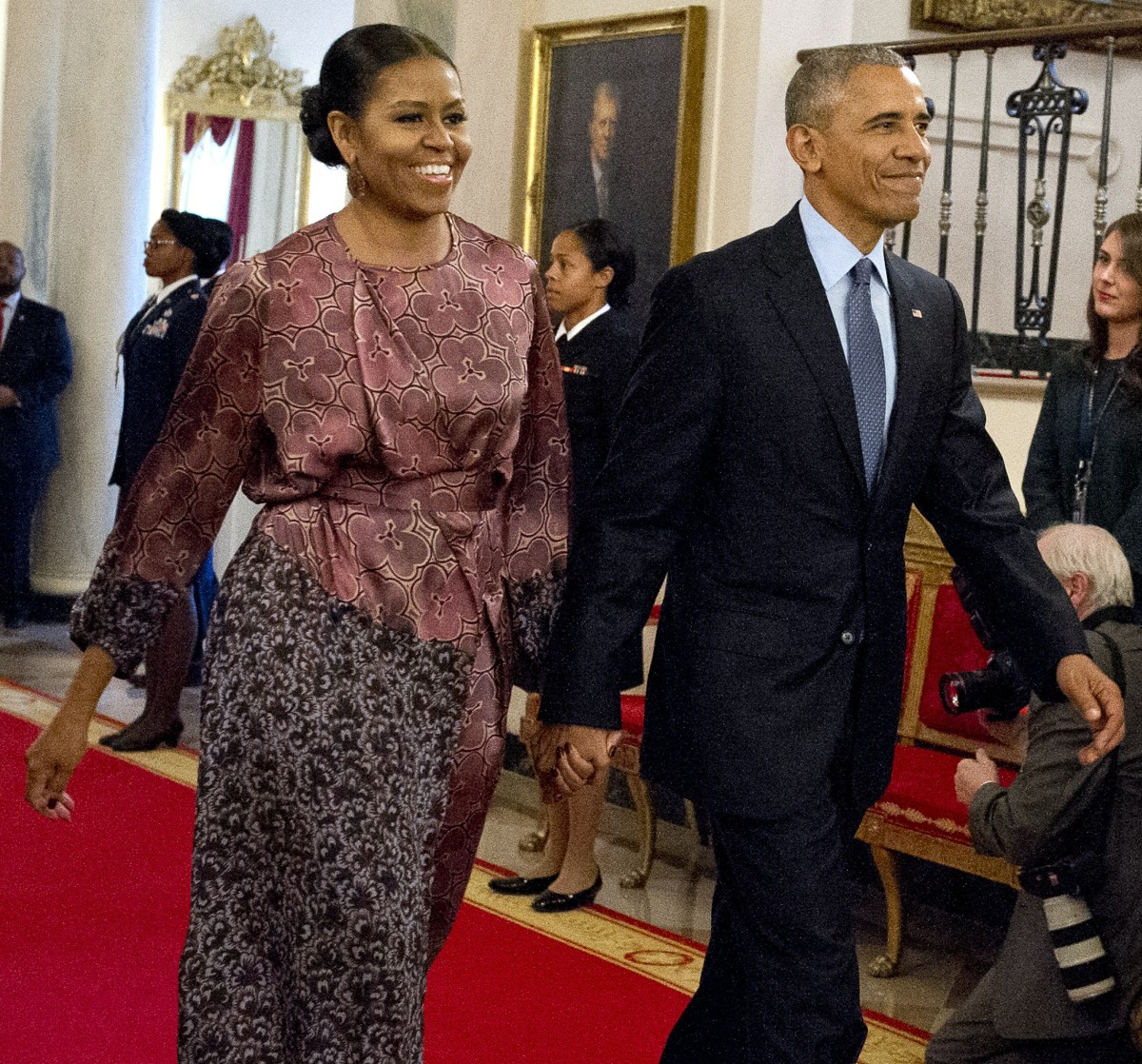 Michelle Obama and Beyonce might love their husbands, but they both love LeBron James too. It's true. Beyonce FEEDS on the sight of LeBron, and Michelle seems to enjoy everything about LeBron as well. I would imagine that's true of most women though – LeBron is amazing, he has an amazing body, he's sexy as hell, cool, inspiring and righteous. What's not to love? I bring this up because Michelle Obama came thisclose to saying that she would rather be married to LeBron. Girl, same.
Michelle Obama is getting candid about love, marriage and romance. The former first lady was joined by guest Conan O'Brien on the latest episode of the Michelle Obama Podcast, and they reflected on the importance of picking partners carefully when it comes to love. When reflecting on marriage, O'Brien explained that he feels that most men reach the point when they are emotionally and intellectually ready for marriage later in life. This was the case when it came to himself and his wife, Liza Powell, whom he married in 2002 at the age of 39.

"The same is true for me," Obama reflected. "I think, a man's inclination to wait and to kind of go out there and search and get himself ready, I think is a good instinct that more young women should think about."

She went on to say that she's always felt it would be good for people to approach picking a romantic partner "like you would picking your basketball team…. Because if you're looking at a team, the people you want to win with, then number one you want everybody on your team to be strong," she explained. "You don't want any weak links, you don't want somebody that you can dominate, you don't want somebody who's kind of a loser, right. And also, if you're on a team, you've got to be able to do everything, especially in basketball, it's like, you would never pick somebody that says, 'I only dribble. I don't shoot, I don't defend, I just dribble.' If we looked at marriage as a real team, you want your teammate to be a winner," she continued, adding, "You want LeBron, you know?"

"Now you've got me thinking about marrying LeBron," O'Brien joked. "This is taking a turn."

"What you're supposed to say, is, 'I have married LeBron. My version of LeBron,'" Obama explained. "[Your wife] is the LeBron James in your life."
Yes, she's got me thinking about marrying LeBron too. Because SHE was clearly thinking about how much she'd love to be married to Bron. LMAO. But this conversation is great in other ways too – I think O'Brien is right that for men, they wait and wait and then they decide that they're ready. It's the Sex and the City "his light was on" theory of dating – men just decide when they're ready to get married and they'll probably propose to the next woman they date. It's not about looking for the right qualities in a partner, it's about timing more than anything. And MO is like, no, you need to look for the right qualities too, and LeBron has those right qualities.
MO also said some really profound sh-t about how people need to invest in their relationships when they're ready to be serious about someone: "Being honest about wanting to be with them, to date them seriously, to plan on making a commitment to date them, seeing where it goes, and then making it happen. There's work and practice that goes into [deciding,] 'I'm going to get off the apps, and I'm going to actually ask this girl out, and I'm going to take her out for a few months. I'm going to invest in this other person.' Because that's what dating is. You can't Tinder your way into a long-term relationship." Damn.
Photos courtesy of Getty, Avalon Red.