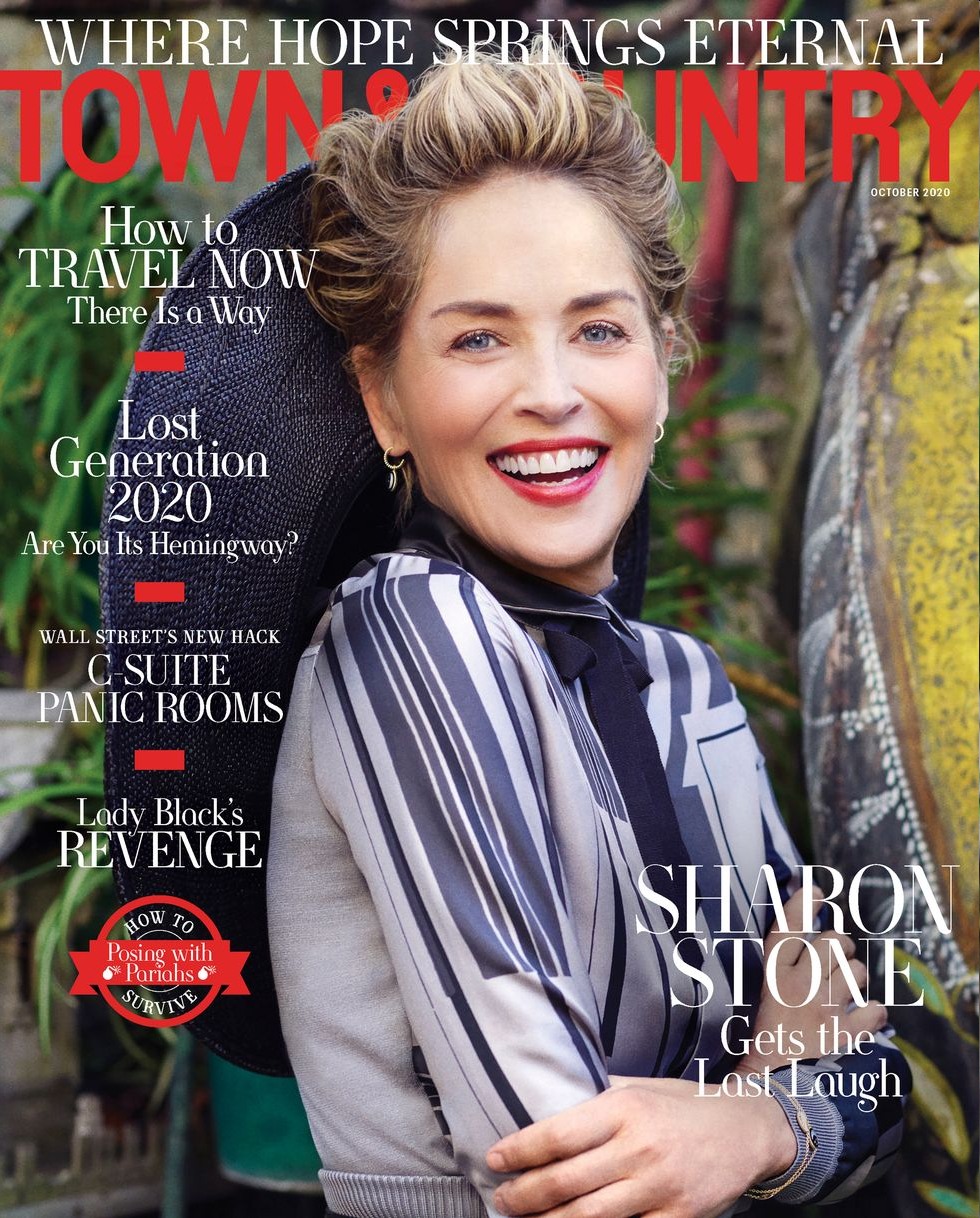 Sharon Stone has a role in the new Netflix series Ratched, a series based on the "Nurse Ratched" character from One Flew Over the Cuckoo's Nest. Ryan Murphy has turned Ken Kesey's seminal novel about mental illness and made it into a glossy soap opera starring Sarah Paulson as Ratched and Sharon Stone as a completely crazy, rich LA widow/mother. The reviews are terrible, at least the ones I've seen. Sharon is enjoying the promotion though, which is nice – she covers the latest issue of Town & Country, and she talks a lot about ageing, sexiness and other stuff. Some highlights:
She's happy to work in TV at the age of 62: "[My lines] were the size of a highway on a screen in a movie ­theater. You don't really see it on TV."

No actress works between 40-60: "You don't really get work between 40 and 60. It doesn't matter if you're at the height of your career, whether you just made Casino. That's it: no work."

The currency of beauty: "It's called show business. I believe that it's a business really strongly. A lot of people don't behave like that. They act like babies and think everybody's supposed to take care of them, that you're supposed to do whatever everybody tells you, that you can't make any decisions."

On being perceived as the sexy bombshell: "It's difficult, because everybody expects you to be that all the time. It was very difficult for Marilyn Monroe. She did movies that really mattered, like Bus Stop, The Misfits, but she still couldn't get completely out of being that thing. It's very hard to shake…. People still want to see my boobs. I'm 62! It's like, 'Really? Grow up!' But also" —she throws her hands up theatrically—"'Here's some boobs!' People, I guess, really needed a sex symbol. I mean, I never thought I was that sexy. When I did Basic Instinct, I explored my dark side and made friends with my dark side. I got to not be afraid of my own self. I think people find that sexy."

Winning a Golden Globe for Casino: She remembers Tom Hanks saying, when he handed her the trophy, "You deserve this, and they want a good show." She translates: "Meaning don't get up there and just be a crybaby."

The tricky afterglow of her success: "When I was a global phenomenon and I wanted to make $2 million [for a movie], it was like I wanted them to give me the moon, like I'd lost all reason. When I wanted four, they were like, 'We're not going to pay you $4 million for this movie.' "

On people not wearing masks: "Simmer the f–k down and put on a mask! I'm sorry, I've been trying to be nice about this, but it's starting to chap my ass. It's hard not to take it personally."

On dating apps like Bumble: "Oh god, I wish I'd stayed kicked off it. It's like a comedy," she says. Some people thought she should turn it into a show, but she demurred. She won't use the more exclusive dating app Raya. "People kept pretending they were things they weren't on Raya. Like straight."
It occurred to me during the money section that Sharon really did get a bad rap in the '90s, along with Demi Moore and Julia Roberts, for going to studios and demanding their worth, and demanding the kind of paychecks the men were getting. Sharon, Demi and Julia walked so Jennifer Lawrence could run, you know? Sharon was treated unfairly for simply negotiating better contracts for herself. Anyway, Sharon is a grand old dame and I'm glad she still has a sense of humor about all of this.
Cover and IG courtesy of Town & Country.