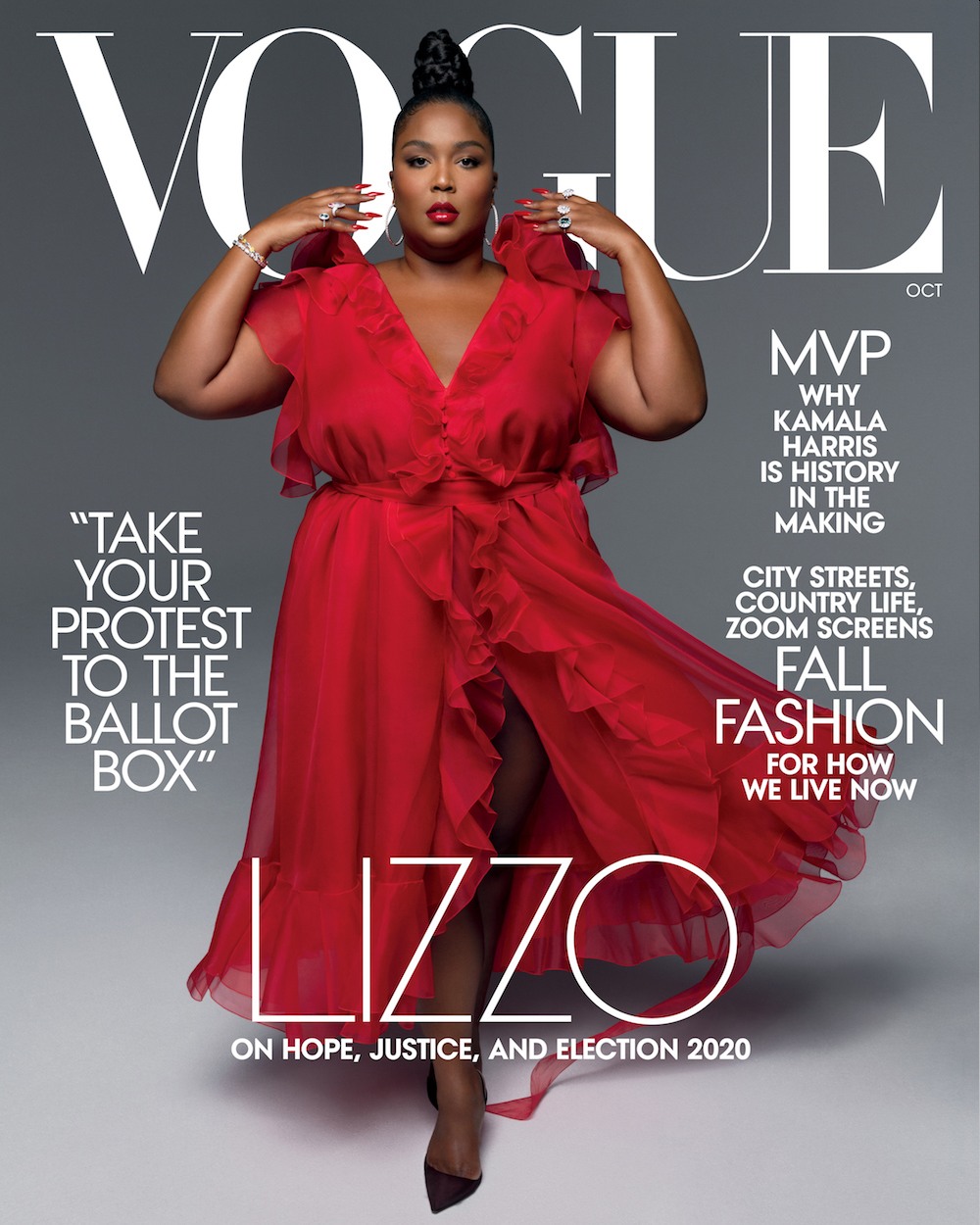 Lizzo covers the latest issue of Vogue. I appreciate that Vogue didn't do a cover with a super-close-up shot of Lizzo's face and maybe one shoulder. Most magazines prefer to act like bigger girls don't really have bodies that can be shown on a cover. Lizzo was interviewed remotely and she had a lot to say. As I was reading the cover story, I realized that Lizzo had actually gone away for a bit and let people miss her. For a little while there, she was a tad overexposed, too omnipresent for an artist who could thrive with a little mystique. I think that's why I enjoyed this piece so much – it's been a while since I've read a Lizzo interview, and she's got a lot of interesting stuff to say. Some highlights:
Locking down in her home in LA: "I'm in a hot spot. I've been in my house every single day. I can count on my hands how many times I've actually left. I'm fortunate that I am in that position. I really had guilt about that, early on…. A lot of times, staying home isn't staying safe. There are so many levels to the butterfly effect of this pandemic—not just the sickness but the emotional and mental effects. That is what keeps me up at night. And that's what stresses me out."

She's been brokenhearted about American since she was kid: "My dad taught me very early on about what being Black in this country is. When I learned about Emmett Till, I was so young. And I have never forgotten his face."

Her despair when Tamir Rice was killed: "They don't actually care. And 'they'—I don't know who 'they' are. But I know that they don't care, because if sh-t like this is still happening, there has to be a 'they.' They don't care about somebody's actual life."

The appropriation of body positivity: "It's commercialized. Now, you look at the hashtag 'body positive,' and you see smaller-framed girls, curvier girls. Lotta white girls. And I feel no ways about that, because inclusivity is what my message is always about. I'm glad that this conversation is being included in the mainstream narrative. What I don't like is how the people that this term was created for are not benefiting from it. Girls with back fat, girls with bellies that hang, girls with thighs that aren't separated, that overlap. Girls with stretch marks. You know, girls who are in the 18-plus club. They need to be benefiting from…the mainstream effect of body positivity now. But with everything that goes mainstream, it gets changed. It gets—you know, it gets made acceptable…I think it's lazy for me to just say I'm body positive at this point. It's easy. I would like to be body-normative. I want to normalize my body. And not just be like, 'Ooh, look at this cool movement. Being fat is body positive.' No, being fat is normal. I think now, I owe it to the people who started this to not just stop here. We have to make people uncomfortable again, so that we can continue to change. Change is always uncomfortable, right?"

On Kamala Harris: "Having a Black woman as vice president would be great because I'm just always rooting for Black people. But I want actual change to happen…in the laws. And not just on the outside, you know? Not a temporary fix to a deep-rooted, systemic issue. A lot of times I feel like we get distracted by the veneer of things. If things appear to be better, but they're not actually better, we lose our sense of protest." She makes sure to mention Breonna Taylor and Sandra Bland and all the women who, inadvertently or not, often get dropped from the conversation: "We need to talk about the women."

Vote: "I just want to encourage people to register to vote. That is the most important thing to me. Because there's a lot of upset people, and there's a lot of people who have power. There's a lot of voter suppression in Black communities. But there's a lot of angry white kids now. And I'm like, 'Yo, register to vote. Go out. You won't get suppressed if you try to go to your ballot box.' You know? I think it's important to remind people of what they can do. My job isn't to tell you how to vote. But my job is hopefully to inspire you to vote…to activate you, so that you can take your protest to the ballot box."
What she says about the appropriation of body positivity is so right-on, omg. Again, it's not that anyone is begrudging body-positivity for the beautiful size 10 white girl. It's that the "body positivity" label gets thrown onto people who barely deviate from the actual "beauty standards" of society writ large. As for the rest of it… Lizzo telling the angry white kids to go vote because their vote won't be suppressed… well, that's a gamble, but sure! Let's try that.
Here's the Vogue "73 Questions" video with Lizzo:
Cover courtesy of Vogue.