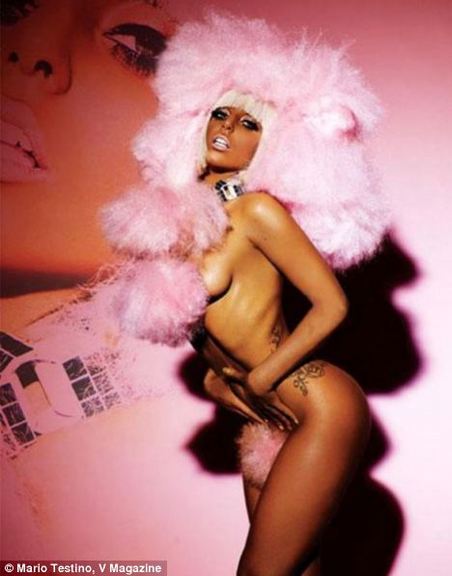 Of all the looks Lady Gaga has tried, this one is the most offensive. I wasn't even disturbed by her Kermit-the-frog-carcass dress, or by her Ritz-cracker hat. But this faux-Donatella Versace look is killing me, and not in a good way. Who wants to look like Donatella? And not even pure Donatella – Donatella mixed with a healthy dose of pastel-pink poodle. Here's something that will offend you even more – the whole V Magazine photo shoot was done by famed photographer Mario Testino. What the hell was Testino thinking? His mission in life is photographing women so they look gorgeous, flawless, immaculate and amazing. Why did he get on the Lady Gaga crazy train?
In one more piece of "What the hell was Lady Gaga thinking?" news, several sources are reporting that a Lady Gaga-Michael Bolton collaboration is in the works has already happened. Bolton himself is quoted as calling Gaga "a young Madonna":
Rumors emerged that Lady GaGa had collaborated with Michael Bolton on his latest album, One World One Love.

The veteran singer claims that when the blonde Let's Dance star approached him, he had no idea who she was.

'I was taking a break from production when my manager and the label tag-teamed me on the phone about writing with a young artist named Lady Gaga who I had never heard of – but they were raving about – they said that she was a huge fan of mine and wanted to write with me,' he said, according to celebrity blogger Perez Hilton.

'She reminded me of a young Madonna – with more exuberance and emphasis on the art rather than the marketing,' he added.
[From the Daily Mail]
So I did two seconds of research (I actually googled Michael Bolton – shiver) and found that this new song leaked over the weekend. It's called "Murder My Heart" and it's allegedly written by Lady Gaga. I only listened to about 30 seconds of it before I put Nirvana Unplugged back on. That's thirty more seconds than I would normally give Bolton, so perhaps this is a smart collaboration?
Here's Lady Gaga in V Magazine and Neo2 – images thanks to A Socialite's Life.