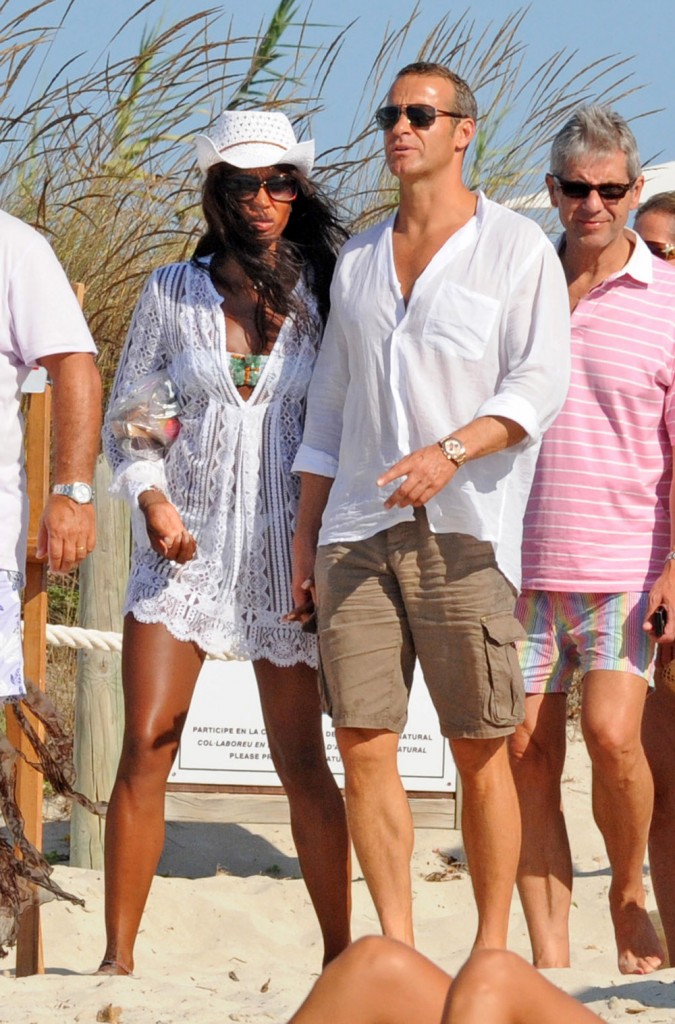 In so many ways, Naomi Campbell is a pioneer. She was the first black model to appear on the cover of several international fashion magazines, including Vogue UK and French Vogue. At one point in the 1980s and 1990s, Naomi was one of the three highest-paid models in the world, forming one part of "The Trinity" – which included Christy Turlington and Linda Evangelista. Since the late 1990s signaled the end of the age of the supermodel, Naomi has spent the past decade still maintaining a pretty great track record with ad campaigns, runway work and print work for a model her age – she's 39 years old in an industry where women are "over" at the age of 25. In addition to her modeling career, she's been involved in charitable projects in Africa, and she's always been an outspoken advocate of more racial diversity in the fashion industry.
Of course, there are parts of Naomi that aren't so admirable. I've lost count of how many people Naomi has allegedly (or not so allegedly) assaulted. Lord knows you can't hand her a purse, a blackberry, a drink or a shoe, because she'll just beat you with it. Last year, when Naomi got into that incident on a British Airlines flight where she basically fought with her fists and her mouth, there were many reports that claimed Naomi's tirade included racial slurs (something about "white slags").
I'm bringing this up because Naomi has given another interview where she's talking about racial diversity in the fashion industry. Naomi claims advertisers and magazines are using the recession as an excuse to drop models of color. Here's the thing – Naomi's got a point. But is she the best person to make the point?
Never afraid of speaking her mind, Naomi Campbell has accused the advertising business of using the recession as an excuse to drop black models.

The 39-year-old supermodel, who is a close friend of Sarah Brown, the Prime Minister's wife, claims that major companies are refusing to use non-white women to promote their products.

"This year, we have gone back all the way that we had advanced," she says. "I don't see any black woman, or of any other race, in big advertising campaigns."

Campbell, who was born in London to a mother of Caribbean descent, refers to the publication last year of a special edition of Italian Vogue dedicated to non-white models.

"That made some noise, but, unfortunately, we are the same as before," she says. "People, in the panic of the recession, don't dare to put a girl of colour in their campaign, full stop. Nor of any other race. It's a shame. It's very sad."

The model, who is a friend of Nelson Mandela, has won support from Bruce Oldfield, the designer of the wedding dress worn by Samantha Cameron, the wife of the Tory leader.

"It's absolutely true that black models will be not as popular for advertising companies and magazine covers as white girls," the designer tells Mandrake. "In a recession, it's probably doubly difficult for black girls to get a booking."

Oldfield is thought to be the son of a Jamaican boxer, but never knew his natural parents and grew up in an orphanage. "In this climate, things are worse, but it is compounding a problem that already exists," he adds. "Cover editors are going to choose white over black. Naomi is not far off the mark."

In 1988, Campbell appeared on the cover of French Vogue as its first black cover girl after Yves St Laurent, her late friend and mentor, threatened to withdraw all of his advertising from the magazine following its refusal to place Campbell, or any black model, on its front page. She also became the first black model to appear on the cover of British Vogue.

Earlier this year, she described the fashion industry as "racist". In a magazine interview, she was quoted as saying "You know, the American president may be black, but, as a black woman, I am still an exception in this business. I always have to work harder to be treated equally."

In June, she attended the Glastonbury music festival with Gordon Brown's wife, Sarah. The pair were promoting the Million Mums charity, which aims to help prevent women from dying needlessly in pregnancy and childbirth.
[From the Telegraph]
I don't have all the facts and figures to know if all of this is technically accurate, but I suspect it is. The only black people I've seen on magazine covers the past year have been the Obamas – and to be fair to them, I think those Obama covers still sell really well. As for the larger issue of more racial diversity in advertising and the fashion industry as a whole – I tend to think advertisers will get smart about this stuff sooner rather than later. When someone like Tiger Woods is the highest earner in sports, just because of his advertising contracts, the sea change is coming. Speaking as a mixed-race woman, I know I appreciate it when I'm not just staring at vapid-looking blonde models on every page of Vogue. I'm still not sure if Naomi is our best spokeswoman though.
Here's Naomi and her boyfriend Vladislav Doronin enjoying the beach together in St. Tropez, France on August 20th. Images thanks to Fame Pictures .