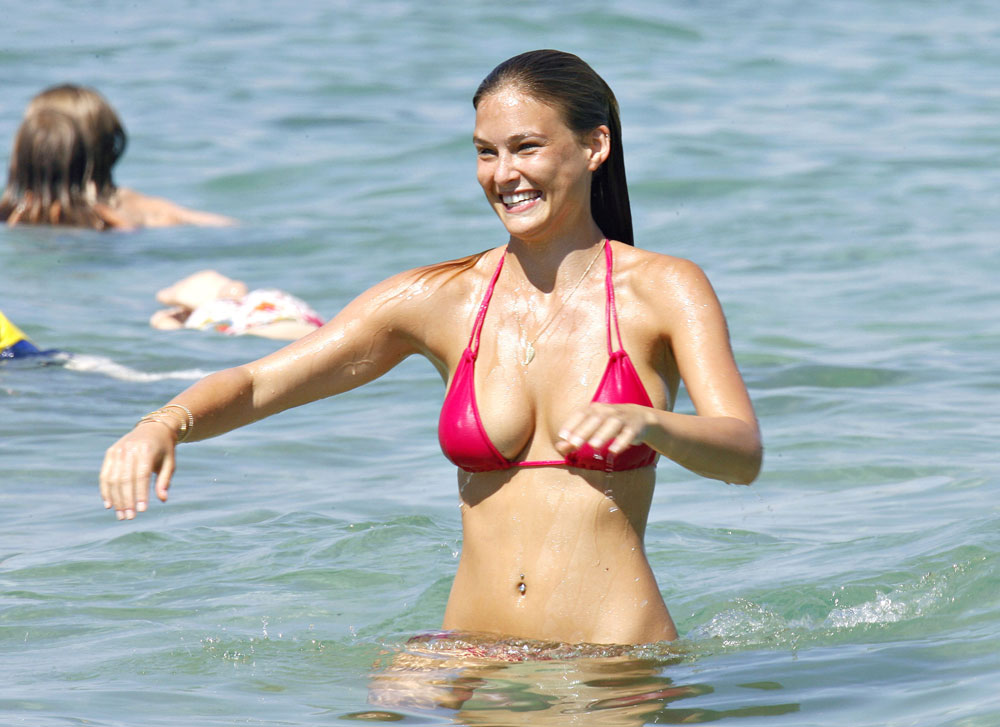 After breaking up with Leonardo DiCaprio earlier this summer, Bar Refaeli, 24, has been seen out and about with Teddy Sagi, one of Israeli's 30 richest men. He's also one of Gisele Bundchen's exes, but never mind about the whiff of Single White Female in the air. Bar Refaeli has given an interview to Hello Magazine about what she looks for in a man, how she doesn't diet, and how she gets bored easily. In one part of the interview (that I didn't transcribe), she goes on and on about her contract with Reebok, so I think that was the point of the interview – a little promotional duties. She's trying to convince us that her figure comes from working out (wearing Reebok!) and not dieting herself into oblivion:
Bar Refaeli's ideal man is "someone who has family values, has a sense of humor, loves life, is intelligent, giving and understanding".

"I don't feel the need to be super skinny, but being in shape is important. But even if I wasn't in this industry I would still want to look after myself and be healthy and keep my body in good condition," Bar says.

On working out before the Sports Illustrated shoot: "I always want to look my best on a shoot, or for a fashion show, so I do an extra couple of sit-ups the night before and I drink hot water with lemon to get my metabolism kick-started in the morning and to cleanse my system, but I don't do anything crazy."

"There's nothing worse than forcing yourself to spend hours in the gym when you don't enjoy it, so I do all sorts of things to work out because I get bored easily.

"I don't diet and I don't have an eating plan, but I like to eat healthily. I don't deny myself anything and there's nothing I wouldn't eat. I like desserts – I like food full-stop, but I exercise and I'm young, so everything keeps in check."

Bar denies dieting before a swimsuit shoot or Victoria's Secret catwalk show, saying "I guess every girl has days where she feels good and days where she feels she could lose a couple of pounds, and it's the same for me, I'm generally in pretty good shape, but if I have a major shoot or fashion show coming up and I want to look my best, then I'll spend a little extra time working out or I'll stick to eating salads and chicken for a few days. I would never go on some crazy fad diet or eat anything weird to get thinner – it's just not good for your body."

On Leonardo DiCaprio split: "I am enjoying everything in my life right now, whether I happen to be in a relationship or not. I'm very busy and work's great."
[From Hello Magazine, print edition September 9 2009]
Meh. If it was another model, I would be tempted to think she was lying, but my guess is that Bar is probably telling the truth about not doing crash diets. She has a healthy-looking, athletic figure, so I'll buy that she can probably eat what she wants and then just burn it off through work outs. That being said, did you notice that she seems to differentiate between just eating salads for a week and going on a "fad" diet? Seems like she does go on targeted diets for specific photo shoots, she just doesn't call it a diet.
Bar Refaeli is shown in a bikini in St. Tropez on 7/13/08. Credit: ANG/Fame Pictures