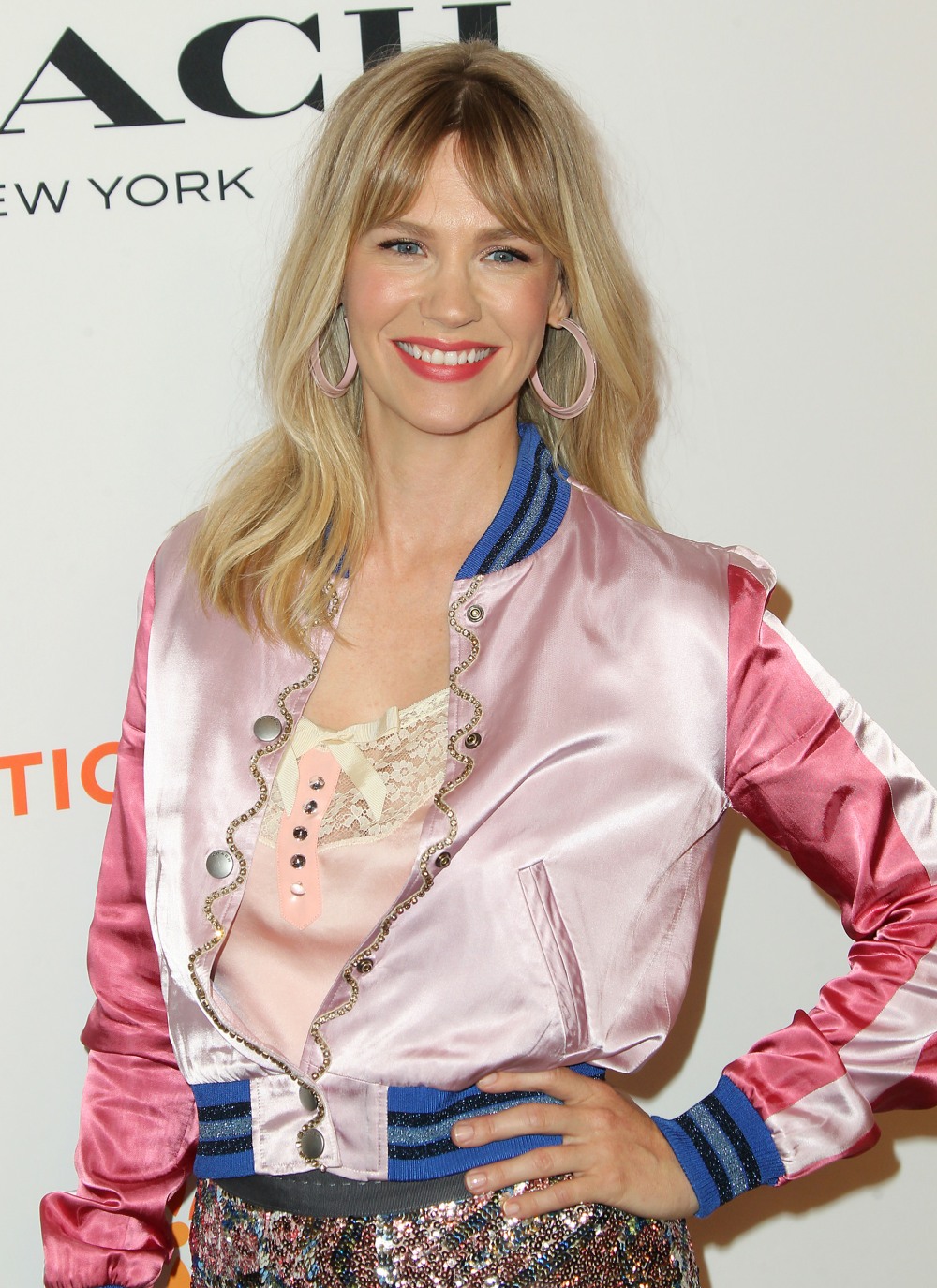 Back in April, we talked about how January Jones was going stir-crazy in lockdown in California. January had been using her Instagram to show how she had been not-so-quietly going bonkers. While California has eased up on some restrictions, I think January and her son are probably still in a state of some kind of lockdown and it's amazing. Her Instagram is hilarious. So the latest thing is that January loves baths. She loved baths before the lockdown and she often talked about her various DIY bath "stews," which previously involved baking soda, salt and vinegar. YIKES! But now she's trying something else for her baths: beer.
It seems like January Jones, 42, has been experimenting with new bath ingredients lately, revealing on Tuesday night that she decided to pour in a bit of beer after reading up on how beauty icon Cleopatra bathed.

"I put a lot of questionable things in [the tub], and I'm gonna put one more questionable thing in it," she said in an Instagram video. "I'm doing that because I feel like it's going to be hydrating for my body," Jones added, pouring in a dash of the drink and saving the rest to sip. "And I recently read about what Cleopatra would put in her baths. I just feel like, depending on who you've dated, it can't be that much different, right?"

The beer bath marked the end of what Jones called her "four-step process to lift your mood and get skin right," which began with the actress laying in her closet with sparkly eye makeup and layers of jewelry before applying a slew of skincare products by True Botanicals and taking a sip of beer before drawing the bath.
I'm not going to get into the science of whether or not beer would be good for your skin in a bathing situation because I honestly don't know, and I honestly don't care. My issue is with the smell – even if you're only putting a negligible amount of beer in your bath, you'd still be able to smell it, right? Think about when you've spilled a little beer on your shirt or something – you smell it all night long. That pungent stale-beer smell hangs around. Now imagine that on your body for hours after your bath. Gross. Also: Egyptian beer in Cleopatra's day would have been different, right? I fully expect beer historians to come into the comments and yell at me! I'm looking forward to it!!
At some point we also have to talk about how January is from South Dakota and she basically has a regional Minnesota accent.
Photos courtesy of WENN.