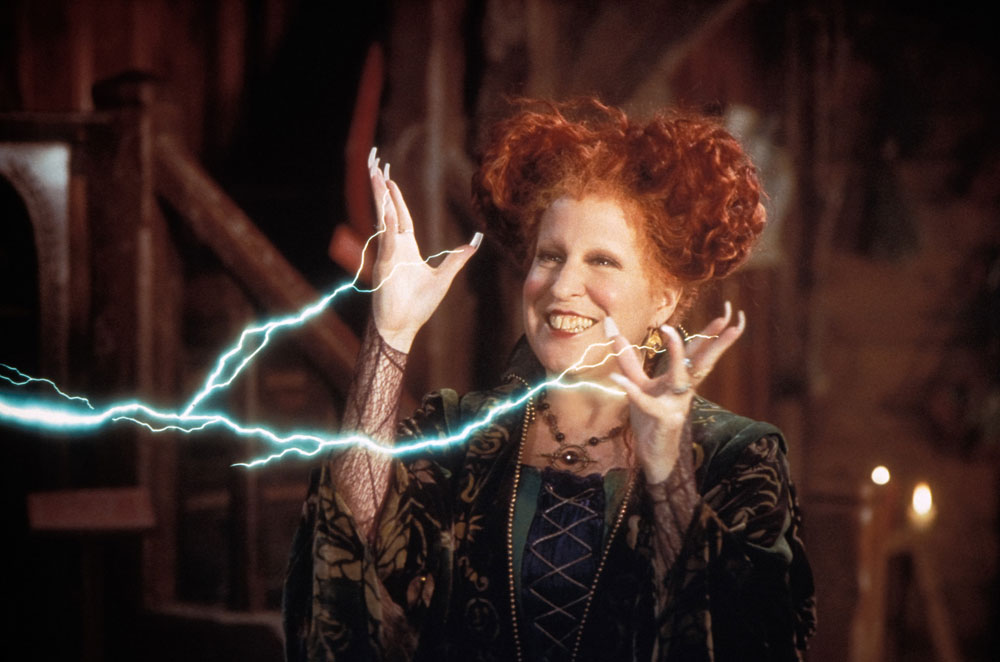 It's spooky season and Halloween is in thirty days. We're counting down to the New Year of the Celtic calendar while decorating with jack-o-lanterns and spiderwebs. In October we also revisit our favorite movies of the season including the cult classic Hocus Pocus. Disney+ is now streaming the original on its platform as of October 1. In 2017, it was announced that Disney was doing a Hocus Pocus reboot without the original director or cast. However, Bette Midler did an interview with Nischelle Turner for Entertainment Tonight where she hinted at possibly revising her role in the reboot. She also stated that she, and the rest of the Sanderson sisters, will be reuniting virtually for a Hulaween event sometime in October. Below is more on the story:
So the Sanderson Sisters haven't been gone for 300 years, but Bette Midler, Kathy Najimy and Sarah Jessica Parker are long overdue for more Hocus Pocus — especially now that Disney+ is hard at work on a sequel.

Though the studio has yet to officially confirm the trio's involvement in the follow-up, Midler not only says she's "absolutely" up to reprise her role as Winifred Sanderson, but teases: "I can't wait to fly!" Which sounds an awful lot like she's in for Hocus Pocus 2.

"Oh, yeah," she told ET's Nischelle Turner. "We're just talking logistics."

Hairspray's Adam Shankman will assume directing duties from Kenny Ortega, who helmed the 1993 Halloween classic. In the meantime, Midler will virtually reunite with Najimy and Parker for a good cause in October for "In Search of the Sanderson Sisters: A Hocus Pocus Hulaween Takeover."
Autumn is my favorite season and Halloween my favorite holiday. Every October I watch Hocus Pocus, Halloween, and The Craft. They are my favorite Halloween movies and they are classics. I personally am over reboots because Hollywood is always unable to recreate the same magic of the original/ I feel like they should come up with some new ideas or bring in new talent like Will Smith is doing with the Fresh Prince reboot.
With that being said, if they bring back the original Sanderson sisters to the new project I will be all in because Bette, Sarah and Najimy literally made that movie and I love their chemistry together. I will also try to find information on the Hulaween Takeover, A couple of weeks ago I tweeted that I will conquer the Hula Hoop by the end of 2020. I am determined folks. In the meantime I am going to create a Halloween wreathe and carve out a pumpkin. What are your favorite Halloween movies?