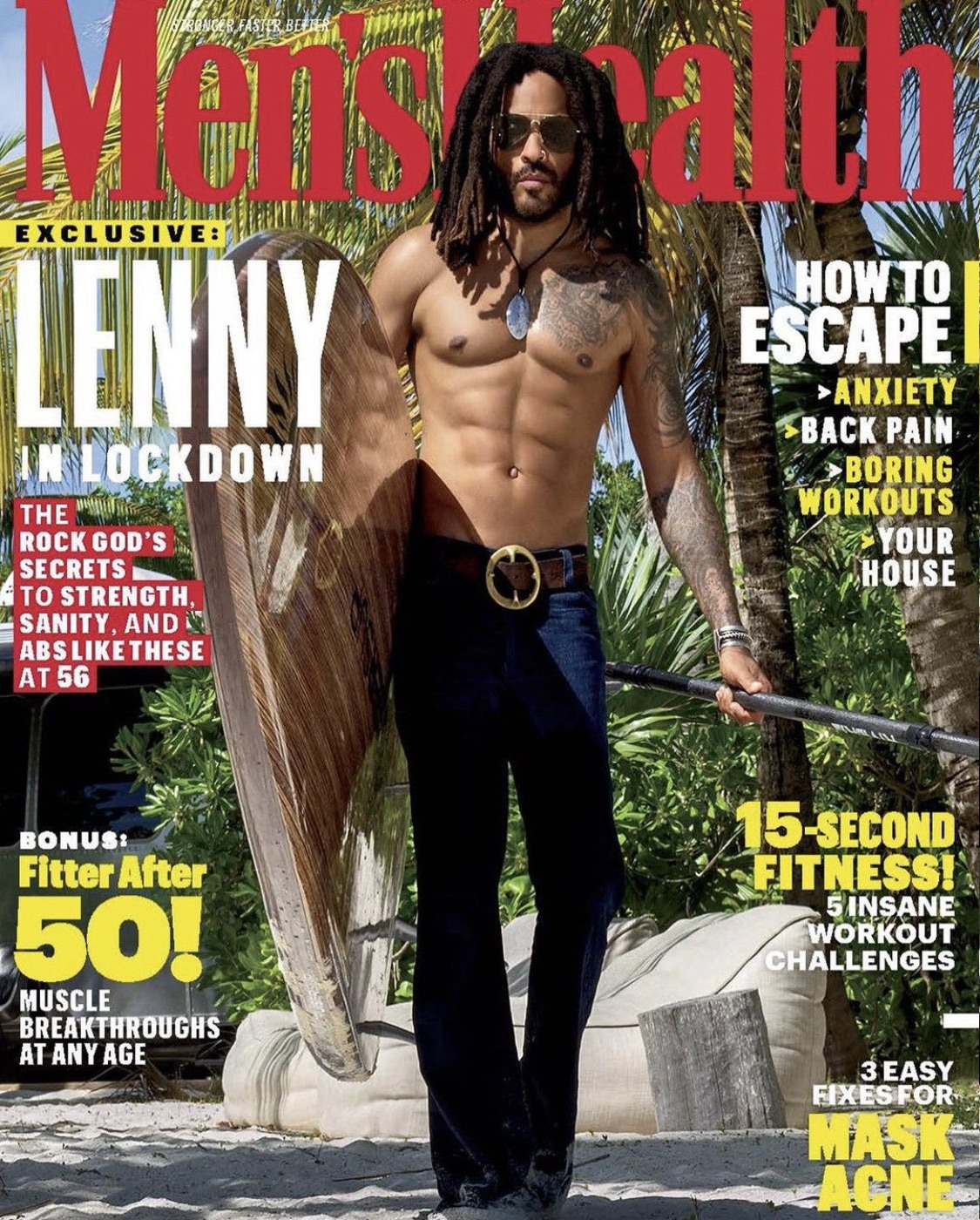 This Men's Health cover is the reason why A) I want bellbottoms to come back, B) I want big, wide belts with crazy buckles to come back and C) I honestly can't believe the STATE of Lenny Kravitz at the age of 56. What 56-year-old man looks like this?? It's beyond fine, it's beyond "handsome" or "ripped." Lenny Kravitz is a state of grace! Lenny is promoting his new memoir called Let Love Rule. It's a meditation on his early days, trying to find his way into mainstream music success, and meeting and falling for Lisa Bonet and more. The whole Men's Health piece is incredible too – he talks about staying in his home in Eleuthera throughout the pandemic/lockdown and how he's been staying sane (working out using nature, farming). Some highlights:
Deciding to go to his place Eleuthera in early March: He landed in the islands with a few pairs of jeans in a weekend bag. "And I've been living out of this weekend bag for almost five and a half months….When I'm here, I pretty much live that way anyway. It's a beautiful thing to really realize what you don't need. If I have to stay here another five months, five years, I'm good."

His workouts: "My best shape is not behind me. It's in front of me right now. We keep moving that bar as we get older." He's found trails on his property, runs through the bush on grass and dirt. "That's been my cardio and then I moved some hand weights over next to a coconut tree that basically comes out of the ground sideways, so that's now my bench, and I lift weights on this coconut tree. I'm doing a complete jungle workout."

On racism, police brutality: "I've been talking about this stuff. I would have thought we'd be in such a better place than we are now. That we would have evolved. Not that it would have been anything close to perfect."

Fidelity. "There were times in my life where that was very difficult, and I didn't understand why. I love my father, and we made peace before he died, but I held on to some things that had affected me in our relationship, and through writing the book . . . I was able to strip away some of the judgment that I had held on to and got to just see him as a human being."

Falling for Lisa Bonet: "It was the first time I'd opened up like that, and had known love like that, and freedom. And watching her do what she did, how she maneuvered, in her artistic life—it was that last thing I needed, on this road. This sound, this message, this movement that I was looking for—I heard it in my head. That's the way I still work to this day. I wait until I hear it in my head. That takes my ego out of it. It may not be what you thought you were looking for, but it's what you get."

On his daughter: He and Bonet divorced in 1993, when Zoë was four; she grew up primarily with Bonet in L. A., then moved to Miami at 11 to live with her rock-star father. Kravitz says his daughter has grown up to be "the most real person I know," noting that her path to independent success as an actress and producer can't have been easy. "Just having two parents who were known in the world. The comparisons. She didn't let any of that hinder her in any way."

He loves Lisa's husband, Jason Momoa. "People can't believe how tight Jason and I are, or how tight I still am with Zoë's mom, how we all relate. We just do it because that's what you do. You let love rule, right? I mean, obviously, after a breakup, it's work—it takes some work and time, healing and reflection, et cetera. But as far as Jason and I? Literally the moment we met, we were like, 'Oh, yeah. I love this dude.'"
Lisa Bonet really did a number on Lenny AND Jason. She was and is their dream girl. That's what bonds Lenny and Jason too – they are alike in the way they see Lisa and the kids. It wouldn't even surprise me to learn that Lenny was tight with Lisa and Jason's kids too. They really are a big messy family and they all love each other so much. It's so beautiful! Anyway, Lenny is gorgeous, inside and out. Imagine riding out the pandemic in a beach paradise alone with him. Sweet Jesus.
Cover and IG courtesy of Men's Health.