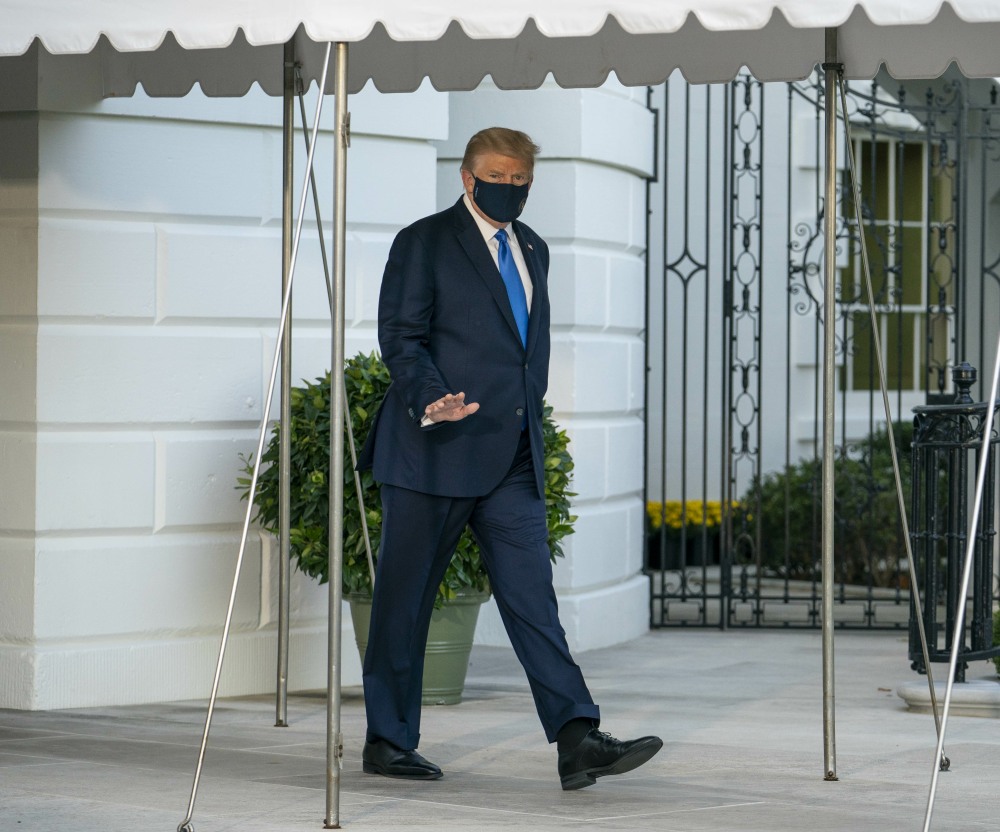 Where to even start. I'm not going to laugh. *muffled giggle* I WILL NOT LAUGH. It seems poetic to me, for some reason, that this was the logical conclusion of four years of Donald Trump: hoisted on his own virus-ridden, morbidly obese petard. He thought he could deny, deny, deny the virus. And the virus was like "bitch, you thought." So, where are we now? On Friday, roughly seventeen hours after his tweet confirming that he was diagnosed with Covid-19, Donald Trump was taken by Marine One to Walter Reed Medical Center. The White House first claimed his symptoms were "mild," and that he only had a fever and was feeling tired. Then we started to learn that, actually, he was having difficulty breathing and he was given supplemental oxygen on Friday, before he left for Walter Reed, and on and on. White House doctors even put him on an experimental drug therapy! This was not "mild." Soon after Trump walked unaided to Marine One on Friday, his Twitter account released this hostage video:
— Donald J. Trump (@realDonaldTrump) October 2, 2020
You might think "this old geezer looks frail and sounds scared, that's not funny at all." I agree, it's not. But I'm also not going to show much sympathy for a degenerate rapist, serial sexual assailant and a white supremacist who, just days ago, was still actively agitating for a race war. Let's not forget that he told his supporters for seven months that the pandemic was nothing, a hoax, and that no one needs masks and science is for p-ssies. Spare me the performative compassion.
Various doctors treating Trump at Walter Reed said his vital signs were "concerning" in the 24 hours he had been hospitalized but they were especially coy ("lying") about just how bad it is. A source told the NY Times: "The president's vitals over the last 24 hours were very concerning and the next 48 hours will be critical in terms of his care. We're still not on a clear path to a full recovery." Again, he had been receiving oxygen IN the White House, that's how bad it was.
Several other things (there have been easily 60 MAJOR stories in the past 48 hours). One, it really looks like the White House event on September 26th was the super-spreader event. That was the Rose Garden event formally nominating Amy Coney Barrett, who apparently had corona over the summer. No one wore masks at that event, and everyone was seated close together. Many people at or around the event have now tested positive, including: Kellyanne Conway (outed as corona-postive by her daughter on Tik Tok), Hope Hicks, Chris Christie, Sen. Mike Lee, Sen. Thom Tillis, Trump 2020 campaign manager Bill Stepien, RNC Chairwoman Ronna McDaniel, and John Jenkins, the president of Notre Dame (who was at Barrett's event). And,of course, Donald and Melania Trump. Melania is reportedly not feeling too poorly.
Meanwhile, the Democrats all seem to be… okay? Knock wood. Joe Biden, Kamala Harris, Dr. Jill Biden and others at the presidential debate in Cleveland were all tested in the 24 hours after Trump announced. They are all negative. Reportedly, all of the Biden people wore masks inside the convention center and all of the Trump people did not. Biden's people have also confirmed that AT NO POINT did the Trump campaign or the White House contact them about Trump's positive test. Not only that, but the Trump White House have refused to brief the Gang of Eight, which is just a basic tenet of the continuity of government.
Some of Biden's people told the Times that they believed Trump was already feeling sick on debate night (Tuesday). Which would make sense, given that the White House doctors can't keep the timeline straight about when Trump was actually tested and when he began feeling symptoms. It's more than possible – given that we cannot trust anyone associated with Trump – that Trump was actually tested on Wednesday and that he went ahead with several maskless appearances (including a fundraiser) even though he knew was corona-positive AND symptomatic.
Oh and Minister of Bigly Propaganda Ivanka Trump keeps releasing proof of life videos and photos which are completed staged and edited. The video has been edited around Trump's coughing.
Nothing can stop him from working for the American people. RELENTLESS! 🇺🇸 pic.twitter.com/2ZSat782qe

— Ivanka Trump (@IvankaTrump) October 4, 2020
— Donald J. Trump (@realDonaldTrump) October 3, 2020
Whatever happens when Trump says "therapeutics" here is a strange moment in the video he posted this evening pic.twitter.com/TaaG13AH2E

— Aaron Rupar (@atrupar) October 4, 2020
Fire up the "It's Always Sunny" theme music pic.twitter.com/lDkHarsJMu

— Justice delos Santos (@justdelossantos) October 2, 2020
Video of the ACB announcement event on Saturday at the WH featuring Sen. Mike Lee of Utah, who has now tested positive for Covid-19. pic.twitter.com/aCqP2JCH73 via @bubbaprog

— southpaw (@nycsouthpaw) October 2, 2020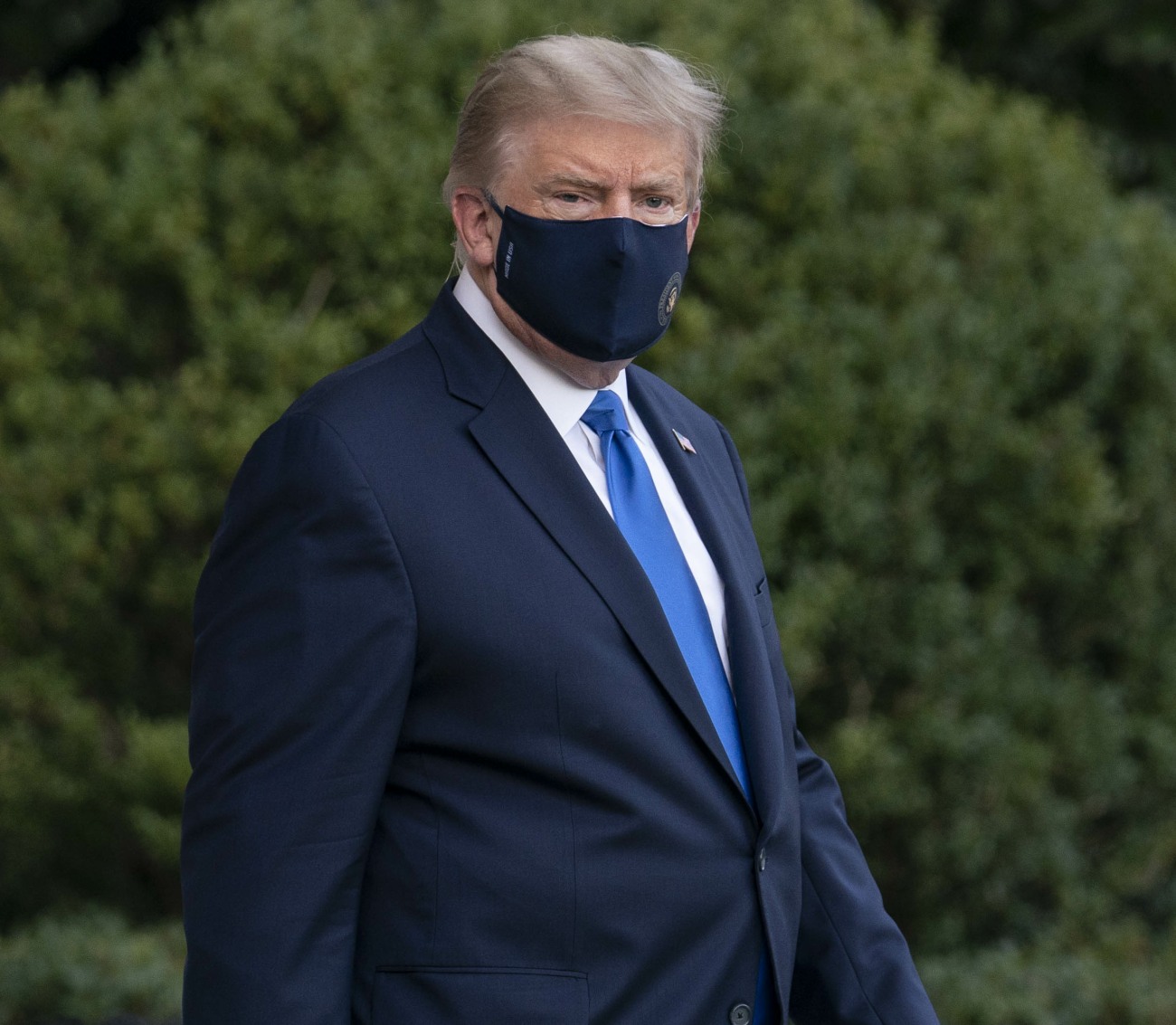 Photos courtesy of Avalon Red.