Ana de Armas talked to Flaunt Magazine to promote No Time to Die. It's been moved back to March of next year, an announcement which was surely made after she gave this interview. So this film will be coming out at least a year after its intended release. Anna sounded both over the pandemic and somewhat oblivious of it. She said she wanted theaters to open up again and was hoping to celebrate with her costars. The author, Elizabeth Aubrey, reminded us how sublime Anna was in Knives Out and how we all were rooting for her before she started doing pap strolls with Ben Affleck. (My words, the journalist did not write that second part.) When Ana started talking about acting, reading scripts and working on set, you could almost see her light up. She's dedicated to her work and that came through. She said the original description for her Knives Out character, Marta, was so superficial she almost passed on that part, but then she read the script. You can tell she takes her work seriously and that she's Here's more from that interview:
On not wanting to be typecast
She explains that when the first audition invitation for Knives Out came in, she received just a three-word description of her character: "Latina, caretaker, pretty." De Armas was far from impressed. "I really pay attention to what that little description is," she says, when an initial character sketch comes through from a casting director. "I'm sure whoever did it wasn't thinking about what that meant but for me, I was just like, 'Oh no, I'm not doing this!' What do you mean—caretaker, Latina, pretty?'"

"I'm very proud of being Cuban and being Latina and I will play the most Latina any Latina has ever played Latina," she smiles, before quickly turning serious. "But it also doesn't interest me that much, all the time. It gets very boring, very quickly and I want to do other things… and even if you're playing a Latina, not all Latinas are the same… I want to think and believe that I can play anybody, anywhere in the world because the stories I want to tell are universal. I want to be able to tell any story."

"My character was a diamond," de Armas smiles, recalling the moment she read her pages fondly. "When they sent the whole script and I read the whole thing I realized 'oh my gosh I have to do this'," she says of Johnson's "incredible" screenplay. Another draw came in the way the dialogue subtly interrogated President Trump's immigration policies through the ensemble's treatment of Marta. "It was a great take on that matter," de Armas says, "Johnson is a genius. Sometimes humor… sits better with people and people are more open, it resonates more when [the message] is straightforward. I think in this case, it was a very smart thing to do."

She didn't agree to do Bond until she read the script
As with Knives Out, de Armas didn't accept the role immediately, however, recalling how Fukunaga's original description for the potential role was far too vague. "When Cary called me for Bond, he was offering me the character and said: 'she's Cuban, bubbly and funny and this and that', but he had nothing on the page at this point. It was all in his head. He was still creating this character and I was very excited, but I told him, 'Cary, I can't say yes before I read it! Even though I want to work with you, I want to be in Bond, I want to work with Daniel again, I want all of these things, but I have to read the script!'"

"I wanted to make sure what I was getting myself into because… you have to eventually talk about it like we are now and you have to feel it matches up with your values, what you believe in and that you are representing the woman you want to represent," de Armas affirms.

"Also, at some point you have to play parts that are quite the opposite of you," she continues, "and that is enriching and exciting about my work too, but… I wanted to just really understand what kind of woman I was playing. I try to do that with every part. I try to read it, understand it and if there is something that doesn't sit well with me, I then try to at least talk about it and understand where that is coming from and why it has to be that way."

On fame
"It's funny as an actor because you do what you do and you don't think of the consequences of your job and then all of a sudden you are in the spotlight and you realise 'Oh this is not what I wanted!' [Fame] to me, is not the most exciting thing about my job, it never has been, at all. It is just a consequence of my job." She compares it to her preparation for Blonde. "All that fame and that exposure was also [Marilyn's] worst nightmare and it grew in me a lot of empathy for her and what she was going through. It was a really intense time for her."
Ana is dedicated to her craft and makes sure she's making informed decisions about her career and the parts she takes. That really came through. I think she'll continue to get good roles as long as she focuses on her work and is more private about her personal life. I get the impression that she's not scared of the spotlight at all, she just doesn't want the consequences of that. She's very much a bubbly person who wants to both be around other people and to let the public into her life. She just doesn't want the judgment and headlines that go along with that.
Here's a quick video of Ana's Flaunt photoshoot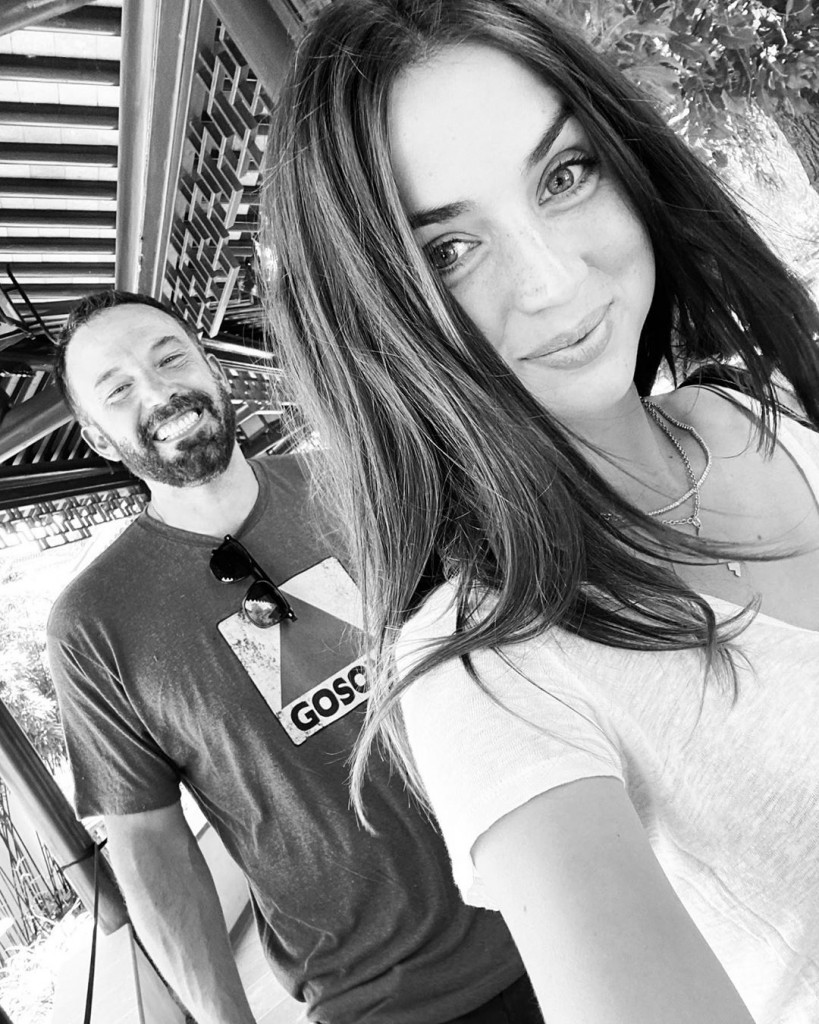 Photos credit Backgrid and via Instagram/Flaunt