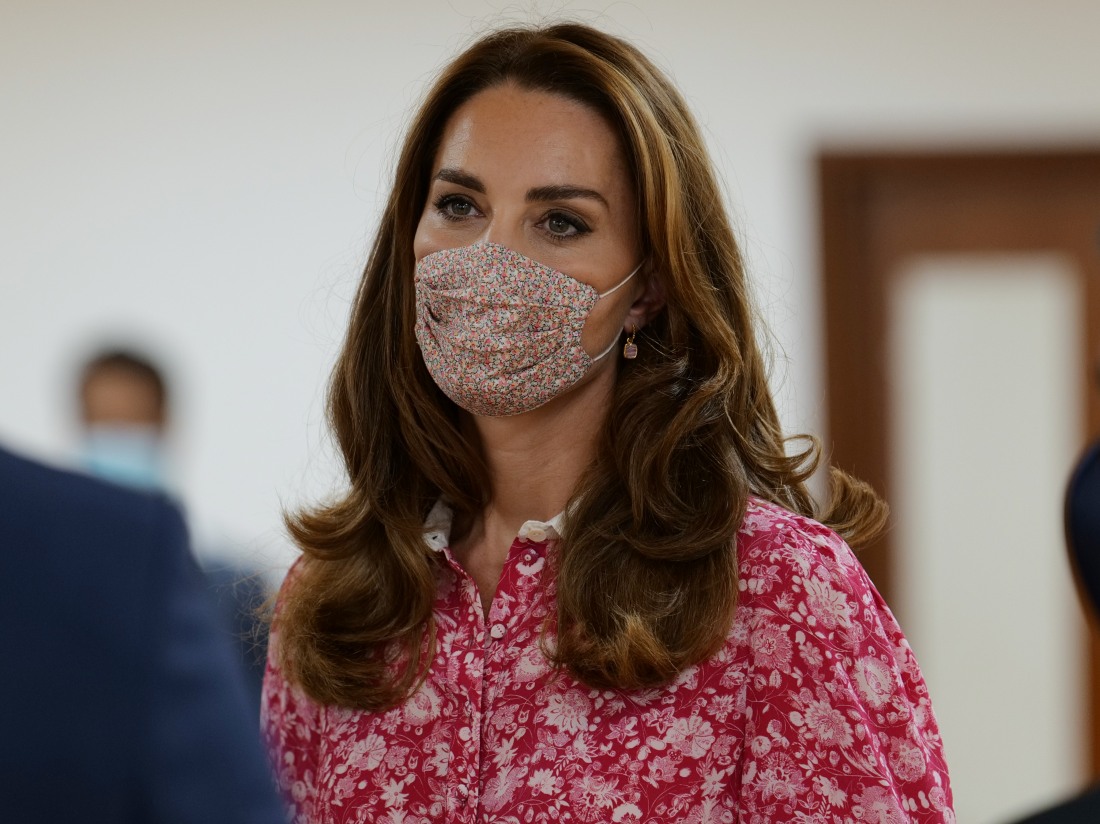 As I'm writing this, there are no photos and I'm not sure there will be any photos, but the Duchess of Cambridge did an unannounced visit to the University of Derby today. The point of the trip was to talk to students about how coronavirus is affecting their student life. Which is bizarre on so many levels. Obviously, none of this is ideal – the reality of students returning to schools around the world in a middle of a pandemic, and the fact that these campuses and school zones have become viral hotspots, leading (at least partially) to another coronavirus wave. And there's Kate, doing drop-bys in a mask, disrupting a university which is already under strain. Whew. Why couldn't THIS have been a Zoom call?
The Duchess of Cambridge surprised students at the University of Derby on Tuesday, as she visited the campus to hear how the coronavirus pandemic has impacted university life. Kate spoke to first-year students, sports societies and nursing students about the effect that COVID-19 has had on them, and the ways in which the university is supporting their mental health and wellbeing.

At the University of Derby, initiatives such as peer mentoring are provided as part of a whole university response to mental health. For example, nursing students are 'buddied' up with fellow students in the year above to provide them with peer support during challenging clinical placements, and the University has given training to its sports societies that will enable students to support their teammates' mental health.

Kate's visit comes ahead of World Mental Health Day on Saturday 10 October, which she and the royal family have long supported. The Duchess' visit on Tuesday came as Universities UK, which represents 139 institutions including the University of Derby, published a new checklist to help universities support student wellbeing during the autumn term. Universities should ensure that students have access to basic necessities during self-isolation, including food, laundry services, cleaning materials, bin bags, tissues and toilet rolls, the guide says.

A surge in coronavirus cases in recent weeks has led to thousands of students having to self-isolate in their halls at some universities, with some hanging signs out their windows saying they did not have food. More than 50 universities in the UK have confirmed cases of coronavirus as students return to campus, with students self-isolating at Manchester Metropolitan and Glasgow University.
I just… I mean, I get that some people in the palace probably thought it would be good to send out Kate to deflect from the barrage of headlines coming out of Robert Lacey's book. But they literally sent her into a (likely) coronavirus hotspot! And all for what? Was this even a photo-op? She literally could have talked to students over Zoom and achieved the exact same thing without putting herself, her staff and university students in any danger.
She did wear a mask. Still, this was… unnecessary.
👑 The Duchess of Cambridge, Kate Middleton made me late for my lecture 😅😂 pic.twitter.com/SGQlB52W0S

— chi_yed_za (@chiedza_mutasa) October 6, 2020
Update: Some photos from her visit… what's up with the blazer?? And she's insisting on wearing that gifted necklace everywhere now (it breaks royal protocol).
Another update: She removed the mask when sitting indoors and speaking with students.
Exciting day! Today Her Royal Highness The Duchess of Cambridge visited @DerbyUni to find out how we are supporting #studentmentalhealth during #Covid19 alongside @StudentMindsOrg https://t.co/Se5rPBcGNn @KensingtonRoyal @Garethstudentwb @rosietressler @DerbyUniVC pic.twitter.com/769CSOh17t

— DerbyUniPress (@DerbyUniPress) October 6, 2020
Photos courtesy of Backgrid, Avalon Red.