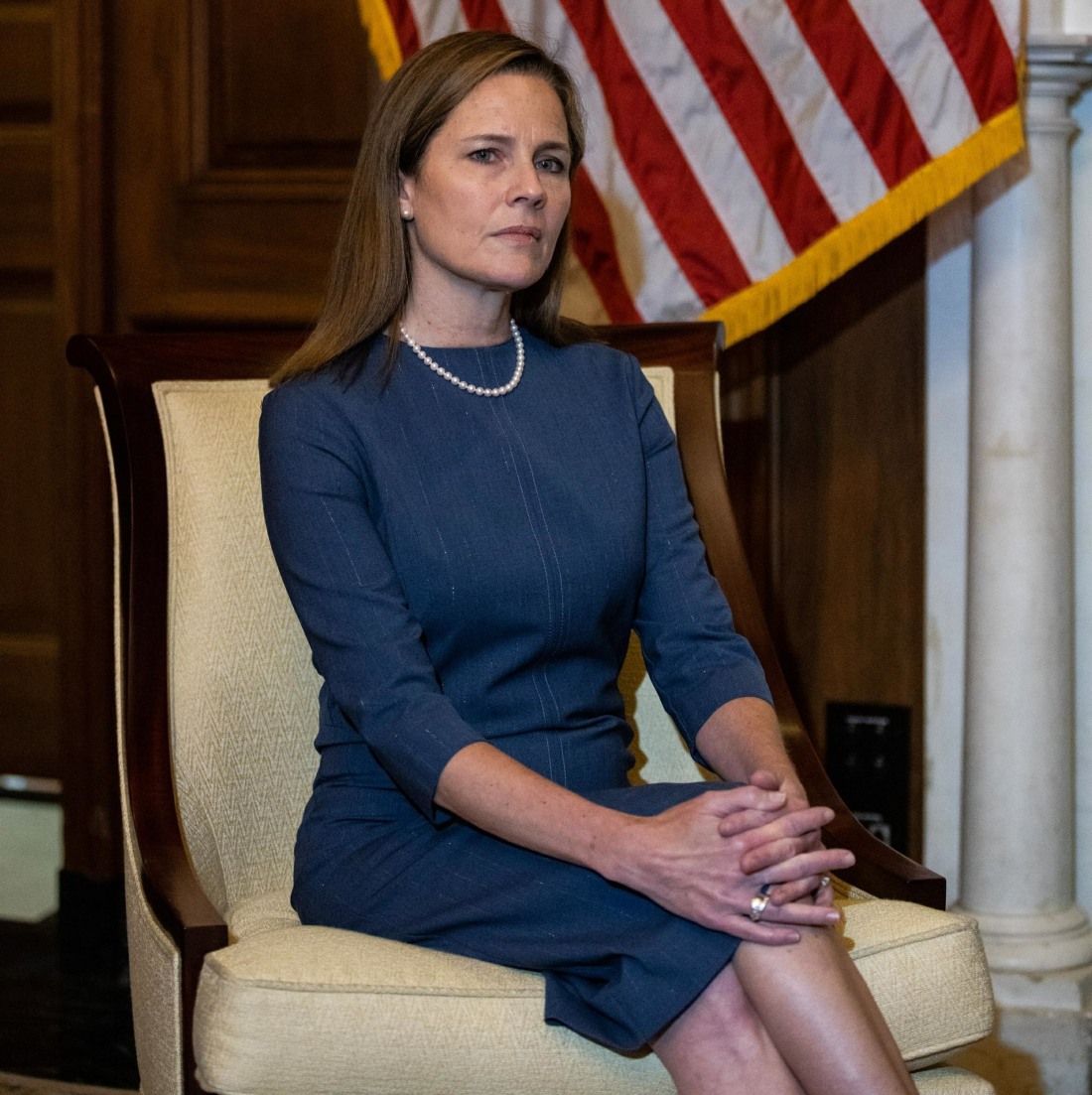 Donald Trump's Supreme Court nominee Amy Coney Barrett has been making the rounds on Capitol Hill over the past week and a half. Like nothing has changed, in all of the chaos and shenanigans and Trump going into the hospital, she's still been doing the private one-on-one meetings with senators, like any SCOTUS nominee would in normal times. This is by design. The Republicans only have one thing on their agenda over the next month: confirm Barrett. That's it. They have no desire to pass a stimulus bill or a covid relief bill. They have no desire to help a struggling American economy or a workforce decimated by a pandemic. All they want is to solidify their strangle-hold on the Supreme Court, and by extension, a strangle-hold on women's bodies, the LGBTQ community, and on and on. I doubt that any information could come out about Barrett which would keep her off the court, but every time I read anything about her, I get more and more freaked out about this woman's active participation in a Duggar-esque religious cult.
While Supreme Court nominee Amy Coney Barrett has faced questions about how her Catholic faith might influence her jurisprudence, she has not spoken publicly about her involvement in People of Praise, a small Christian group founded in the 1970s and based in South Bend, Ind. Barrett, a federal appellate judge, has disclosed serving on the board of a network of private Christian schools affiliated with the group. The organization, however, has declined to confirm that she is a member. In recent years, it removed from its website editions of a People of Praise magazine — first those that included her name and photograph and then all archives of the magazine itself.

Barrett has had an active role in the organization, as have her parents, according to documents and interviews that help fill out a picture of her involvement with a group that keeps its teachings and gatherings private.

A 2010 People of Praise directory states that she held the title of "handmaid," a leadership position for women in the community, according to a directory excerpt obtained by The Washington Post.

Also, while in law school, Barrett lived at the South Bend home of People of Praise's influential co-founder Kevin Ranaghan and his wife, Dorothy, who together helped establish the group's male-dominated hierarchy and view of gender roles. The group was one of many to grow out of the charismatic Christian movement, which sought a more intense and communal religious experience by embracing such practices as shared living, faith healing and speaking in tongues.

Barrett's ties to the group, which has conservative stances on the role of women in society and other social issues, did not come to light until after she was questioned by senators considering her nomination to the U.S. Court of Appeals for the 7th Circuit in 2017. Senators are preparing to question her next week over her nomination to the high court.

Barrett has said that judges are not policymakers and that she does not impose her personal convictions on the law. Responding to questions about Barrett's membership in People of Praise and her tenure as handmaid, Sean Connolly, a spokesman for the group, said: "Like many religious communities, People of Praise leaves it up to its members to decide whether to publicly disclose their involvement in our community."
So she's Catholic AND she was a handmaid into an ultra-conservative Christian cult AND she still does work for the cult AND she's actively trying to hide her association with the cult? That's what it amounts to. She has every right to belong to whatever church she wants, but when you're a nominee for the Supreme Court, you don't get to play fast and loose with "how dare you ask me about the decades I've spent as a handmaid in an ultra-conservative religious cult which proselytizes the Gospel of Submissive Silent Women, HOW DARE YOU."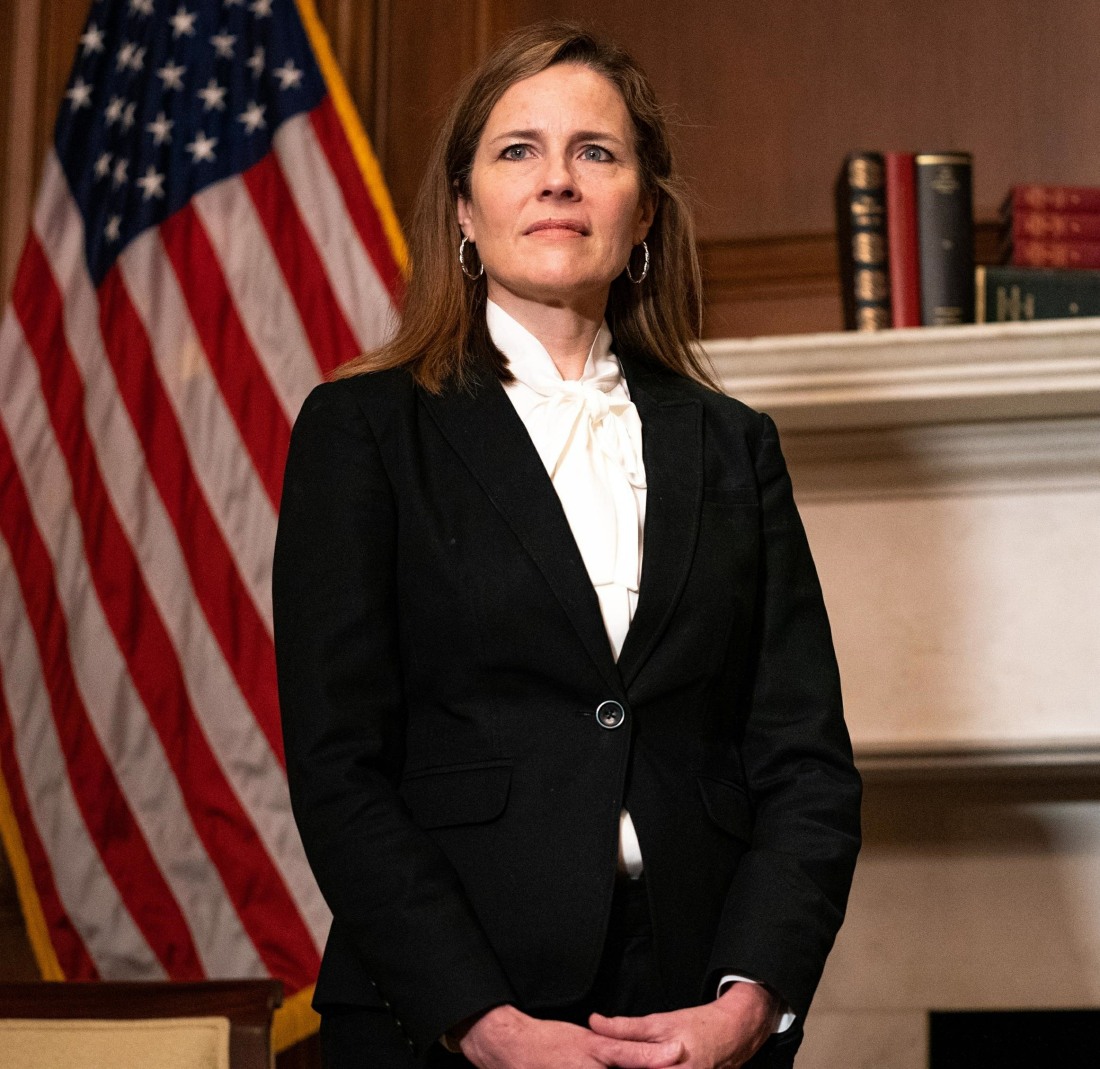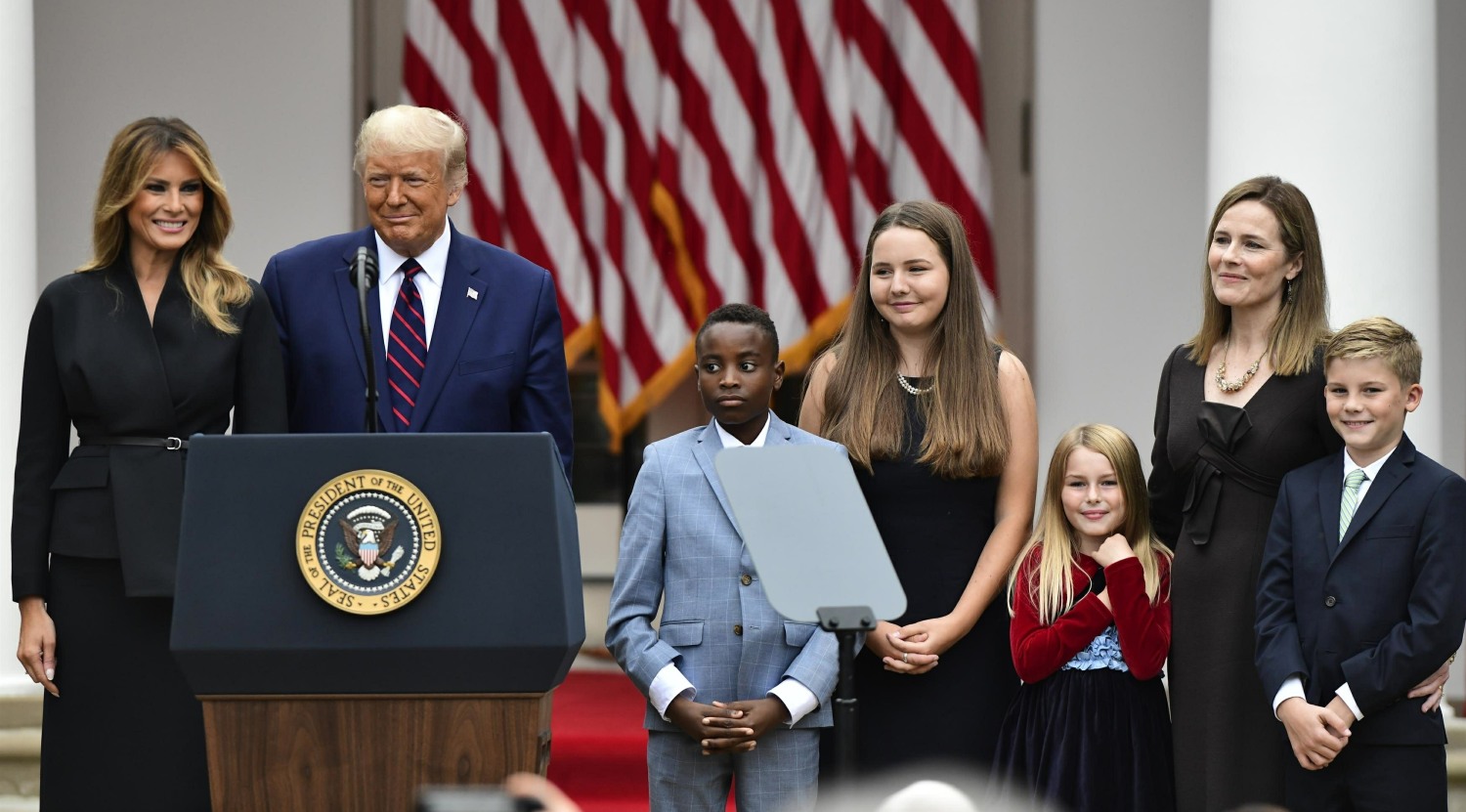 Photos courtesy of Backgrid.