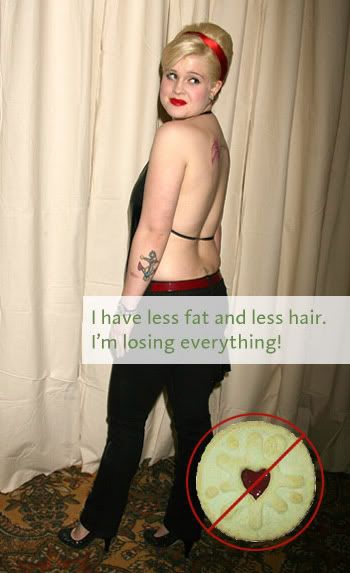 Kelly Osbourne lost 35 pounds and she says it's due to cutting out "Jammie Dodgers," a type of jam-filled British cookie that's typically enjoyed with a cup of tea. We think it's more attributable to her new life in London living alone:
Kelly Osbourne has revealed the secret of her new slimmer figure – cutting out Jammie Dodgers.
Rocker Ozzy's daughter was pictured in yesterday's Mirror after losing two and a half stone. The weight dropped off when singer Kelly, 21, ditched her biscuit habit and took up dancing. Her hair stylist Terry Longden said: "There was never just one packet in her dressing room – they left a case. Nobody was allowed to touch them. We knew better than to come between her and her Jammie Dodgers. I pinched one and she chased me down the tour bus."
Now she's living in London, away from the fattening delicacies offered by the family's chef in LA, her diet's healthier.
The girl probably can't cook a meal. Now that she has to fend for herself she probably isn't eating as much because it's too much work.